Labor Relations INK Download a PDF of this issue with links here.   Labor Relations Insight from Phil Wilson We All Owe A Debt To Wal-Mart Wal-Mart gets a lot of bad publicity. That's what happens when you are the big dog. But you learn to take those shots with a large grain of salt. Especially if you are in the labor relations part of the business, where just about anything you do is likely to make the front pages of hundreds of union and other anti-corporate blogs – if not the occasional Wall Street Journal article… read the rest of the article here… ********** Will Boeing Follow American Automakers?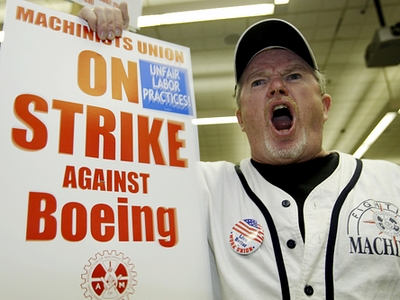 Not content to hold probably the highest average wage base in their industry, the Machinists striking against Boeing rejected a three-year contract offer containing bonuses averaging $6,400, pay raises averaging 11 percent, pension increases and a 3 percent cost-of-living adjustment . According to company estimates, this totals up to $34,000 in average pay and benefit gains. Financial analysts and labor specialists question the reasonableness of the demands. Peter Morici, an international business professor at the University of Maryland, said the machinists can push their case only so far and for so long. "This is a good example of why manufacturing is leaving the country," Morici said. "This is like the UAW in the '50s." ********** InBev & Teamsters Do The Two-Step
This will be fun to keep an eye on. InBev's highly leveraged purchase of Anheuser-Busch includes a commitment to trim costs by $1.5 Billion by 2011. The Teamsters are asking how this squares with InBev's commitment to the unionized workforce, and in particular the protection of jobs, pension benefits and healthcare.
InBev has a reputation for taking a tough stance on unions in Belgium, Canada, and Brazil, while the Teamsters represent about 8000 A-B employees in the U.S., or about 25% of the A-B workforce. ********** Teamsters Blink First Employees at Waste Management in Milwaukee, WI, turned down a contract that included "market-leading pay and benefits," and offered protection from a failing Teamsters-run pension fund. Despite the best efforts of the company to offer a path out of the failing Central States Pension Fund, Pension Fund managers threatened to penalize employees for switching. When Waste Management called the union bluff and made plans to seek replacements for the striking workers, the union asked the company to allow another vote, and asked their members to reconsider. ********** Higher Ed Tilted Union Major universities across the country appear to house pro-union "think tanks," and are constantly becoming more aggressive in an attempt to train those willing to work the union organizing ranks. This posting is one of many received in recent weeks announcing such positions.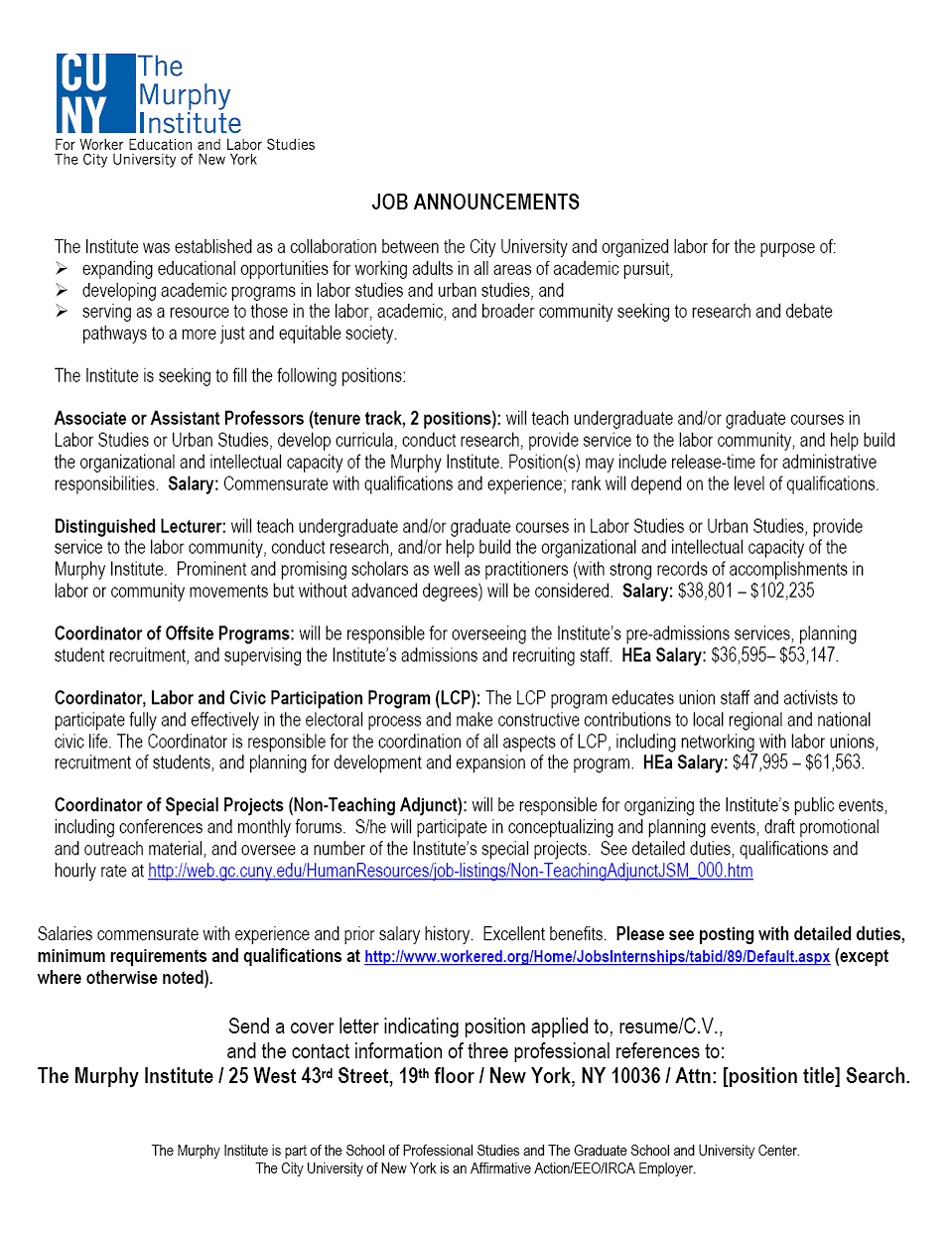 ********** SEPTEMBER SCOREBOARD Who are the winners (and losers) of the labor movement? Don't guess, just check the LRI Scoreboard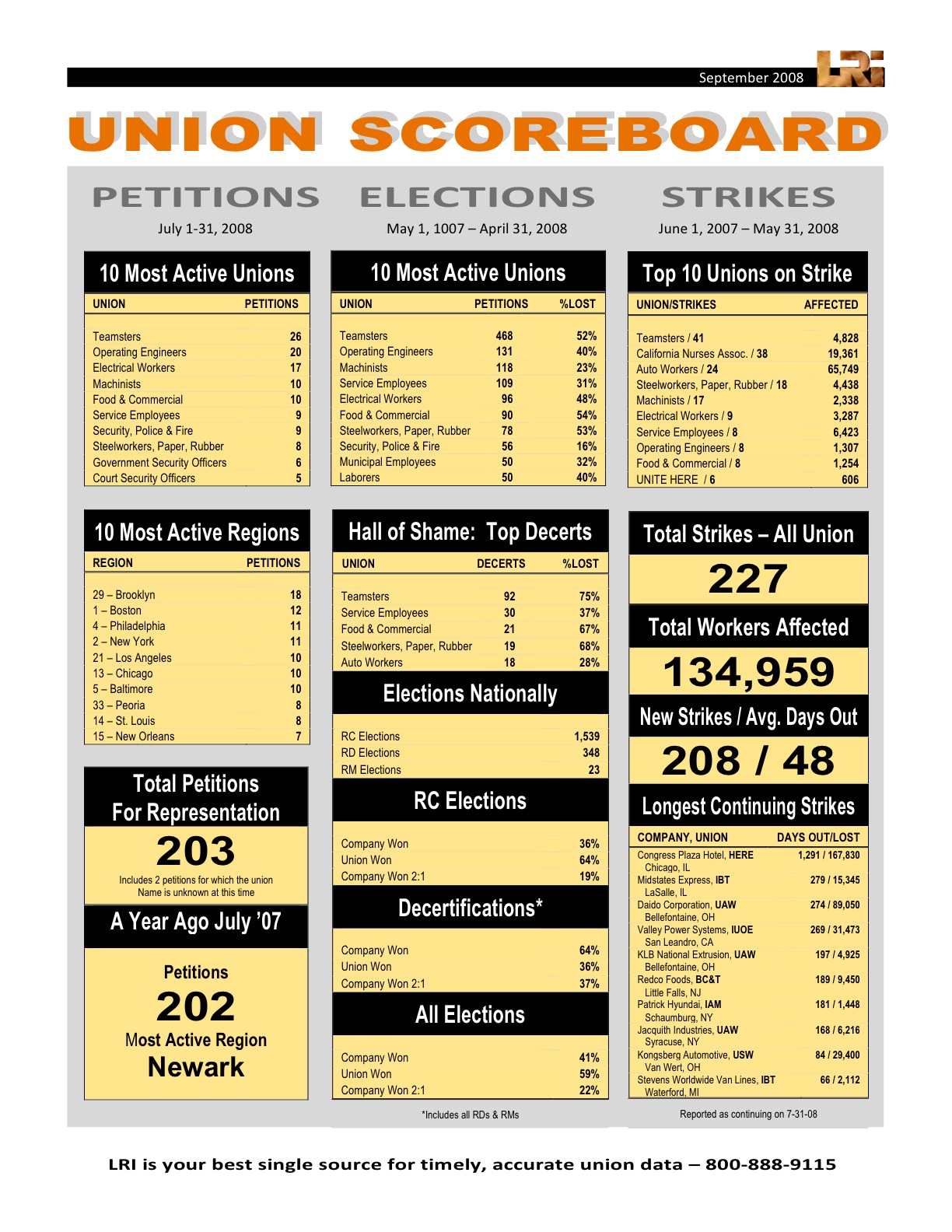 View this month's scoreboard (archives also located here).
Download a PDF of this month's scoreboard.
********** Employee Relations tip-of-the-month Talk to your employees about the economy – bring in financial planners, debt experts, etc. to discuss how to deal with the problems in the market – and how to take advantage of opportunities. Be prepared for questions about how the economy is going to effect your business – how you respond in tough times is the true measure of a leader and is an employee relations opportunity. ********** Sticky Fingers! Current charges or sentences of embezzling union officials: Joseph Johnson – Boilermakers: $102,519 Michael Pingitore – DE Letter Carriers: $58,908 Keith Cook – UTU: $48,287 Sheila Rushing – BTCGM: $17,133 Randy Sanders – USW: $7,300 Roberta Dauchr – OHStateBCTC: $10,300 ********** Labor Relations INK is published semi-weekly and is edited by Labor Relations Institute, Inc. Feel free to pass this newsletter on to anyone you think might enjoy it. New subscribers can sign up by visiting: https://lrionline.com/free-stuff/newsletter-signup If you use content from this newsletter please attribute it to Labor Relations Institute and include our website address: www.LRIonline.com Contributing editors for this issue: Phillip Wilson, Greg Kittinger Labor Relations Institute 7850 South Elm Place – Suite E Broken Arrow, OK 74011 US