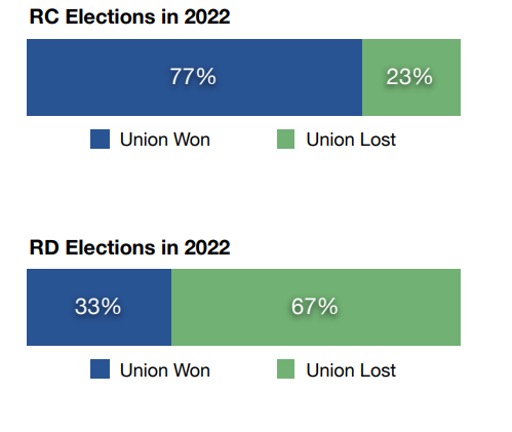 Union organizing is rising, and you need timely and accurate data to stay ahead of the competition.
Union filings for NLRB representation elections increased by a 60% margin in 2022 with a 77% win rate, leading to the organization of 63,225 workers.
While union organizers may celebrate their successful 2022 results, they will not diminish their efforts in 2023.
With LRI RightNow's 2022 Annual Elections Review, you can protect your business from union organizing efforts with insightful data and up-to-date information on the latest union organizing efforts.
Take control of your business's future with LRI RightNow's Review, designed specifically for internal labor and HR leaders. With links to interactive election maps and a summary of NLRB elections for 2022, you can stay informed and make timely, informed decisions to protect your business.
Don't let union organizing efforts threaten your business!
Take the first step in protecting your company's future with LRI RightNow's 2022 Annual Elections Review. Go to the LRIrightnow Store and Order now!