FBI agents and NYPD cops arrested 19 members and associates of the Lucchese crime family in a May 31st sweep. Crimes charged included wire fraud, racketeering, drug trafficking and murder committed over a 17-year period.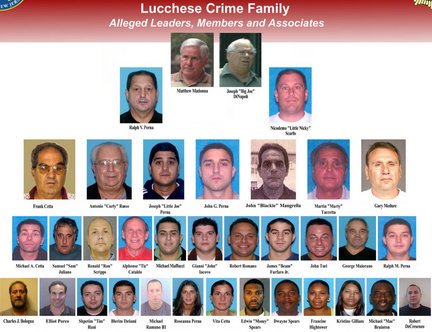 How does this tie into unions?  According to the article,
Labor racketeering was a big part of this crime web. And it was the elder Steven Crea who made it happen. During January 1991-October 1998, brothers Giuseppe and Fred Scalamandre, owners of several Long Island construction companies, paid Lucchese crime family boss Alphonse D'Arco and underboss Anthony "Gaspipe" Casso about $40,000 a year to avoid making scheduled union benefit contributions, as specified in collective bargaining agreements. The Lucchese organization then paid off bosses and agents of Laborers International Union of North America (LIUNA) Local 66, Blasters, Miners & Drill Runners Local 29 (a LIUNA affiliate), and International Union of Bricklayers & Allied Craftworkers Local 1 in exchange for assurances of "labor peace." Federal officials eventually caught on to the scheme, and indicted the Scalamandres. The brothers pleaded guilty to skimming about $5 million from benefit plans plus another $1 million in tax fraud. Crea was sentenced to 34 months in federal prison in January 2004 for extortion. Two months later, he was sentenced to two to six years in prison, to be served concurrently with his 34-month sentence, for price fixing at three New York City construction sites and for imposing a "mob tax" on unions and contractors. As the New York construction industry long has been mobbed up, none of this should come as shocking.
Taking a page from the mafia playbook, of which Teamsters Local 282 appears intimately familiar based on past association, a double-breasting scheme in the construction industry  defrauded the Local's benefit fund by about $5 million. For decades this Teamster Local did the bidding of both the Lucchese and Gambino crime families. After it's 1989 racketeering settlement with the government the Local supposedly severed ties to the Mafia, but apparently old habits die hard.