In this issue:
Another Union Business Dies
Union Pickpockets
Unions On The Campaign Trail
SEIU Watch, Insight, Scoreboard, Sticky Fingers and more…
The bottom of each story contains a link to the individual post on our site. ********** Labor Relations Insight by Phil Wilson Come November… Election day is (mercifully) just around the corner. While I hesitate to make predictions this election season it looks very much like Hillary Clinton will win the White House and based on everything I've read there is a much better than 50% chance Democrats will gain control of the Senate. Barring a complete wipeout in down ballot races it looks like Republicans will maintain narrow control over the House of Representatives.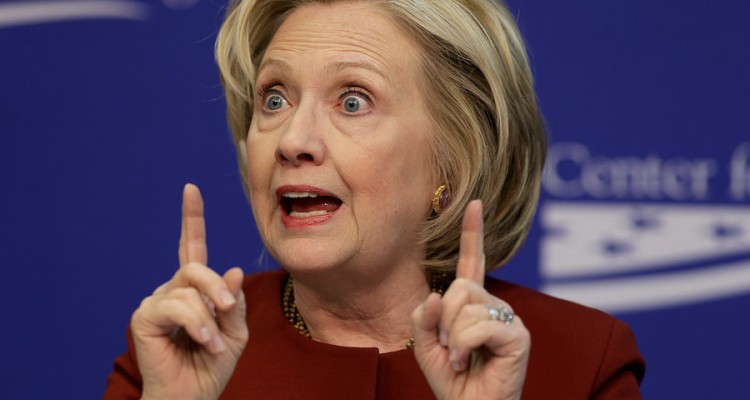 What do results like this mean for labor professionals? The easiest answer is "more of the same." That is a safe bet. But if Hillary Clinton manages to pull off a landslide in the electoral college (vey possible) she will be in a stronger position to get at least some legislative work done in her first couple of years. Unlike the Obama Administration, which has had to rely almost exclusively on executive action for the past 6 years, Hillary will most likely come in with a terribly wounded Republican party. Republicans in purple states will be looking for opportunities to distance themselves from the Trump wing of the party. At the same time there will be a civil war within the Republican party over the legislative leadership (and leadership at all levels for that matter). What kind of legislative moves could we expect on the labor and employment front in the first year of a Clinton presidency? Minimum Wage: There will be a huge push for a $15 per hour minimum wage. This will be difficult for vulnerable Republicans to vote against. Equal Pay: One of the pillars of Clinton's campaign, this will be one of the first pieces of employment legislation offered. Paid Leave: See equal pay.

Employee Free Choice Act: Some version of this will return. It was the number one legislative priority of organized labor the last time Democrats had legislative control. They want it bad. My biggest concern is that they get rid of card check (which is a politically stupid position – that is what killed EFCA last time) and focus on mandatory arbitration of first contracts. That is not only a tougher political problem, but more important it attacks the number one reason people don't want unions in the first place: they don't deliver. Watch this close. NLRB: With a Democrat controlled Senate we should see the Board get up to full strength within the first year. You can expect more of the same here. A relentless attack on handbooks, policies, contractor relationships, employment agreements and more. Others to watch include equal time and union access to employer property during campaigns. And I keep saying this so eventually it will be true, but the Board will reinstate the Weingarten rule in non-union workplaces. We will revisit this in more detail after all the votes are cast next month. In the meantime fasten your seatbelt. I am expecting at least a few more October surprises. Trick or treat! Link and Comments ********** Union Bailout Update McDonald's has become the poster child for testing the breadth of impact of joint employer status. In a recent sexual harassment case, the EEOC has indicated it plans to follow the reasoning of Browning-Ferris, allowing it to "apply new legal standards" if it confirms the allegations. The NLRB just made "on-premises" restrictions to picketing activity a more slippery slope in the Capital Medical Center ruling. Off-duty employees could not be constrained from picketing peacefully near the entrances of the hospital. The board applied a balancing test weighing employee's Section 7 rights against the employer's property rights, and since the picketers were not disrupting healthcare operations, they were allowed to continue. The NLRB General Counsel is attempting to expand protection to striking workers, asking regional directors and officers to change precedent and take a new legal direction outlined in a model brief for use with intermittent and partial strike occurrences. The DOL has published the final rule requiring federal contractors to provide paid sick leave to employees. There have been several changes to the rule as proposed by Executive Order in February, so if this affects you, you should dig into the details. In an interesting side note to the UAW-Volkswagen contest in Chattanooga, the National Right To Work Foundation has charged that the DOL has ignored the activities of IG Metall – a foreign labor union – in their effort to help UAW organize the plant. The NRTW charges that IG Metall should have had to file according to the Labor Management Reporting and Disclosure Act (LMRDA), but that the DOL has been looking the other way. Neither the DOL nor the unions involved have responded to the allegations. Should this stand, US unions may have found a way to partially subvert the LMRDA by partnering with foreign unions. In a hefty wrist-slap, the D.C. Circuit Court of Appeals scolded the NLRB for "bad faith", "abusive tactics" and "extremism." The court further noted: "It is clear enough that the Board's conduct was intended to send a chilling message to Heartland [Heartland Plymouth Court MI, LLC v. NLRB], as well as others caught in the Board's crosshairs… administrative hubris does not get the last word under our Constitution. And citizens can count on it." The court awarded fees to Heartland. Unfortunately, the message most likely went in one NLRB ear and quickly out the other. And in what may come as a help to private employers, 21 states have sued to block the DOL's new overtime rule, citing a threat to constitutional federalism. The states argue in part, "By committing an ever-increasing amount of State funds to paying State employee salaries or overtime, the Federal Executive can unilaterally deplete State resources,  forcing the States to adopt or acquiesce to federal policies, instead of implementing State policies and priorities." Link and Comments ********** Another Unionized Business Dies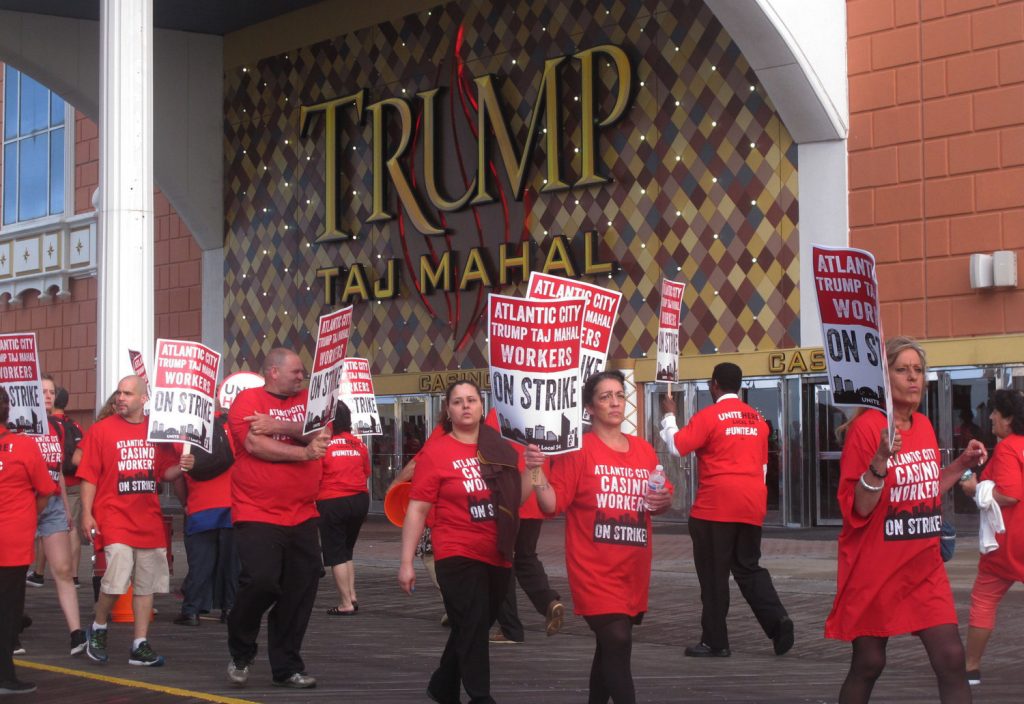 After 26 years in business, Trump Taj Mahal in Atlantic City is closing its doors. Carl Icahn, who bought the resort out of bankruptcy, decided to cut his losses from the money-losing enterprise when he couldn't come to terms with the unionized employees. UNITE Here Local 54 has had the employees out on strike for 102 days following two years of contract negotiations. Link and Comments ********** Union Pickpockets We share with you each month a list of union officials and employees indicted or convicted for misusing union funds for personal gain in the Sticky Fingers section. Keep in mind that union embezzlement and fund mismanagement is a different animal from the same activity occurring in a corporate setting. Within a business environment, the stolen money is derived from legitimate business activities – from the operating profits of the company. In a union context however, the stolen funds are mostly derived from dues withheld directly from the paychecks of hard-working Americans, and for whom those funds are supposed to be used on behalf of their welfare.  In addition to the Sticky Fingers list this month, we thought we'd share a few detailed examples of this egregious theft. David Sager, the former president of United Steelworkers Local 5000 (which represented only about 100 employees) was indicted on nine counts of embezzlement or theft, 18 counts of mail fraud, one count of obstructing justice and one count of making false statements to law enforcement officials. It is still not clear how much money was involved, but is in the hundreds of thousands of dollars. Robert Smith III, a former dockworker and business agent with International Longshoremen's Association Local 970, set his sights a little higher. Over a ten-year stretch, he stole $1,072,668.30 of union funds. Link and Comments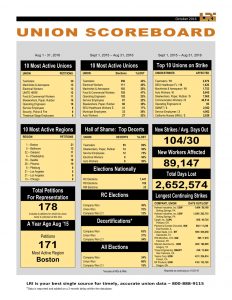 ********** SCORE BOARD Who are the winners (and losers) of the labor movement? Don't guess, just check the LRI Scoreboard View this month's scoreboard (archives also located here). Download a PDF of this month's scoreboard ********** SEIU Watch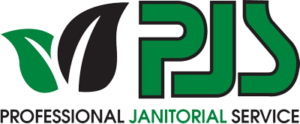 Self-inflicted wounds are the topic of today's SEIU Watch. SEIU has been ordered by a Texas judge to pay $7.8 million to Professional Janitorial Services for use of "hardball tactics" during an organizing campaign. This is a rare win for a company going up against such a politically connected union. And it only took 9 years. And the hits just keep coming from the secret partnership deal Dave Regan made in 2014 with the California Hospital Association. CHA has sued SEIU-UHW over the millions of dollars that are currently locked up in a separate organization, Caring for Californians. Caring for Californians was set up and financed by Regan and CHA's Duane Dauner to carry out joint projects. It's being rumored Regan will not be running for re-election as SEIU-UHW's president after his three-year term ends in early 2017. No need to dive into all the reasons why Regan might have come to that decision.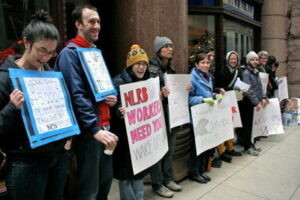 You may remember that a few months ago, Mary Kay Henry placed Local 73 under an "emergency trusteeship." Turns out she could not have done that at a worse time – just 8 weeks before a major affiliation vote. By the time the election came around, the 2,000-members of Graduate Students United (GSU) knew all too well that Local 73 was "functioning under a sort of 'martial law' without any functioning constitution of system of local control." GSU members decided to play it safe and stay with their current affiliated union, American Federation of Teachers. Maybe Henry will have more luck with her attempt to create a "national contract of 4 million fast-food workers" – a strategy she proposed at last year's White House summit on "worker voice." If successful, the industry-wide agreement would make SEIU nearly "$1.3 billion in dues per year." Link and Comments ********** Teamster Beat Tensions are rising as the Teamsters International Officer election comes to a head. 17-year incumbent James P. Hoffa, son of the infamous former Teamster leader James (Jimmy) R. Hoffa, is going up against Local 89 President Fred Zuckerman. Zuckerman represents a group of "pissed off Teamsters" who feel strongly that it's time to oust the Hoffas once and for all if they want real change. The key to a victory, they say, will be voter turnout, as only 1 in 5 Teamster members voted in the last election. The Teamsters are one of the few U.S. unions that are "constitutionally guaranteed the right to directly elect their international union officers every five years."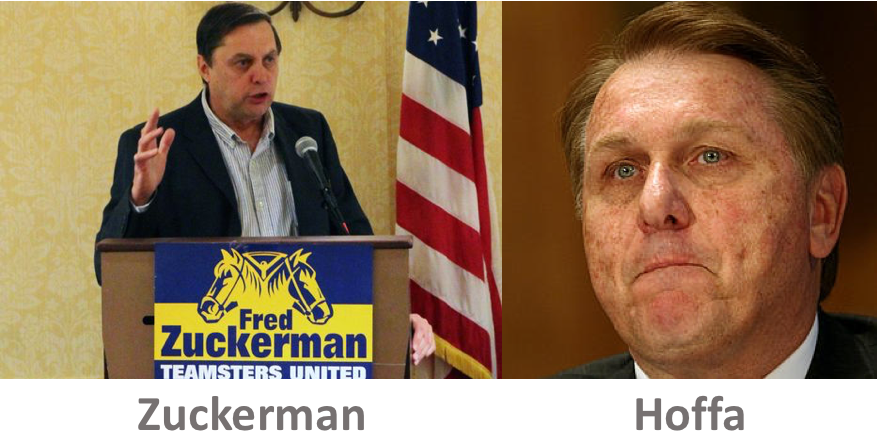 Link and Comments ********** Unions on the Campaign Trail Big Labor is reaching deep in their pockets to sway votes in the 2016 campaign. In fact, the Wall Street Journal reported that labor unions "have spent close to $110 million on the elections from January 2015 through the end of August, which is close to 40 percent more than the $78 million spent at the same point in 2012." The AFL-CIO, specifically, has spent $11.4 million (quick reminder: the organization endorsed Clinton in July). Additionally, just before the third debate, the Service Employees and iAmerica Action initiated their $3 million advertising campaign on Spanish-language television stations. The advertisements highlight Trump's "build a wall" platform. Unions are also focusing heavy on the Senate races, as the Senate has the final say in presidential appointees to agencies like the NLRB and the DOL. Not only is Big Labor contributing heavily financially, the AFL-CIO has also set into play some major plans to persuade voters during the last three weeks of the campaign. The organization is reported to have pulled together 100,000 volunteers. Their goal is to speak with voters directly by knocking on at least 1 million doors and ramping up phone and direct mail efforts. Link and Comments ********** Alt-Labor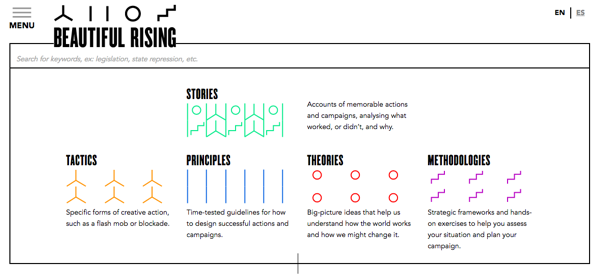 Beautiful Rising is a digital toolbox that has been in the making since 2014. Its purpose is to give guidance, action planning tips, and, in essence, a platform for organizers of social movements across the Global South. While in places like Bangladesh, Uganda, Mexico, and the Middle East this tool could be a just what underprivileged or suppressed peoples need to stand up to mistreatment and government regimes without those spearheading the movement being caught in the line of fire, it is also something that we should be aware of when facing union organizing attempts here at home. This is the future of organizing. Click here to check out the Beautiful Rising platform yourself. Link and Comments ********** Fight for $15 Fight for $15 workers had a big win earlier this month when the Seattle City Council passed "secure scheduling" legislation. This legislation requires large food and retail companies to do two things.
Create schedules at least two weeks in advance; and
Pay workers extra when they're on call and/or when management makes last-minute changes to those schedules.
This article provides a great infographic that outlines the details even further.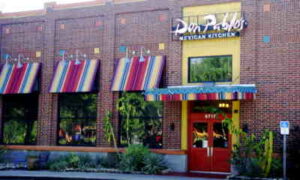 While this new piece of legislation is a seemingly great step forward for fast food workers as individuals, the Fight for $15 movement is having a negative on the industry as a whole. Some analysts are even noting the beginning of what they're calling a "restaurant recession." Earlier this month Don Pablo's filed for bankruptcy.This is the nation's second-largest Mexican restaurant chain. Also earlier this month, Garden Fresh Restaurants, Restaurants Acquisitions, Logan's Roadhouse, and Cosi filed for protection. "Other recent casualties include: Fox & Hound, Champps, Bailey's, Old Country Buffet, HomeTown Buffet, Ryan's, Johnny Carino's Quaker Steak & Lube, and Zio's Italian Kitchen." Link and Comments ********** Right-to-Work Taking right-to-work up a notch, Alabama and Virginia will strive to become the eleventh and twelfth states to protect right-to-work into their state constitutions in November. The two states have had right-to-work laws in place for decades. Arkansas was the first state to enshrine right-to-work in its constitution in 1944, and Oklahoma the most recent in 2001. Business leaders in Alabama, which has twice the union density as its neighbors, believes the state must protect right-to-work to remain competitive and to attract additional auto and aerospace manufacturing jobs. Link and Comments ********** Labor Around the World Canadian auto union, Unifor, has been renegotiating contracts with the Big Three automakers for the past several months. In late September, a deal was reached with GM. Just a couple of weeks ago, Fiat Chrysler avoided a strike when they settled with Unifor. The GM and FCA agreements are pretty similar. Ford workers are still holding out for a better deal on wages.
Trade Union Congress (TUC) is a federation of trade unions in Britain and Wales (similar to our AFL-CIO. They have called for the prime minister to
require worker representatives be put on the boards
of all companies. Mrs. May, Prime Minister, apparently made this pledge when running for office. TUC would like her to pony up. Things aren't so great in South Korea. Tech giant, Samsung, was recently
forced to recall
2.5 million of its Galaxy Note 7 phones due to fire prone batteries. The country's largest shipping line,
Hanjin Shipping Co.
is apparently "on the brink of collapse after filing for bankruptcy in late August."  Three of the country's shipping yards are under
creditor-led debt restructuring
. And then late last month, workers at Hyundai Motor Co. engaged in their
first all-out strike in 12 years
, stopping production on thousands of the company's best-selling vehicles.
Link and Comments
**********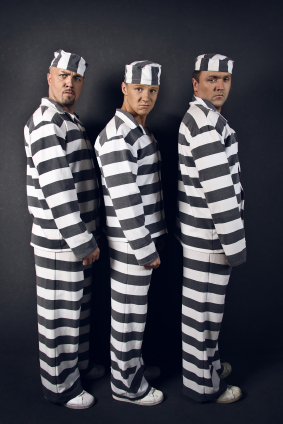 Sticky Fingers
Current charges or sentences of embezzling union officials:
Bradley Crostreet – UBC: $10,311
Dennis Gardner – UBC:  $15,000
Robert Gutierrez – UBC:  $19,771
Aaron Vaughan – UBC:  $13,000
Joshua Westfall – UBC:  $6,380
John VonFricken – UA:  $54,600
Marchelle Harvey – USW:  $10,095
Todd Culley – USW:  $95,026
David Sager – USW:  $380,000
John Springer – IAF:  $30,316
Jeanette Bowman – NALC:  $16,347
Michael Bennett – USW:  $4,500
Jennifer Cruise – IBEW:  $12,750
Wanda Rosenboro-Correa – AFGE:  $1,000
Brian Cisek – NALC:  $500
Rocco Miranti – IBT:  $1,000,000
Johnnie Miranti – ALPW:  $138,500
Louis Smith – IBT:  151,481
Roger Martinez – TWU:  $5,500