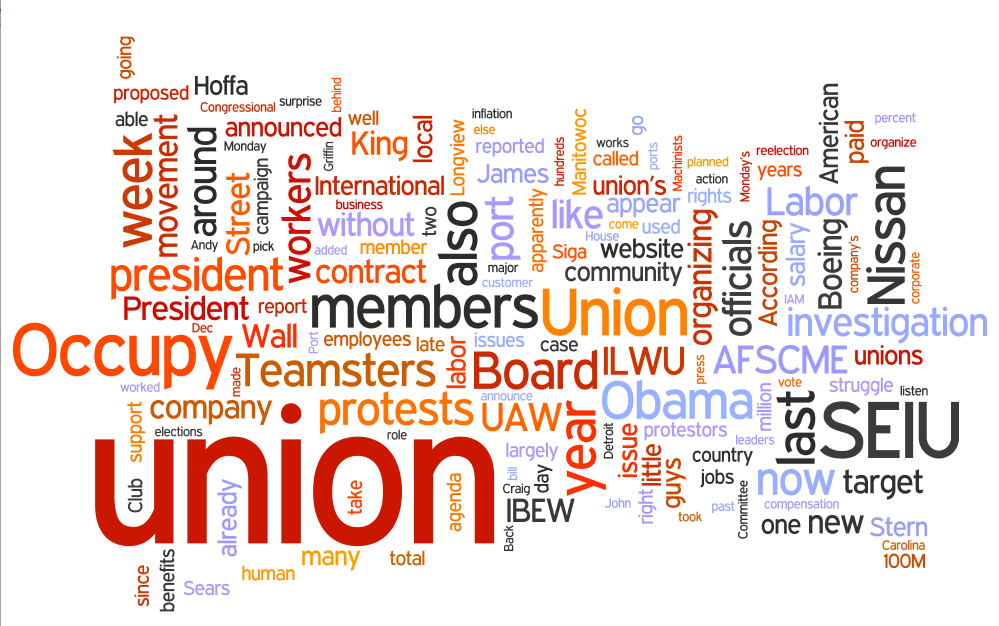 In this issue: •  Union Bailout Update •  Occupy Does Union Bidding in Port Protests •  UAW Not Targeting Nissan, Much •  Teamster $150K Club •  Scoreboard, SEIU Watch, Sticky Fingers and more… Union Bailout Update   Breaking News: President Obama announced late Wednesday evening that he plans to nominate two lawyers to the National Labor Relations Board.  The Board will no longer be able to issue decisions or create major new rules without a three member quorum and Craig Becker's recess appointment ends on Dec. 31. The president will nominated Sharon Block, deputy secretary for congressional affairs at the Department of Labor, and Richard Griffin, who is the general counsel for the International Union of Operating Engineers. Both would be considered pro-union Democrats. According to the Wall Street Journal, the nominations suggest the president intends to steer clear of confrontation in the coming elections year.  Terence Flynn, a Republican, is already waiting for Senate approval.  The Journal suggests that the president could push for the appointment of all three which could appear even-handed on his part, even if that five member Board would maintain a strong pro-labor majority. Block has served as labor counsel for the Senate Health Education Labor and Pensions committee and she worked for the late Ted Kennedy.  Mr. Griffin works at the International Union of Operating Engineers and serves on the board of directors for the AFL-CIO Lawyers Coordinating Committee. As anticipated, late last week the NLRB dropped the now infamous Boeing investigation, but not without Lafe Solomon doing a little sinister bicep flexing for the New York Times. If the Board were to face a similar situation in the future, Solomon assures the business community, "we might well issue a complaint."  Sleep well, job creators. The action did nothing to appease Congressional critics of the Board who seem determined to turn up the heat even if only rhetorically.  Sen. Lindsey Graham of South Carolina is still, understandably, the Board's loudest critic on the Boeing Affair, and Friday he called for a Congressional investigation into the relationship between the Board and the Machinists union.  Meanwhile, Rep. Darrell Issa, chair of the Oversight and Government Reform Committee, announced his committee's investigation of the Board would continue.  Issa was also quick to point out that now that the Boeing investigation has ended there remains no legal reason for the Board to continue to withhold correspondences about the case he subpoenaed months ago. For his part, when asked about the resolution of the Boeing case, the President said, "I'm glad people are gonna be working" perhaps signaling that his administration will now take credit for saving 1200 jobs in South Carolina.  No word yet on whether the President also plans to take credit for the chilling effect the Board's action against Boeing (and continued threats of future litigation) has on potential investors in the U.S. and around the world. https://lrionline.com/union-bailout-update-17 ********* AFSCME Endorses, Pledges $100M to Reelect Obama   AFSCME officially endorsed Obama this week having already announced the union intends to spend $100M on the President's reelection.  AFSCME officials also added that their ground machinery was "fine-tuned" in certain key states from a year of ferocious state budget battles.   The third largest union in the country (after the NEA and SEIU), all but a small fraction of AFSCME's 1.6 million members are employed by state and local governments.  As such, it would come as little surprise that ¾ of the AFSCME members (supposedly) polled for the endorsement support Obama's reelection.  (It's actually more stunning that one quarter of AFSCME members do not.) On top of the pledged $100M, the union is already running ads around the country that attack the GOP while pushing the Obama jobs bill.  The jobs bill contains $140 billion in government works spending (which would largely go to employers under union contract) and local government bailout money.  It's estimated that unions spent over $1 billion on Obama in 2008 through direct donations and boots on the ground. https://lrionline.com/afscme-endorse…-reelect-obama ********** Occupy Does Union Bidding in Port Protests   On Monday, hundreds of protestors attempted to shut down ports up and down the West Coast, supposedly under the banner of Occupy Wall Street.  The protests stretched from Anchorage to San Diego and were effective in shutting down terminals in the ports of Portland, Longview and Oakland, and it is reported hundreds of workers were sent home for the day, many without pay.  There were reports of scattered arrests and minor property damage, while protestors claim tear gas and flash grenades were used against them in several cities.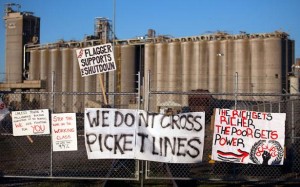 The port protests also brought about a surprise twist in the turbulent on-again off-again romance between the revolution and its Big Labor benefactors – union officials are now accusing Occupy organizers of co-opting labor's  struggle.  As we reported in the last issue of INK, Occupy Wall Street leaders were none too thrilled about SEIU using 99% rhetoric to announce the union's early endorsement of Obama last month, stirring up those lingering fears that unions would ultimately "co-opt" the movement to drive labor's agenda.  (That is if a certain union mastermind or two hasn't authored the Occupy phenomenon since early last spring.) "The ILWU has a long history of democracy. Part of historic democracy is the hard-won right to chart our own course to victory. As the Occupy movement…sweeps the country, there is real danger that forces will attempt to adopt our struggle as their own.  Support is one thing…attempting to co-opt our struggle in order to advance a broader agenda is quite another…" That's International Longshore and Warehouse Union president Robert McEllarth and you read that right – a union president is expressing alarm because persons outside the labor movement appeared to give a damn about a union fight. McEllarth issued that statement to ILWU members and affiliates on December 6, renouncing the planned port protests and instructing his members to go to work on Monday.  Speculation is ILWU officials are hyper-vigilant not to appear connected to any port disruptions after being hit with a $315K court judgment in October.  (The union was charged for damages and costs incurred over the summer in the ILWU's own destructive and violent protests against a new Longview terminal operator that dared to recognize a union other than the ILWU.) But there may be much more to the story.   "I am proud to say that I am in a union where my President is out getting beat up by cops on the railroad tracks in Longview instead of sitting behind some desk like most union bureaucrats." That's ILWU Communications Director Craig Mierrelles when asked about the ILWU's position on the protests defending his union president's thug honor with what sure does read like a swipe, not at unemployed Poli Sci majors, but the leaders of other unions. According to most press reports and the Occupy website, Monday's protests were against, what else, "corporate greed" and a port operator largely owned by Goldman Sachs.  What should raise an eyebrow – apparently the intent was also to draw attention to port truck drivers allegedly misclassified as independent contractors and thus being "denied their basic human right" to unionize, a topic near and dear to both the Teamsters and SEIU and far outside the ideological slipstream of the Occupy movement before this week.  In fact, the official Occupy website now links to "Coalition for Safe Ports," a front organization of Change to Win, which coordinated and reported on Monday's protests.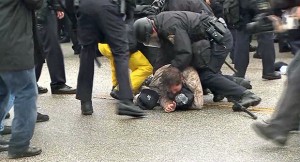 "Frankly, a lot of members are pretty confused about what's going on, press is screwed up in ways of reporting stuff – most of these guys just get their news from television," says Fred Pecker, president of ILWU Local 6 in San Francisco. "There are some members here that are supportive, but I doubt enough to be able to put it up for a vote. I got a local of 5,000 guys here. If these guys really want a port shutdown, they would have to work hard to build support among guys that range from left wingers to some very conservative Republicans." Perhaps the cutest quote of the day comes from Emily Loftis in her Salon article on the subject.  "Just as the 1 percent now has to listen to the 99 percent, Big Labor has to listen to the rank and file. Dec. 12 marks a step in the evolution of the movement from a collection of improvised tent-villages to a national network of empowered, community-conscious problem-solvers." https://lrionline.com/occupy-does-un…-port-protests ********** Wisconsin Labor War Moves to Private Sector Manitowoc Crane, a crane and lift manufacturer in Manitowoc, WI has announced it will be hiring replacement workers for 200 striking members of the Machinists union, prompting many of the striking workers to come back in this week. The walkout began on November 15 after a 180-2 strike vote.  Both sides were reporting good progress in negotiations when the company proposed removing the "union shop" clause from the new contract. "While there was agreement on many issues, the company proposed new language toward the end of the negotiations that was absolutely unacceptable," IAM District 10 business representative Benito Elizondo said. "The company proposed eliminating long-standing contract language requiring any employee who benefits from negotiated wages and benefits to become a member of the union that negotiated those benefits."  The union's website is calling the move the "private-sector equivalent" of a "Scott Walker style attack" on, of course, the "99%".  The company is also proposing annual union elections similar to the Walker public sector proposal. J.C. Schultz, a 44-year machinist for Manitowoc had planned to retire this month but instead he's walking the IAM picket line.  "It's not the way I'd like to go out. I'd like to do it with a little more pride and dignity," Schultz said. https://lrionline.com/wisconsin-labo…private-sector ********** UAW Not Targeting Nissan, Much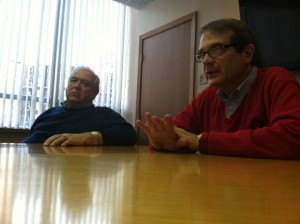 In what seemed a staged moment of "candor," UAW President Bob King let it slip in an interview last week that the union would in fact not be declaring an organizing target this year.  This comes after a year of threats and speculation on what was being touted as the most aggressive organizing effort by the country's wealthiest union since the initial organizing of Detroit over half a century ago.  "We are shifting our strategy a little bit. We are not going to pick or announce a target at all," King said before then going on to target Nissan. According to the Detroit Free Press, King said the decision was not prompted by the union's own self-imposed goal of organizing an automaker before the end of 2011. Instead, it was prompted by "civil and human rights issues" that "community groups" have raised about Nissan and rumors that the UAW was about to pick Nissan as its target. "There are some real concerns we have with human rights and civil rights with Nissan," King said, declining to be more specific. "People in the community have raised issues." So it would appear the union is launching a corporate leverage campaign through phony front "community groups" against Nissan (rather ham-handedly and no doubt with negligible Nissan employee support). Also interviewed with King, UAW Secretary-Treasurer Dennis Williams perhaps summed the union's clumsy gamesmanship up best, "From day one, we used the wrong term – 'target,'" Williams said. https://lrionline.com/uaw-not-targeting-nissan-much ********** Teamsters $150K Club   As it does every year, the Teamsters for a Democratic Union (TDU) has issued its "$150,000 Club" Report.  The TDU study of Teamsters finances showed —
123 Teamsters officials made over $150,000 in salary in 2010; 35 made over $200,000. The total paid to that group went up $259,636 over the previous year.
129 Teamsters officials got paid a multiple salaries by the International Union, most of them appointees of James Hoffa.
For the first time since he took office, James Hoffa did not get a salary increase. This is because his salary goes up by a percentage equal to the rate of inflation, and inflation did not rise.
Hoffa did take a $6,000 hike in his total compensation: Hoffa is paid a very lucrative "housing allowance" on top of his salary.
The report also gives examples of egregious behavior on the local level including the story of John Coli who added his teenage sons John Jr. and Joseph to the Local 727 payroll.   Their combined total compensation last year: $586,690. In 2010, Coli Senior was the fourth-highest paid Teamsters official. https://lrionline.com/teamsters-150k-club ********** Andy Stern on the Hot Seat?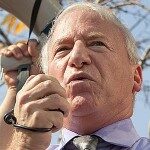 Former SEIU president and frequent Obama White House visitor Andy Stern plays a prominent role in an investigation being conducted by CNN and featured in a recent Anderson Cooper's 360 report.   The investigation is focused on a $433 million no-bid contract that was awarded to Siga by Health and Human Services in May.  Stern, who threw the full resources of SEIU behind Obama in 2008, stunned labor observers last year when he inexplicably joined the board of Siga after suddenly stepping down from his SEIU position, also without plausible explanation. Siga is contracted to provide 1.7 million doses of small pox anti-viral.  There are controversies around the bid process, the deals unusually high profit margin and the efficacy of the product, as well as any role Stern may have played in helping to secure the contract. https://lrionline.com/andy-stern-on-the-hot-seat   ********** No Rest for the Union Weary   Last week the CWA filed a petition on 9,700 American Airlines customer service workers, only days after AMR, American's parent company filed for bankruptcy.  The workers are the only American employees not yet unionized and the company's non-competitive labor costs were one major contributing factor in the company's poor financial performance.  For the past six years, American has been attempting to gain concessions from the four unions that already represent American employees. The CWA claims union membership will better protect customer service employees through the bankruptcy process. https://lrionline.com/no-rest-for-the-union-weary ********** Social Media Spotlight   The left-wing on-line institution Daily Kos is gushing over an election win by the IBEW to represent technicians at a Sears repair facility in Illinois.  The report praises the campaign for "blending old and new technologies" to organize young techs who "live off their laptops and cell phones." According to the IBEW website, the campaign took eleven months and relied on the combined efforts of several IBEW branch offices.  The union claims the 184 to 125 victory was the largest union win in the area in many years and "critical to IBEW efforts to organize Sears workers across North America." Pierre Powell, a Chicago-area repairman with 32 years at Sears, had participated in past unsuccessful organizing campaigns.  "The Internet leveled the playing field," Powell said.  Tactics used by the IBEW are explained in this video. https://lrionline.com/social-media-spotlight-15 ********** SEIU Watch In case you missed it, SEIU "Took Back Congress" last week (not like anyone else was using it) with all the trappings of a genuine spontaneous grassroots people's uprising.  And after two nights camped out on the Mall and countless dues dollars squandered, the union was able to assemble around 1000 demonstrators to march on the Capitol and ambush their congressperson all while pretending to be Occupy Wall Street and not SEIU .  Around 100 protestors charged Speaker Boehner's office and left five minutes later without incident.  The entire three-day event was otherwise largely ignored by the media.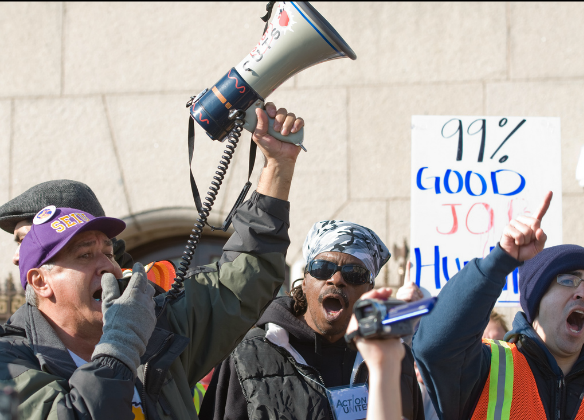 Pity those active SEIU members who were looking forward to their semi-annual stay at the Econo-Lodge, as now their union has them sleeping in church basements, eating in tents and sitting around in the rain on hay bales.   More disturbing was how hard the union worked to appear not to be SEIU. (The troops were apparently instructed to wear anything but purple while some organizers apparently chose to ignore that memo.) For the record, the uprising was choreographed by something called "Our DC" and their agenda for the week reads like a stroll around Walden Pond – breakfast at the Peoples Camp, Teach-Ins in the Cultural Tent and something called "Model-Sharing," all under noble goals of Taking Back the People's House and Making Wall Street Pay. https://lrionline.com/seiu-watch-24 ********** Sticky Fingers   Current charges or sentences of embezzling union officials:
| | | |
| --- | --- | --- |
| name | union | $ |
| Frank Rago | ILA | $224,585 |
| James Hunter | UAW | $1,073 |
| James Michael Hill | IBT | $6,553 |
| William Edwards | AFSCME | $4,929 |