Labor Relations INK In this issue:
EFCA Update
Union Indoctrination
Banks Toehold Into Financial Sector
SEIU Watch, ULP Charge of the Month and more…
Labor Relations Insight from Phil Wilson DOL Rulemaking

This week the Department of Labor issued a notice of proposed rulemaking on the form LM-30, the form unions file to report receipts from employers and disbursements to outside entities, as required by the Labor Management Reporting and Disclosure Act (LMRDA). These disclosures are intended to provide information to union members and the general public that can help them identify conflicts of interest. Currently the LM-30 rules are inadequate. While they were tightened in July of 2007, there were still a number of areas where large expenditures would go unreported (or could be lumped together without specific reporting). Not to mention the countless cases where union leaders simply don't report the expenditures at all – but that's a completely different problem altogether.

With these problems one would think the Labor Department would want to tighten up the disclosure requirements even further. After all, these rules are meant to make the forms helpful to union members and to shed light on the expenditures and receipts of these unions so that members can make educated decisions about how their fiduciaries are doing. Yeah, right. Instead, the Department has decided that the changes in 2007 are simply too onerous for unions to deal with. They want to "simplify the form" and "narrow the scope of reporting" so they can reduce the "associated reporting burdens" on unions. Interestingly they didn't mention anything about making the forms easier for union members to access or read. But instead they propose making it easier for unions to hide money paid to:
union shop stewards;
union officials who conduct union business "on the clock";
loans to union officials;
union officials from other labor unions and affiliated organizations.
My personal favorite is they want to comment on whether high-level union officials must report payments from employers that employ members of lower level unions, or businesses that sell to lower level unions. In other words, just make sure the bribes come in to the subsidiary unions (or to ACORN) and then funnel them up. Brilliant. It is interesting how concerned the DOL is about the reporting burdens on unions on the LM-30 forms while that wasn't even considered in the stakeholder meetings on Consultant and Attorney reporting for the LM-10 and LM-20 and LM-21 forms. In case there was any question about who is setting the agenda at DOL (there wasn't…) this should help clear that up. Too bad the union members themselves aren't part of that agenda. ********** EFCA Update

The Employee Free Choice Act appears to be the bill that will not die. As we move closer to the November elections, and the prospect of lame duck shenanigans, all of the players continue to posture on their side of the issue. The President reiterated his support for the bill, reassuring the AFL-CIO that he would "keep on fighting" to pass it (watch the video here). Speaker of the House Pelosi did the same at a CWA meeting. If a lame duck ploy fails, another strategy is surfacing that could have a major impact on the EFCA and other unpopular legislation. The Democrats are considering a move to change the Senate rules to limit filibusters. If the Democrats hold onto a majority of the seats in the Senate after the elections, when the Senate reorganizes they can implement rule changes with a simple majority. Business groups are keeping the pressure on as well. The Workforce Fairness Institute stepped up efforts to keep the pressure on Congress, hoping to prevent a lame duck coup for the EFCA. States also continue to attempt to outwit federal legislators by enacting laws at the state level that will pass judicial scrutiny. Legislators in Arizona went back to the drawing board after the Supreme Court upheld a lower court ruling that a secret-ballot protection measure violated the state's single-subject rule. Nevada is also back in action, pursuing another round of the "Save Our Secret Ballot" initiative after their first attempt at a state law change was foiled by legal wrangling.

Mitt Romney provides an eloquent critique of the EFCA on this 6-minute YouTube video. The administration in Washington proves continually that it will not be deterred in implementing union-friendly policy. Obama's appointment of Paul Taio to the DOL Inspector General position is another sop to Big Labor. To quote Vincent Vernuccio of the Competitive Enterprise Institute:
The neutrality of IGs [Inspector Generals] is paramount because they are responsible for conducting audits, investigating alleged improprieties, and evaluating the efficacy of departmental programs. IGs are crucial to ensuring that federal agencies comply with all applicable laws and regulations. Having a political operative in this position is akin to letting the fox guard the hen house. If appointed, Tiao would be in charge of investigating fraudulent applications for worker visas. Can a nominee who has advocated giving the right to vote to illegal immigrants be reasonably expected to fairly monitor visa applications against fraud? He will also be responsible for investigating the very unions his PAC received money from in the past. Could Tiao's past affiliations with organized labor and his predilections for politics present a conflict of interest?
********** Union Indoctrination

Big Labor is far ahead of the business interests in this country in the battle for the minds of the next generation. A labor journalist recently attended a workshop run by unionists for educators in New York, focused on teaching particular aspects of labor history (in this example the Triangle Fire in 1911). The idea of course is to condition young people to be sympathetic to unionization. It is apparent reading the comments to the post that these "union-education collaboratives" are spread across the country, and are fairly active. Most of us would tend to "admit" that at some point in our history, labor unions were good, and possibly even necessary. Adam Bitely, writing for Americans for Limited Government, takes issue with this train of thought in an article titled, "Were Labor Unions Ever Necessary?" He proposes that the even the typical conservative idea that "labor unions were necessary in society a hundred years ago, but they are no longer needed in today's workplace" is a flawed argument. It would seem there is a need for business groups or "business-education cooperatives" to help teachers learn how to extol the virtues of capitalism and free markets. ********** SEIU Watch

As SEIU's momentous elections at Kaiser health facilities in California loom closer, the embattled union can breath a bit easier having reached a "profitable" settlement with UNITE HERE. Cash-strapped SEIU ended up with the grand prize, Amalgamated Bank of New York. According to the Pittsburg Tribune-Review,
"The current fight was over the assets (of the bank). It's very likely there was a quid pro quo" to reaching a settlement — the bank in exchange for members, said John Russo, co-director of Youngstown State University's Center for Working Class Studies. "The bank was the big prize all along. The SEIU was financially strapped, spending tens of millions on fighting. Most of the members are going to stick with Unite Here," said James Sherk, a senior policy analyst in labor economics for The Heritage Foundation, a think tank in Washington.

Further terms of the agreement return an estimated $75 million dollars stolen from UNITE HERE by Bruce Raynor, and gives UNITE HERE its office building in New York City. It also ends raiding by SEIU on traditional UNITE HERE jurisdictions of hotel, gaming and food service employees. The agreement does bar UNITE HERE from aiding NUHW in the battle for Kaiser Permanente employees in California, which may be one of the reasons for the timely settlement. While the election for Kaiser employees has been set for September, employees at another large medical chain in California, Catholic Healthcare West, have begun circulating petitions to replace SEIU with NUHW. In typical SEIU storm-trooper fashion, all of the SEIU shop stewards at one hospital were fired for failing to sign a loyalty oath. Here is an email from one of them:
Date: Fri, 16 Jul 2010 Subject: Saint Francis Memorial Hospital I was a shop steward for the past 6 years at SFMH and you may have heard the entire steward council was fired yesterday by Chava Bustamante. The way we managed not to be canned during the trusteeship is that with each union rep (we are now on our 5th since January 2009, Ruben Garcia) we stood united saying we are not here to talk "politics", but rather stay focused on worksite issues. And we have managed to do some really good work – we recently got our PCC [Patient Care Committee] meeting again; it had not met for about 15 months since the trusteeship was imposed. Yesterday, Chava demanded we sign some kind of loyalty pledge to SEIU and one by one we each expressed our own objections. I said I value democratic values of free choice, etc. I just spoke with someone in the [NUHW's] Emeryville office who told me the circulation of petitions in CHW hospitals began yesterday. Thank God! I have been working at SFMH since the 1970s and have had many unusual experiences in the workplace, but getting fired by my own union takes the cake.
The Kaiser battle is heating up. In the latest skirmish, 48 SEIU stewards at Kaiser Santa Rosa Medical Center resigned in mass as stewards so that they could support NUHW in the upcoming election. Part of the letter the stewards wrote to their co-workers stated,
Since the SEIU International placed our local (SEIU-UHW) into trusteeship last January, we have watched as the union we helped to build was transformed into an organization more concerned with consolidating money and power than bargaining good contracts and ensuring that members control their union.
Labor legend Dolores Huerta has weighed in on the campaign, writing an open letter to SEIU President Mary Kay Henry, asking her to stop the "coordinated effort by SEIU leaders in California to deny thousands of healthcare workers their federally-protected right to organize with the National Union of Healthcare Workers (NUHW)." Huerta accuses SEIU of using thuggish tactics in its Kaiser campaign. It is amazing that while under such pressure, SEIU still spends like a drunken sailor in the political arena. Setting a new record for local politics, the union threw $500,000 in a primary for a county supervisor in Fresno County, California, and will most likely spend at least as much again in the November election. Sadly, what is at stake is a move by the county to save $5 million a year. A win by the SEIU stooge will erase any chance of that measure passing. Finally, in this last SEIU tidbit, FBI agents have come to the aid of SEIU in an attempt in Illinois to organize lemonade stands (yes – this is satire, but it is a fun read!) ********** FREE 2009 NLRB Elections Report With the NLRB bending over backwards to make it easier for unions to attack your company, now more than ever it pays to have solid intelligence about what unions are up to. LRI has created a new NLRB Elections Report that will provide a bird's-eye view of union activity. Filled with colorful, easy-to-read charts and graphs, and broken out in a variety of ways, the information is easy to digest. We want to send you this free 22_ page report for 2009 as a thank you for being an LRI INK subscriber. Head to this page to see more details, and to download your free report. https://lrionline.com/elections-report ********** Workers Freedom and Statistical Productivity

The Alliance for Worker Freedom has released its second biennial report, the Index of Worker Freedom: A National Report Card. The index is a state-by-state comparative study that measures worker freedom through an analysis of policy implications as well as quantitative state data. One of the key findings from this year's index was the negative correlation between a state's union density and its level of worker freedom. Unsurprisingly, workers and employers are fleeing states with low levels of worker freedom – generally heavily unionized states – in favor of states with high levels of worker freedom. The study's findings parallel an earlier Gallup poll indicating that a majority of Americans think "unions mostly hurt the economy." An economist writing for the Christian Science Monitor contributed a short article using simple math to explain statistical productivity and job loss as it relates to unions. As he makes clear, unions push low-productivity workers into the ranks of the unemployed. When this occurs, the level of output of the remaining workers is impacted slightly, showing a statistical "rise" in productivity (the output divided by the number of workers). The workers that kept their jobs are no more productive than before, it is just that the efforts of the lower productivity workers are no longer counted, so the average rises. Thus the union claim that union workers are more productive is a myth. ********** Calm Before The Healthcare Storm

According to two healthcare human resource specialists, the remainder of this year may be the last chance for those in the healthcare industry to prepare for a likely union organizing onslaught. The authors observe,
The political and economic events of the past several months should be taken as a small warning of what is to come, as the next six months are expected to be a relative period of calm before Big Labor's wrath is fully realized after the November 2010 mid-term elections. We believe the path healthcare employers choose to take over the next six months will likely separate those organizations who are able to successfully remain union-free in 2011 and beyond from those that find themselves unprepared and at the mercy of the new environment as it relates to union organizing.
The list of potential risk factors is lengthy, including: • NLRB rule-making to impose restrictions on "employer free speech" • Expanding union access to employer premises during organizing campaigns • Imposing limitations on employer communications during campaigns • Use of employer technology to promote union organizing • Amending rules relating to supervisors and union eligibility • Redefining of employer unfair labor practices • Recent and potential political appointees • New union leadership • Continued volatile economic conditions • Reports of early-stage union surveillance and canvassing Not mentioned, but no less valid a threat, is the possibility that once the SEIU and NUHW quit fighting over currently unionized healthcare employees in California, they will both focus their attention on non-union targets. With the Kaiser Permanente election scheduled for September, this could happen sooner rather than later. The authors strongly encourage healthcare businesses to employ strategies we have enumerated in our Left of Boom white paper as proactive measures to prevent falling prey to an emboldened union with new weapons in its arsenal:
Employers who wisely utilize this opportunity to inoculate their organizations now through training, education and creating a foundation for a strategic labor relations plan that could be effectively implemented in the face of expedited elections and a labor-friendly NLRB.
The authors conclude,
Organizations that take a "wait and see" approach may find themselves not only an early target for a union that has done its homework to assess the most favorable opponents, but also may be unable to respond quickly enough or effectively enough under the anticipated new NLRB guidelines.
********** Reality Settles In

Whether GM workers are still blind to the "handwriting on the wall" or not, UAW is beginning to face the music. At a GM stamping plant in Indianapolis, a prospective buyer has demanded wage cuts from $29 an hour to $14.95, and although the workers say they are not interested, the UAW international is pushing for the concessions. At a similar plant in Saginaw, MI, workers turned down a buy-down plan by a 3-1 vote in June. Immediately after, 50 skilled tradespeople and some production workers were laid off. When some additional health benefits were added to the buy-down offer, it passed the second time around by 3-1. ********** Nail Finally Hammered Into Carpenter's Coffin

Michael J. Forde, the former head of the Carpenters Union in New York, pleaded guilty at the end of last month to racketeering and racketeering conspiracy. Forde is the eighth individual sentenced as a result of a 2009 29-count indictment by federal authorities. The indictment included 10 men, and stretched back to 1994. The remaining defendants, Brian Hayes and Joseph Olivieri, face trail in September. ********** Banks Toehold Into The Financial Sector An unusual coalition of unions, including the SEIU, the Communication Workers of America, and the Brazilian Bank Workers Union, has jumped on an opportunity to attempt to organize the financial industry. Sparking the move was the purchase of Sovereign Bank in Boston by Spain-based banking giant, Grupo Santander. Santander's locations outside the United States are 75% unionized. Although it may seem like an uphill battle, the union coalition is not without help in high places. According to a detailed article about the campaign,
Boston City Councilman Felix Arroyo, a former SEIU political director, is currently working on a resolution that would threaten to move tens of millions of Boston city government money out of Sovereign Bank if the company doesn't agree to allow workers to hold a free and fair union election. The workers have even won the support of powerful Boston area congressman Barney Frank, who vowed in July of this year to use whatever power he can as chairman of the House Financial Services Committee to force banks to allow elections.
Brazilian trade unionist delegations have already made several trips to Boston to aid the effort. If Sovereign falls, it may start a toppling of the dominoes within the financial sector. ********** ULP Charge Of The Month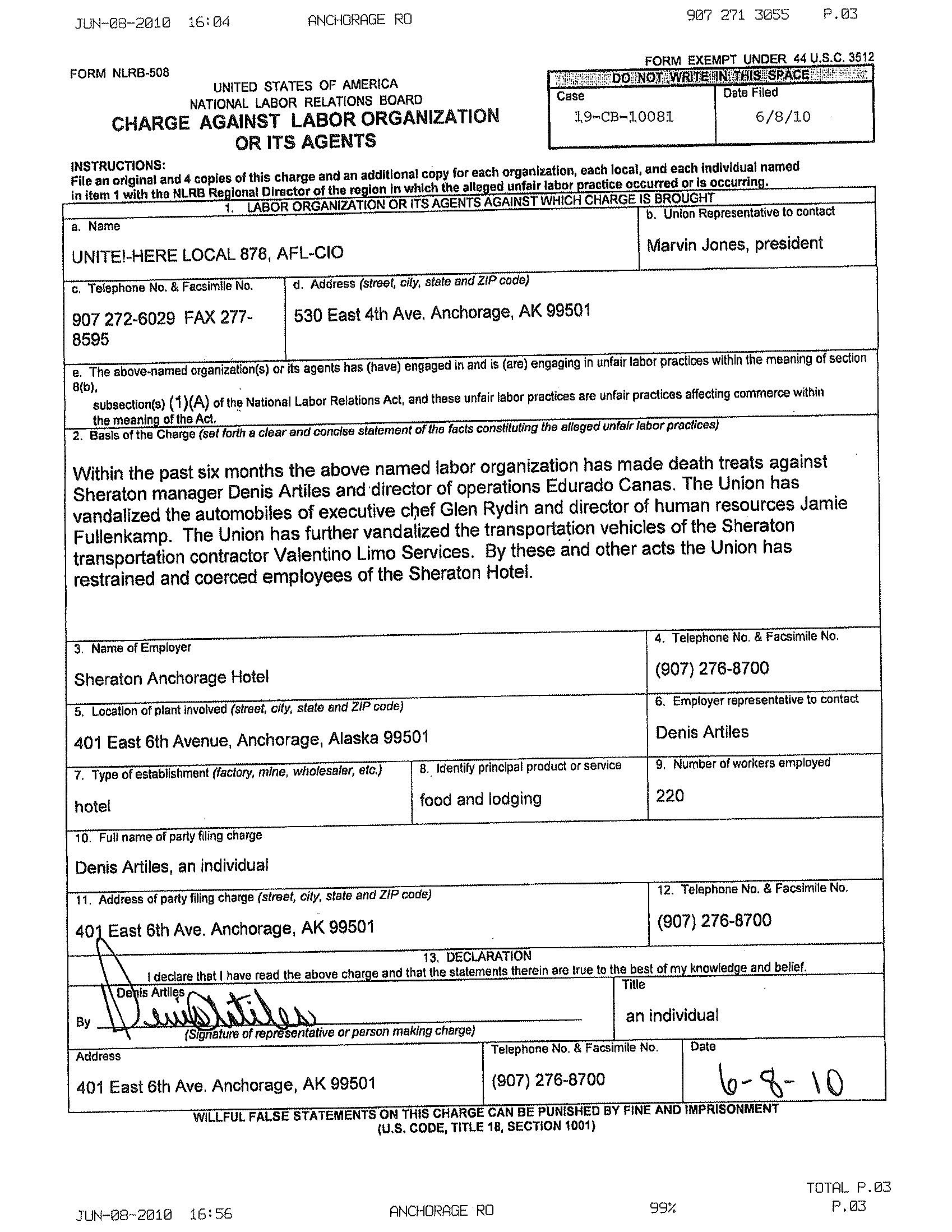 UNITE HERE has been active in Anchorage, AK – maybe a bit too active. According to this ULP filed in June, Within the past six months the above named labor organization has made death threats  against Sheraton manager Denis Artiles and director of operations Edurado Canas. The Union has vandalized the automobiles of executive chef Glen Rydin and director of human resources Jamie Fullenkamp. The Union has further vandalized the transportation vehicles of the Sheraton transportation contractor Valentino Limo Services. By these and other acts the Union has restrained and coerced employees of the Sheraton Hotel. Download PDF of ULP Of The Month here. ********** Sticky Fingers Current charges or sentences of embezzling union officials: Donald Woods                   AFSCME                 $1,376 Loretta Brown                  AFSCME                 $1,225 Aundrea Valerio              LIUNA                    $13,500 Stacy Johnson                  LIUNA                    $45,500 Aurora Rios                       LIUNA                    $167,500 Paula Dorsey                    AFSCME                 $180,000 Stanley Teasley               IAM                         $17,525 Daniel Greg Gibson        AFGE                       $33,986 Lucy Hastings                 AFGE                       $3,328 Steven McDeid                 NALC                      $51,639 Donna LeAnn Cooper     LIUNA                     $69,000 Joan Boucher                    Staff Union           $11,845 http://www.nlpc.org/union-corruption-update