If the Census Bureau is correct and union fiscal reports are to be believed, about six million Americans out there don't know they are union members. For 2022, the Census Bureau estimates 14,280,000 Americans are union members; however, national unions reported over 20 million union members on their 2022 LM2 reports.
This disparity triggers several worrisome speculations:
Are millions of Americans with representation so lousy they don't even know they're in a union? Could millions realize they are in a union but have opted to forget? Could millions just be too embarrassed to admit to a census taker, "I've joined, and I can't get out!"? Could unions be holding six million Americans captive in underground call centers and tee-shirt printing facilities!? Someone needs to get to the bottom of this.
A little digging, and we have our answer – just another case of union shenanigans. As it turns out, some struggling unions (Aren't they all?) are redefining union membership in clever and calculated ways to help sell their tall tales of growth, vigor, and superior leadership. It's the daily grind of the average union communications specialist to blow smoke at members, potential members, and the press. But fudging numbers on a report to the Federal government? Were the accountants okay with this?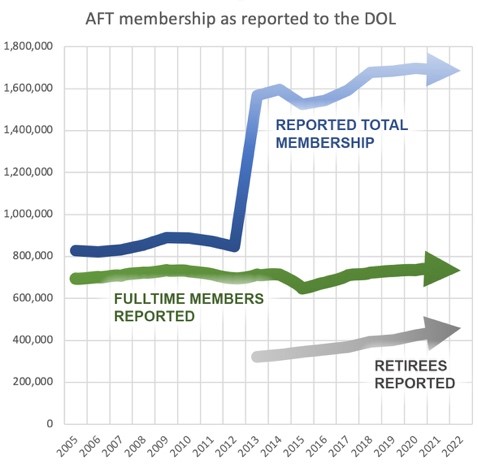 Take the American Federation of Teachers, for one. The AFT self-describes as "representing" 1.7 million and reports 1,686,316 members on its 2022 LM2 report. If true, the AFT is now the third largest union in the country, well above AFSCME (1.3M), the UFCW (1.2M), and the Teamsters (1M), and nipping at the heels of SEIU (1.8M). The AFT also crows a lot about growth under President Randi Weingarten, who took office in 2008.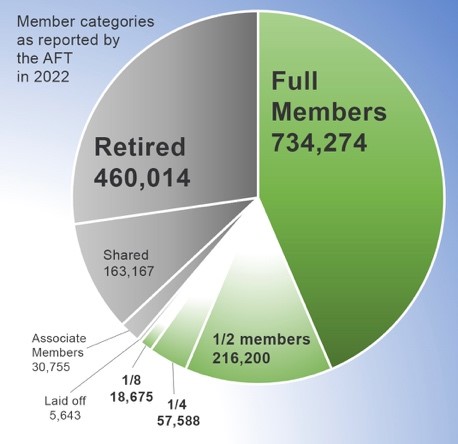 Well, the AFT sure has grown under Weingarten, from 889,347 reported members in 2009 to 1.7M in 2022. Pretty impressive. However, the AFT currently reports 137 fewer full dues-paying members than in 2009, and revenue from members has been relatively flat. So, what gives? Well, one of Weingarten's first accomplishments as AFT president was to craft a resolution requiring locals to report all retirees to the national union "in a timely fashion," presumably so the national union could start reporting them as "members" in 2013. And like all groups of retirees, that number won't stop growing, from 321,000 in 2013 to 460,000 in 2022. Other than the full member category that added just 1,800 members, retirees are the only category of AFT members that's grown since 2019 (58,000+). The AFT also reports a growing number of partial members, almost all adjunct college instructors, and teaching assistants, who pay less because they earn so little, under $18,000 a year, with nearly 19,000 earning under $8,500 annually, which is pretty darn low, union or not.
The AFT and the NEA have a few merged locals, and both unions report those members, although it's unclear which union gets the dues and for what. As is true for any union, "associate members" are not represented but pay a small fee to qualify for member benefits, like life insurance and discount amusement park tickets.
Why should this matter? Because if the AFT were playing it straight as far as how many members they honestly, legally represent, they'd be the sixth largest union, not the third. (They currently rank 9th in annual revenue.) And Weingarten wouldn't speak for 1.7 million teachers; at best, she'd speak for half that. (If any union leader can legitimately claim to speak for any member.) And if the AFT weren't so glib in its reporting, members and prospective members would have a much more accurate picture of the current status of their union and its financial future. (The Federal government seems to want AFT members to have this information, so why not?) And things won't be getting any better for the AFT anytime soon with university enrollment tanking, a tsunami of non-union charter schools on the horizon, and fierce competition from half a dozen other unions organizing in healthcare, many of them far more healthy than the AFT.