Labor Relations INK Download a PDF of this issue with links here.   Labor Relations Insight from Phil Wilson Bailouts and Pay to Play As unions prepare for the upcoming epic battle over the so-called "Free Choice" Act, they were dealt a couple of embarrassing public setbacks last week. The Detroit 3-UAW bailout and the "pay to play" scandal in Illinois create a lot of questions about union claims of fighting for the little guy at a time when they really need that narrative to resonate with voters and their supporters in Congress. What impact, if any, will these have on the push for the Free Choice Act in the next few months?
read the rest of the article here…
********** Under the Spotlight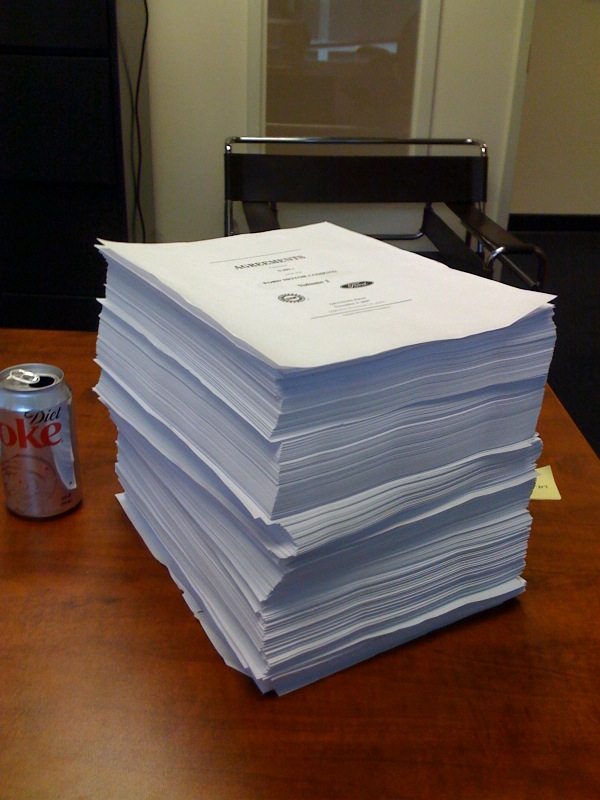 The media attention over the Big Three/UAW Bail-Out battle has helped to reveal the real nature of the impact of unionization on a business, and on a national economic and political structure. With millions of dollars funneled from the dues of hard-working Americans to coerce politicians to do their bidding, the UAW has played their hand such that Bush will now likely defy Congress to forward their interests, even though many economists (not on union payroll) believe that bankruptcy reorganization would be the best hope for a viable American auto business. This despite the obvious impediments to profitability created by massive legacy costs and crippling work rules imposed by unions. It will be telling of the real power bought by Big Labor if they weather this storm enough to secure passage of the Employee Free Choice Act. ********** A Tangled Web



Big Labor has many creative ways to spend it's money and wield it's power, including apparently negotiating with corrupt government officials to attain another pro-labor senator. Blagojevich was poised to trade a job provided by the SEIU in exchange for such a senatorial appointment as just one of his many lucrative exit strategies.
The SEIU had provided more $1.8 million to Blagojevich campaigns, and in exchange has been the recipient of several executive orders handing over more than 49,000 state workers into the fold of an SEIU local, tripling it's income from $7 million in 2005 to $21 million in 2007. The swath of corruptions runs wide and deep, tying the corrupt ACORN with Blago, the SEIU, and convicted financial swindlers Tony Rezko and Suart Levine. ********** Only In A Union
In another revelation of the SEIU playing money games, the union set up a charitable organization as a method to either launder mob money, create an untraceable slush fund, funnel more money to politicians, or all of the above.
"Of the 5,000-plus charities we've looked at, I don't think we've ever seen one that didn't spend anything on its charitable programs," said Sandra Miniutti, vice president of Charity Navigator, an online rating service. ********** Twilight of U.S. Factories?

Herman Cain, noted businessman and radio talk show host, relayed this recent experience:
"I attended two corporate Board meetings with some of my CEO peers. I did not even have to raise the subject [of the EFCA], but it came up in the course of conversation. So I asked them what they thought the impact on business in America would be if the "Employee Free Choice Act" passed in Congress. Unanimously, they predicted that the proposed legislation would be the end to manufacturing and production in the United States of America."
It is not only heavy industry that will face the onslaught. As we have highlighted several times, industries that never gave unionization a second thought will now fall directly into the crosshairs.
Mr. Cain ended by sounding the same alarm bell we've been ringing for over a year:
"So employers, get proactive if you are not already and then talk to your people about the pros and cons of 'to unionize or not.'"
********** DECEMBER SCOREBOARD Who are the winners (and losers) of the labor movement? Don't guess, just check the LRI Scoreboard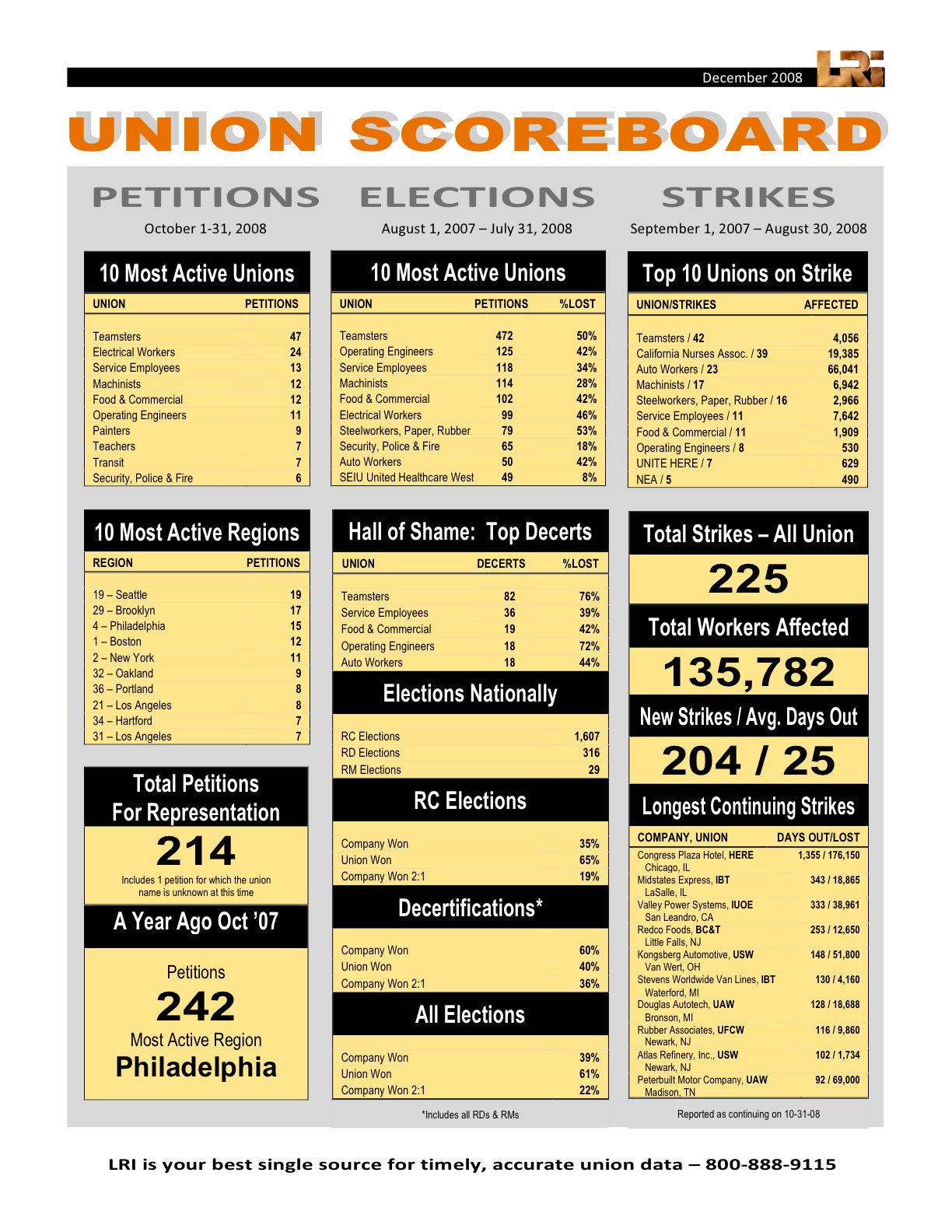 View this month's scoreboard (archives also located here).
Download a PDF of this month's scoreboard.
        ********** Employee Relations tip-of-the-month Partner up with local service providers (dry cleaner, oil change/detail, shoe repair, meal delivery, etc.) and try to negotiate discounts for your employees and on-site pick up and delivery. This will help them save time, money and is a nice perk – plus it helps support another local business. ********** Sticky Fingers! Current charges or sentences of embezzling union officials: Jeanette McFarland – GMP: $7,604 Tarris Dallas – USW: $105,000 Kathleen Kordish – USW: $20,304 Mary Schaeuble – USW: $3,379 Glen Gard – IAM: $90,500 Charles Bohanon – BLE: $18,074 William Sargent – AFGE: $800 ********** Labor Relations INK is published semi-weekly and is edited by Labor Relations Institute, Inc. Feel free to pass this newsletter on to anyone you think might enjoy it. New subscribers can sign up by visiting: https://lrionline.com/free-stuff/newsletter-signup If you use content from this newsletter please attribute it to Labor Relations Institute and include our website address: www.LRIonline.com Contributing editors for this issue: Phillip Wilson, Greg Kittinger Labor Relations Institute 7850 South Elm Place – Suite E Broken Arrow, OK 74011 US