In This Issue:
Raising Retaliation Awareness
Vaccine Uncertainty
Another UAW Conviction
Scoreboard, Insight and more…
 Labor Relations Insight by Phil Wilson Strikesgiving, 4th Quarter Organizing, and the New-Look Teamsters Thanksgiving is my favorite holiday, and this year was no exception. I was able to unplug, spend time with family and friends, and Michigan (finally) beat the team down south, which just makes the whole world a little bit nicer. But now we come into the home stretch of a barnburner of a year for organized labor. Next issue I'll make some predictions for 2022, but today let's look at a few of the big stories fromthe last month. Strikesgiving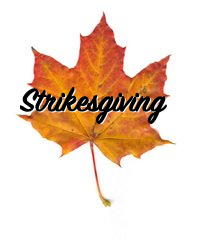 Unions have a lot to be thankful for this year. They somehow managed to become cool again. John Oliver roasted so-called union-busting companies and consulting firms – including our "euphemistically named" one – for over 20 minutes on his show. And if you saw it, you're probably thinking the same thing I did: "John Oliver is still on television?" The "most pro-union president in history" has his full starting lineup on the labor front, and the NLRB will soon be mowing down labor precedent like a John Deere combine. Speaking of John Deere, we just made it through Striketober, followed immediately by Strikesgiving (apparently every holiday now gets to include strike at the beginning, so stay tuned for Strikesmas). From media coverage you'd certainly think that there was a big increase in strikes this year. What's the reality? There are really several stories here. First, strikes are still rare, especially large strikes. Here are the BLS numbers. This chart doesn't include the Deere strike, or a number of narrowly averted strikes (the threatened IATSE and Kaiser Permanente ones for example) that would qualify. But that last bar will be well below 50 this year. So big strikes are definitely not back.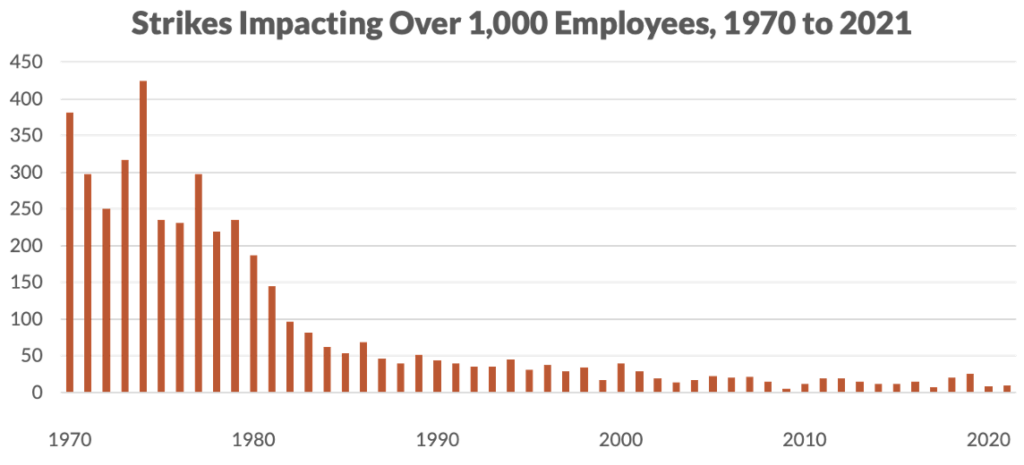 What about smaller strikes that don't make it on the BLS list? Understanding this number has always been difficult, and it's especially so since the FMCS decided to basically quit tracking them altogether. But the Cornell ILR School is filling that gap. While your mileage may vary about their methodology, it is a reasonably comprehensive list of protest and strike activity that doesn't make it on the BLS list. What does that data show? That Striketober ended with more of a whimper than a bang. This chart represents the total number of strikes and protests tracked in 2021 by month: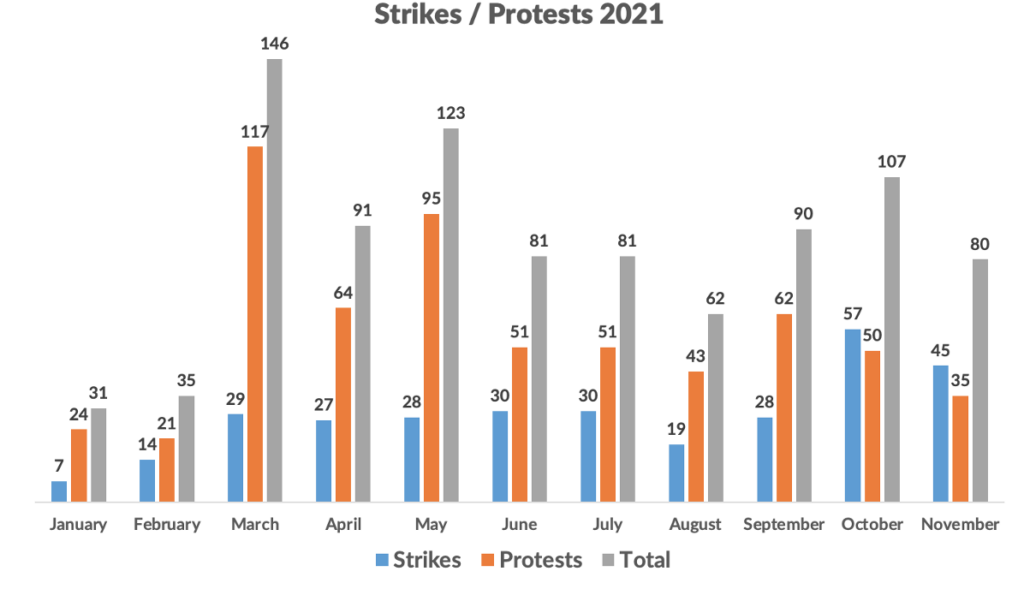 Looking at this chart you'd obviously conclude that "Striketober" had substantially more strikes than any other month in 2021. But here's the problem with the ILR methodology. They count a "walkout" of any length as a strike. That inflates the numbers dramatically. For example, one of the big stories in October was the so-called strike against Netflix for the Dave Chappelle standup special. But that "strike" was basically astroturfing and some Netflix employees closing their laptops for a couple of hours. While that is technically a work stoppage – some people stopped working – it certainly isn't what is traditionally considered a strike. If you instead only count work stoppages of two days or more the numbers look like this: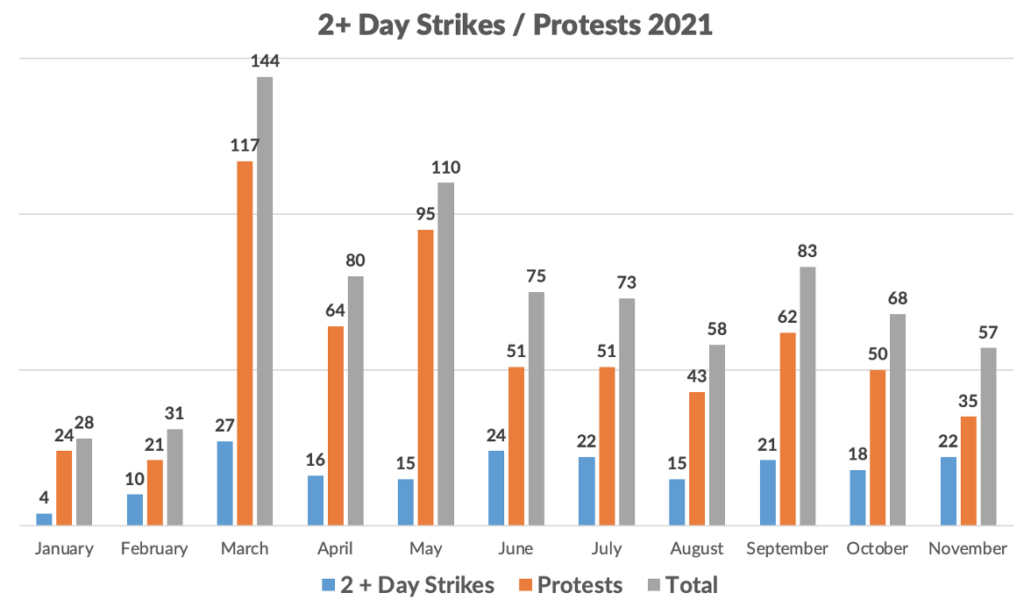 Using this measure of strike activity "Striketober" was a bit of a snooze, getting topped by five other months this year. Like a lot of labor stories these days, this was a lot more smoke than fire. This is not to say that strikes aren't happening at an increasing rate. While the statistics show Striketober was really no more than an effective PR campaign, I fully expect these numbers to increase dramatically next year, especially as major labor contracts expire (see Teamsters below). 4th Quarter Organizing Here are some other statistics you should be watching from our team at LRIrightnow. RC petition activity exploded over the last two months. Here are two charts to illustrate. First, this is overall RC petitions from January 1 to November 30 over the last five years. From this chart it's easy to see that Covid dramatically impacted RC activity this year and last – we are just over 2020 numbers and much lower than 2016-2019: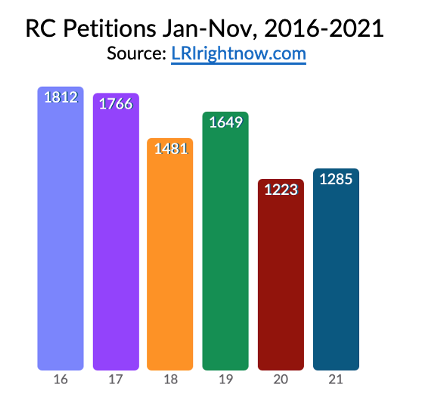 Now look at RC petitions from October 1 to November 30 over the last five years: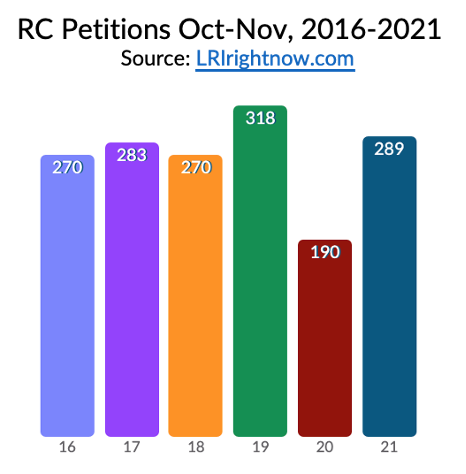 There was a surge in RC petition activity in the 4th quarter (and historically the 4th quarter has the lightest activity). This quarter could easily surpass 2019 for the most organizing activity in the last five years. I'll save my predictions for next month's issue, but you can probably guess what I'm going to say about organizing activity in 2022. The New-Look Teamsters Sean O'Brien overwhelmingly won the election to decide the next International President of the Teamsters Union, taking over the union run by James P. Hoffa for almost a quarter century. He's wasted no time laying down the gauntlet for UPS, Amazon, and non-represented units in many other industries.
This is a huge win for the Teamsters for a Democratic Union (TDU)-backed "OZ" coalition. But it's one thing to be the protest party. Now in charge, ruling over the IBT is not going to be easy. This election was essentially a referendum on whether IBT leaders are
willing to take on UPS
, and most anticipate a strike in 2023 (
including O'Brien
). Hoffa nearly lost his Presidency in 2016 due in part to frustration in UPS dominated locals. Then in 2018 Hoffa jammed through the soundly rejected UPS agreement using the infamous "2/3 rule." That decision effectively ended the Hoffa era. Hoffa announced his retirement, and the 2/3 rule
was eliminated
at the last IBT convention. However, there are a lot of old school, non-UPS locals that aren't big fans of the TDU. They'll become the new protest party inside the IBT. And while the O'Brien-Zuckerberg ticket won their election by a 2:1 margin, they also won with
incredibly low turnout
. That apathy certainly doesn't indicate a mandate for the big changes and battles the new-look Teamsters are planning. Be on the lookout for some housecleaning, especially in locals that
voted big
for the Teamster Power slate. Fasten your seatbelts. 2022 is going to be a wild ride. **********
Union Bailout Update
The U.S. Equal Employment Opportunity Commission (EEOC), the U.S. Department of Labor (DOL) and the National Labor Relations Board (NLRB) announced a
joint initiative to raise awareness about retaliation issues
when workers exercise their protected labor rights. The initiative will include collaboration among these civil law enforcement agencies to protect workers on issues of unlawful retaliatory conduct, educate the public and engage with employers, business organizations, labor organizations and civil rights groups in the coming year. The NLRB General Counsel, Jennifer Abruzzo, released
a memo
to all field offices outlining case handling procedures for immigrant workers. The memo instructs regions to
seek full and immediate remedies
regarding immigration-related threats and retaliatory conduct at every stage of an unfair labor practice case, including seeking Section 10(j) injunctive relief. The NLRB is seeking to
discredit more of the prior administrations' board decisions
, this time asking an appellate court to revisit a hospital case involving former member William Emanuel, claiming conflict of interest. However, two of the board's new members
adamantly refuse to recuse themselves
from cases involving their former employer, the SEIU. The NLRB published an Advance Notice of Proposed Rulemaking seeking public input on the
continued use of videoconference technology
post-pandemic as an option to conduct, in whole or in part, all aspects and phases of unfair labor practice and representation case hearings where appropriate. Read the posting in the
Federal Register here
. Based on a press release from the NLRB, expect to see in 2022.  According to the release, the board recovered $53,878,300 in backpay and $2,923,108 in fees, dues, and fines in 2021. The board cannot assess penalties, but that could change with the passage of the PRO Act. For gig-worker companies, the new administration may play another card to upset the apple cart. The Federal Trade Commission chief is considering a
push to amend antitrust law.
The goal would be to extend antitrust protections given to unions in relation to gig workers. **********
Covid-19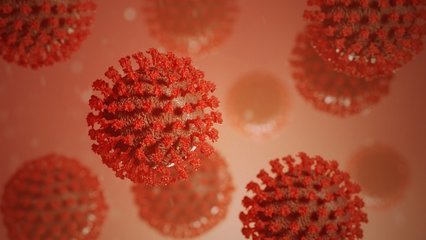 Nearly two years into the pandemic, COVID-19 continues to muddy labor waters for employers who are still grappling with a shrunken workforce (as a seemingly unavoidable outcome of increased unemployment dollars). Now that the Omicron variant has revealed its soon-to-be global presence, only one thing remains certain about the pandemic: uncertainty runs rampant. That includes the up-in-the-air fate of President Biden's sweeping
COVID-19
employer mandate, which he enacted through OSHA to mandate that companies with 100+ employees require vaccination or weekly testing. The immediate aftermath of this federal declaration, to put it mildly, churned up labor chaos with vaccination requirements becoming a source of fresh union disputes with management, who must navigate largely unfamiliar terrain. Here are some key developments:
********** "Be Prepared"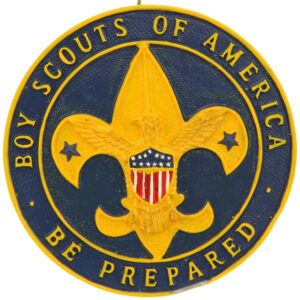 I grew up with the famous Boy Scout motto.  As we were preparing this issue of INK, I have been scrambling to work around about a half-dozen employee communication websites needed for active client campaigns, and realized the activity of our campaign sites has been steadily rising over the last quarter of this year. Can I ask a huge favor? It is far easier for us to install a customized website in advance of being needed for an active campaign, than to have to scramble once a campaign has begun. To quote another aphorism I grew up with, "An ounce of prevention…" If you've ever considered using a mobile-friendly website to communicate during a campaign, I'd love to give you a tour of our demo site during (what used to be) the end-of-the-year lull in organizing activity. Send me an email and we'll work it in around the office holiday parties. It could be "…worth a pound of cure!" ********** SCORE BOARD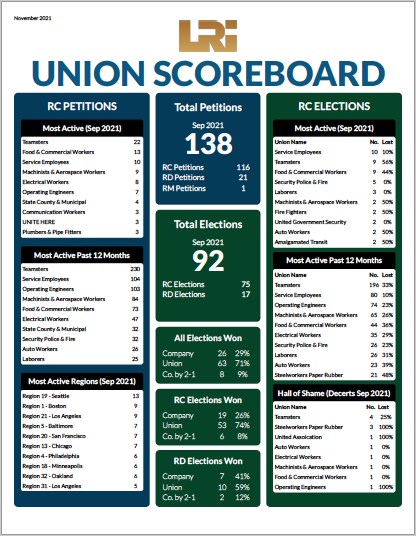 Who are the winners (and losers) of the labor movement? Don't guess, just check the LRI Scoreboard View this month's scoreboard (archives also located here). Download a PDF of this month's scoreboard ********** Organizing In the ongoing Starbucks organizing saga in upstate New York, unions won the decision to hold store-by-store elections at 3 different Buffalo locations. The company had hoped to force the election across all 20 stores in the market and is appealing both the decision for store-by-store elections and the mail ballot process instead of manual balloting. Meanwhile, workers at 3 more stores have petitioned for an election. While Amazon workers at a Staten Island facility withdrew a petition for a union election, the NLRB was deciding to hold a re-run election at the Amazon facility in Bessemer, Alabama. No matter that the Bessemer workers handed the RWDSU a more than 2-1 defeat, the union-friendly board grasped at whatever means it could to charge Amazon with "flagrant disregard" for agency process. ********** Kick You When You're Down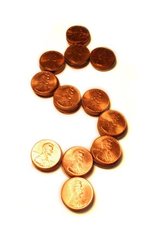 As much as unions have attempted to insert themselves into the pandemic narrative as the "protector of the worker," their actions to their own union members bely their true nature. Teamsters Local 707 has been hounding members who were on maternity leave, medical or disability leave, or furlough during the pandemic, to collect unpaid union dues. Because dues are automatically deducted from paychecks, when not receiving a check the members are expected to continue to make dues payments. ********** Union Corruption The depths of the UAW's corruption seemingly know no bounds with recent developments including a Michigan UAW local landing in hot water over a missing $2 million tied to improper expenditures that add up to a massive embezzlement scheme. This particular story sources to an investigation into the 16th union official accused of corruption, this time in the form of "money laundering and spending the funds on gambling, guns, cars, and child-support payments." It's no wonder that the convictions of UAW officials — including prison sentences for presidents Gary Jones and Dennis Williams — resulted in a court-appointed watchdog (former prosecutor Neil Barofsky), who's tasked with informing the Justice and Labor Departments. Efforts at UAW reform, apparently, have failed to entirely guard against corruption, and one need look no further than current UAW President Ray Curry, who recently vowed to right those wrongs "of the past." Curry now finds himself under the microscope for potential ethical misconduct for allegedly pocketing thousands of college football tickets handed over by a union vendor. The watchdog disclosed an investigation during the course of hopeful UAW reformation, all while another 14 investigations into UAW misconduct remain open. As a result, Barofsky declared that the union has "fallen short" in eliminating the "strong remnants of the 'toxic' culture" of the past in favor of a more trustworthy future. On a smaller-potatoes (but still unethical) note, the SEIU Local 1000 president recently published credit card statements for multiple officials, including himself. In the process, Richard Louis Brown admitted that he used union dues to pay for a number of personal expenditures, including a weight-loss clinic and laundry services, along with trips to restaurants and visits to Costco, all of which raises the question: what else could be flying under the radar? In Philadelphia, the high-profile trial of International Brotherhood of Electrical Workers Local 98 leader John Dougherty and city council member Bobby Henon (a former union electrician) ended in a host of federal convictions (including charges of conspiracy and bribery) following an FBI investigation. All told, Dougherty guided over $30 million in electric contracts (secured by Henon, who was paid a no-show salary as a bribe) toward his own interests, and Dougherty is awaiting another trial on $600,000 in alleged dues embezzlement. Federal law dictates that bribery convictions would prevent Dougherty from keeping his labor leader position, although he insists that stepping down isn't in the cards. ********** Tech/Media Unions The comic book industry's presumed immunity to collective bargaining efforts has come to an end. Following outreach from the influential Communications Workers of America, Image Comics saw a majority of eligible employees form the Comic Book Workers United (CBWU). Although the company initially declined to recognize the union, Image Comics publicly acknowledged that the NLRB is reviewing a petition for a secret-ballot election.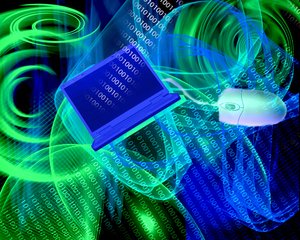 Likewise, Apple continues to wade through an abrupt increase in employee unrest that's proven to be, at least in the public eye, unfamiliar territory for the tech giant. Such a sudden visible shift signals that even companies with a steadfastly secretive culture aren't impervious to employee organizing; this is particularly the case for Apple regarding the issue of pay equity. CEO Tim Cook previously tried to calm concerns after the appearance of an employee-created #AppleToo website (organized by 15 employees) and NLRB scrutiny of multiple employee complaints. Two prominent cases involving ex-employees currently plague Apple:
An ex-employee who helped set up the #AppleToo site filed an NLRB complaint in which she alleges that the company terminated her in retaliation for attempting to organize coworkers. That complaint is pending investigation.
An Apple security engineer (and #AppleToo "primary organizer") with a prior NLRB complaint (claiming that the company shut down employee surveys to compare salaries) announced that she's leaving Apple after receiving an undisclosed settlement.
In the end (although this story likely isn't over yet), Apple (which previously banned a Slack channel about pay equity) explicitly informed employees that they're free to discuss their pay rates and working conditions without repercussions. In the media realm, organizing efforts remain hefty with Politico staffers launching a union drive while three New Jersey-based Gannett newsrooms (including Asbury Park Press, the Courier News and the Home News Tribune) joined the APP-MCJ Guild as part of the News Guild. Elsewhere, Hearst magazine employees (who belong to the Writer's Guild of America East) lodged an unfair labor practice complaint against the company's return-to-office mandate. ********** Manufacturing Exxon's Texas refinery workers could soon end a seven-month battle as 600 workers began voting to potentially oust the United Steelworkers union (on the scene since World War II) after their months-long lockout at the Beaumont plant. That move followed the May breakdown in contract talks between management and the union, and subsequently, an employee started the petition to build support for decertifying the local. With a full-on vote soon approaching, a 50%-plus-one required vote could push the union out. However, the NLRB suggested that it could suspend proceedings while investigating United Steel complaints into the long-standing dispute. Elsewhere, the John Deere strike came to an end this month following a final offer from the agriculture machinery manufacturer that saw divided UAW members ratify a new contract. In the end, the approved terms were substantial and included the following: immediate raise of 10%, ongoing raises, a signing bonus, and the rare restoration of a cost-of-living adjustment, all of which met with 61% approval and will send 10,000 members back to work. After five weeks of one of the most widely-reported strikes in recent memory, it's no wonder that we're seeing continued speculation about whether increased labor unrest is a "sign of the times." ********** Healthcare Woes Before Thanksgiving, we filled you in on the saga of Kaiser Permanente, one of the biggest U.S. healthcare employers, which shoulders continuing strike burdens. The conglomerate narrowly averted a group of 32,000 more medical workers joining picket lines, but that relief turned out to be short-lived as sympathy strikers joined the list of more planned walkouts. In turn, Kaiser will pour more money into maintaining operations as nurse labor unions still insist that offered wage increases aren't high enough. With a Delta-strapped health system still reeling, unions will likely see more openings to declare that the working-condition war isn't over yet. ********** Minimum Rising  The holiday shopping rush is upon us with retailers leading the way to raise wages and entice workers back from unemployment checks. Recent hourly wage bumps (Macy's at $15, Ikea at $16, and Costco at $17) reflect the competitive atmosphere throughout the private sector and as of January 30, workers on new federal contracts will begin at $15 per hour. ********** Labor Around the World COVID 19-fueled supply chain snarls continue to cause logjams  at U.S. ports, but as of early November, Reuters noted signs that the global supply chain could see some relief. Those predictors include projected changes in shipping rates, lessened port congestion, and rebuilt inventories expected after the seasonal rush. However, the specter of the Omicron variant adds a level of additional supply uncertainty as health officials continue to feel things out. In addition, the world's largest meat supplier believes that global worker shortages will continue to affect many industries well into 2022. Meanwhile, the international gig economy could be telegraphing more developments to come after last month's North American news (we told you about New York City's expansion of working-condition guidelines for food-delivery workers and Canada's goal to reclassify Uber drivers and other gig workers as employees). Over in Portugal, the government's working toward pushing app-focused workers toward employee status, a movement that's already taken root in England and Spain. And in the United Kingdom, 2021 can count over twice as many gig workers than five years ago with that number projected to keep growing. ********** Labor Relations INK is published monthly and is edited by Labor Relations Institute, Inc. Feel free to pass this newsletter on to anyone you think might enjoy it. New subscribers can sign up by visiting: http://lrionline.com/free-stuff/newsletter-signup/ If you use content from this newsletter please attribute it to Labor Relations Institute and include our website address: http://www.LRIonline.com Contributing editors for this issue: Phillip Wilson, Greg Kittinger, Kimberly Ricci, and Stephanie O'Malley You are receiving this email because you subscribed to receive our labor relations newsletters and updates. You can manage your email preferences by clicking the link at the bottom of any of our email communications.