Labor Relations INK Download a PDF of this issue with links here.   SEIU / UHW-West Conflict Erupts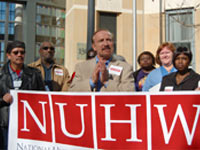 SEIU's Andy Stern final pulled the trigger and put the large (150,000 member) California-based local into trusteeship. United Healthcare Workers-West president Sal Rosselli, and 17 other elected officers, were ousted, and SEIU and moved to seize control of the local's offices.
In what some observers called "trench warfare," the UHW-West leadership first refused to vacate their offices, and then opened a new union, the National Union of Healthcare Workers, to rival SEIU for the membership of the local, petitioning for elections in 62 hospitals and healthcare facilities.
The west-coast dispute was mirrored in the east, as the UNITE side of the UNITE-HERE union took the HERE side of the executive committee to court over violations of its constitution.
********** OLMS Teeth To Be Pulled? Since the start of fiscal year 2001, the Labor Department's Office of Labor-Management Standards cumulative enforcement results include 1,004 indictments, 929 convictions, and payments or orders of restitution of $93,110,576. However, the mission of the OLMS to protect union members from financial abuses and other crimes by those who serve in positions of trust may be jeopardized, as Labor Secretary designate Solis will not commit to funding, and in fact parried the direct question into a comment antagonistic to business, rather than the unions officials OLMS is designed to monitor. [flashvideo file=http://www.youtube.com/watch?v=m55fyIT5q84 image=wp-content/uploads/solis.jpg /] Watch the video on YouTube at this link:  http://www.youtube.com/watch?v=m55fyIT5q84 ********** Obama Begins Union "Dues" Payments
Whether or not the Employee Free Choice Act moves through Congress swiftly, Big Labor will have plenty to thank Obama for. He has already begun the process of tossing bones to his biggest backers. Several Executive Orders were signed giving unions preferential treatment in Federal contracts and making it harder for workers to understand their rights. Additionally, power is granted to the Secretary of Labor to blacklist union targets from federal contracts.
Meanwhile, Big Labor is keeping the heat on the newly elected Congress, and President. Andy Stern of the Service Employees International Union threatened to "hold people accountable" for their campaign promises. Keep you eyes open – Big Labor's $450 Million election debt won't be satisfied with just a few bones. They'll want substantial meat, whether packaged in the EFCA or not.
********** UFCW Thugs Intimidate Worker

At a Rite-Aid store in Niagara Falls, NY, an employee working in the stock room was approached and pressured by three representatives from the United Food and Commercial Workers Union. The worker had filed a petition on behalf of his co-workers to have the union removed. According to the police report filed, the union representations tried to coerce him into an after-hours meeting, and he feared they were trying to harm him. ********** Employment Law Changes
Beyond the impact of the new administration on laws related to union issues, there are more changes coming that employers will have to keep abreast of. The workload of HR personnel will increase dramatically, and pity the small business owner who doesn't have an HR manager! The Lilly Ledbetter Fair Pay Act and the Paycheck Fairness Act are the first two among the plethora to come.
**********
Pro-Business Advocacy
Americans For Job Security is a pro-business, pro-markets issue advocacy group that has joined the fight against the Employee Free Choice Act. Among their key issues are:
– tax reduction
– free markets & free trade
– energy
– transportation
Check out their web site.
**********
ULP Charge of the Month
With friends like these…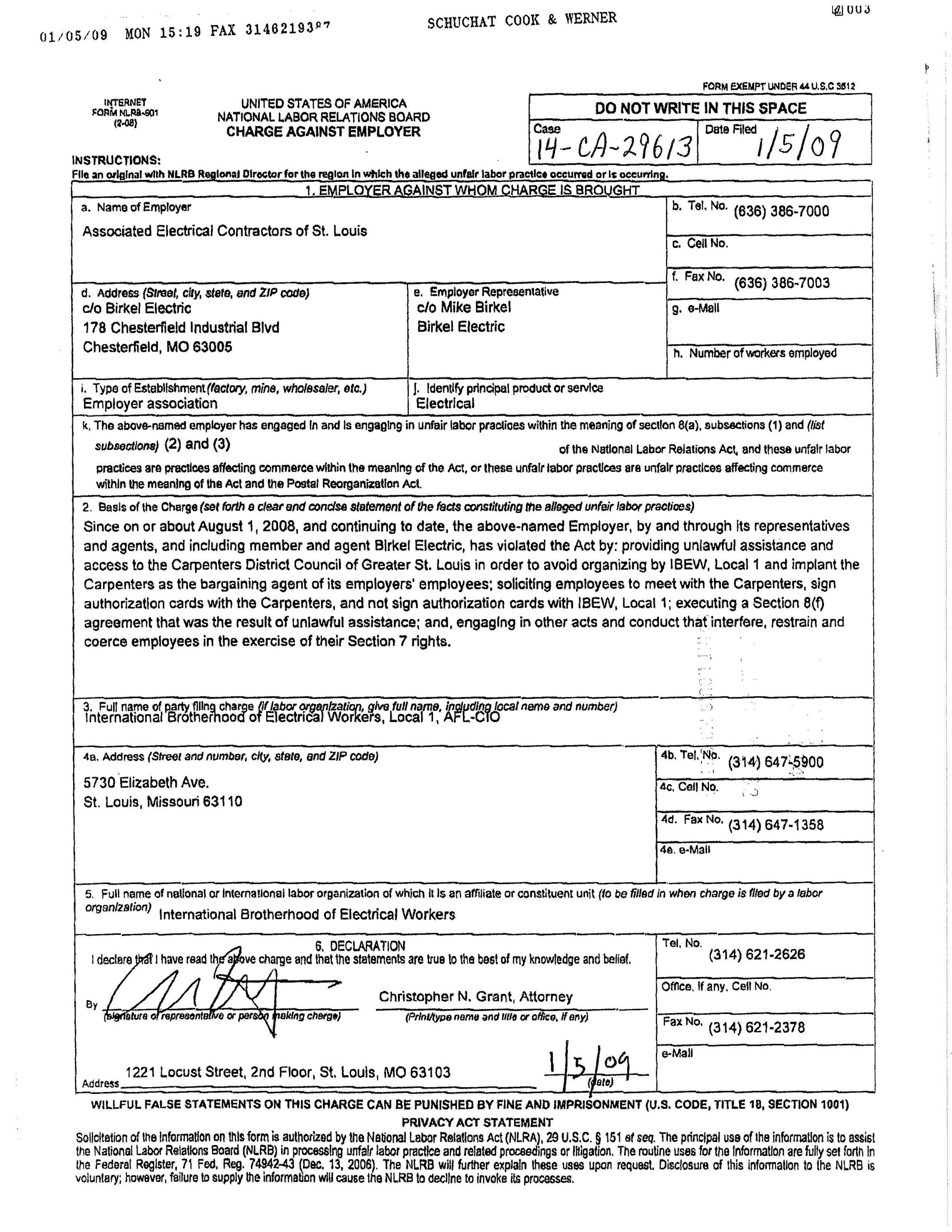 Download a PDF of this ULP here. ********** Teamsters Latest Corporate Campaign

Hoffa has instructed Teamster locals across the country to sever any relationships with Cleveland-based KeyCorp bank, and move their banking business elsewhere. Why? Because Key is the primary lender for Oak Harbor Freight, an Auburn, Wash., company where more than 600 Teamster members had been on a lengthy strike.
Teamster-owned assets to be moved could run as much as $18 Billion. Just another example of Big Labor's strategy to drag a third party into a labor squabble.
********** Sticky Fingers! Current charges or sentences of embezzling union officials: Kenneth Campbell – IUOE: $290,000 Carl White – IATSE: $86,000 Gerald Conaway – FOP: $5,500 Stephen Snyder – USW: $78,893 Rick Radek – BLET: $6,700 Joseph Johnson – IBB: $102,519 Richard Klemser – IAM: $60,000 Jeffrey Baker – IAM: $16,050 Danny Tilley – TBCTC: $9,719 Linda Peterson – APWU: $6,505 ********** Labor Relations INK is published semi-weekly and is edited by Labor Relations Institute, Inc. Feel free to pass this newsletter on to anyone you think might enjoy it. New subscribers can sign up by visiting: https://lrionline.com/free-stuff/newsletter-signup If you use content from this newsletter please attribute it to Labor Relations Institute and include our website address: www.LRIonline.com Contributing editors for this issue: Phillip Wilson, Greg Kittinger Labor Relations Institute 7850 South Elm Place – Suite E Broken Arrow, OK 74011 US