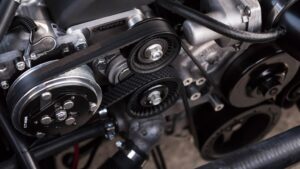 The stalled-out nature of the Build Back Better legislation (which, as we noted, contains increased NLRB employer penalties and tax incentives for unionized automakers) isn't seeing renewed life yet. However, President Biden plans to meet with CEOs of GM, Ford, and Microsoft to make a renewed push for the bill. Likewise, the United Mine Workers of America International (which clearly has a vested interest in the legislation's planned financial penalties for employers who oppose unionization) is pressuring Joe Manchin (one of only two Democratic senators to vote no on the legislation) despite his continued opposition to the bill.
Back in November, Exxon's Texas refinery workers began voting to potentially decertify the United Steelworkers (USW) union following a months-long lockout at the Beaumont plant. At the time, the NLRB suggested that it might suspend these proceedings. The board has now forged ahead with impounding ballots and postponing a count while investigating unfair labor charges, which source from both workers who wish to decertify the union and the USW itself.
Automakers find themselves facing off with unions at Corvette and Honda plants. For the former, a UAW local near Bowling Green, Kentucky is pushing several outstanding issues (some of which should remain the purview of management), and include the following:
The exclusive employment of UAW members for contracted gigs currently filled by outside companies;
The promise that this plant will remain the sole location for building Corvettes, even in the event that an electric Corvette materializes in the future;
Increased pay rates for those workers in certain classifications that require specialized knowledge and skill.
Meanwhile, the Biden-appointed members of the NLRB voted to review a Nissan regional official's decision to block less than 100 workers (of the 4,300 workers at a Tennessee plant) from voting to form a unionized subgroup of employees as part of an International Association of Machinists and Aerospace Workers campaign.
Up in Seattle, Washington, the Teamsters keep waging a concrete strike for 300 drivers after (according to the union) a "failure" of mediation. The months-long battle continues to slow construction projects for six companies and has, counterproductively, produced hundreds of worker layoffs during a local building boom.