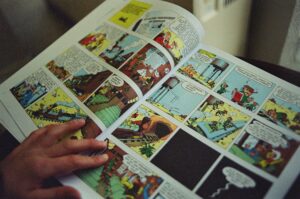 Who qualifies as a tech worker? The definition grew ever more fuzzy towards the end of 2021 when unions increasingly set their sights on warehouse workers, coders, and retail workers alike. And the Communication Workers of America (CWA) embarked upon an aggressive mission to unionize tech workers of many stripes through its CODE-CWA (Coalition to Organize Digital Employees) initiative. To that end, Google Fiber workers petitioned to launch a union vote for representation by Alphabet Workers Union.
CWA also closed in on Vodeo Games (maker of Beast Breaker), which became the first unionized North American games studio after workers (including staffers and independent contractors, all of whom work remotely) unanimously voted for union representation. Vodeo Games did recognize the union, and the two sides will soon meet at the bargaining table.
The CWA also set its sights upon the comic book industry with workers at Image Comics voting to certify CWA representation (also recognized by the company) and becoming the first unionized comic book publisher in the United States. And over at the New York Times, tech workers will hold a mail-in election (beginning on January 24) as the News Guild (a CWA affiliate) aims to represent what would be their largest group of tech workers in the United States.