Labor Relations INK Download a PDF of this issue with links here.   Labor Law "Change"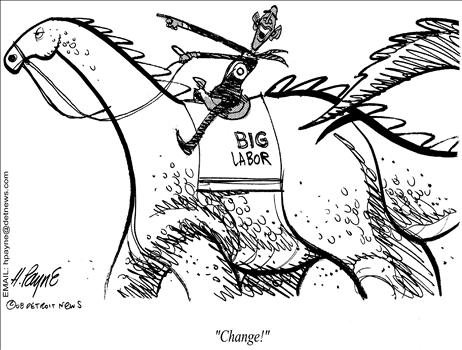 The ruckus over the Employee Free Choice Act is only the tip of the iceberg of Big Labor legislative objectives. Beyond eliminating secret ballot elections, they also seek to:
• put an end to state right-to-work laws
• enforce a gag rule on truthful and non-coercive speech about the downsides of unionization
• prohibit permanent replacement of striking workers
• force state and local governments to collectively bargain with union officials over all contracts involving police officers, firefighters, and paramedics
Close your eyes for a moment and imagine what this country would look like under "union rule." Not a pretty picture.
********** Economic Assault on Secret Ballot Process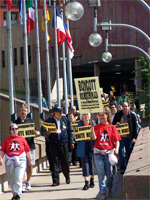 According to a recent UNITE HERE email communication, the Public Employee Federation of New York (PEF) canceled a reservation of 100 rooms at the Rochester Plaza Hotel, while hundreds of delegates from the PEF demonstrated outside. The boycott was called when hotel management refused to succumb to card check union recognition instead of the NLRB private ballot process.         ********** The "Governator" Shoots Down EFCA-Like Bill With all the discussion about the Employee Free Choice Act looming at the national level, the fight against traditional monitored secret-ballot elections is being fought on other fronts as well. In California, Gov. Schwarzenegger vetoed a bill that would have allowed the unions to have a role in collecting "secret" ballots directly from workers, including an option to elect for "direct representation" without any additional balloting process. This was a slick move by the unions to once again violate a worker's right to a protected, private ballot-box experience when casting their vote, in the same way that a simple card check scheme violates those rights. ********** Right To Fire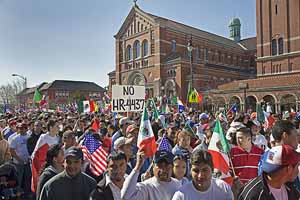 In the aftermath of what may have been the largest political strike in history last May, an NLRB directive gave employers the right to terminate workers who engaged in such activity on company time. The directive, posted on "political advocacy" by Ronald Meisburg, the National Labor Relations Board general counsel, enables bosses to immediately fire employees who participate in work stoppages of a political nature. The ruling occurred when immigrant workers skipped work to attend a protest against immigration legislation. ********** Businesses Cave Businesses in Colorado recently struck a bargain to spend up to $3 million to defeat 3 measures on a current ballot that would limit certain union activities. In exchange, Labor agreed to pull 4 measures that were not favorable to business. ********** New! Interview Transcript An Interview with Don Wilson: The EFCA. This is a complete interview with the CEO of Labor Relations Institute on the Employee Free Choice Act and its impact on American businesses.   Pre-Election Special! There is still time to educate your employees about the dangerous impact of the Employee Free Choice Act prior to the November election. We are offering the About the EFCA module from our EFCA Tool Kit for only $895. You still have time to make a difference! Review the details and preview the videos here. ********** ULP Charge of the Month Pot calls the kettle black in this one. This SEIU local told their staff, organized as the Brotherhood of Support Staff, that their union no longer existed and that the BUSS organizers were racketeers.
Download a PDF of the ULP here.
        ********** Union Loses Big An arbitrator awarded a construction contractor $10,000,000 in damages against the Chicago Carpenters Union. The award sustained a grievance alleging that the Union engaged in a course of conduct designed to put the contractor out of business. ********** Sticky Fingers! Current charges or sentences of embezzling union officials: L. Mark Hurley – CT Assoc. of Prosecutors: $80,000 Thomas Leonard & Steven Thomas – LIUNA: $30,000 Scott Gehringer & Alex Margaritis – IAIW: $16,000 Jeanette McFarland – GMP: $7,604 Kathleene Bigham – BMWE: $15,000 ********** Labor Relations INK is published semi-weekly and is edited by Labor Relations Institute, Inc. Feel free to pass this newsletter on to anyone you think might enjoy it. New subscribers can sign up by visiting: https://lrionline.com/free-stuff/newsletter-signup If you use content from this newsletter please attribute it to Labor Relations Institute and include our website address: www.LRIonline.com Contributing editors for this issue: Phillip Wilson, Greg Kittinger Labor Relations Institute 7850 South Elm Place – Suite E Broken Arrow, OK 74011 US