Labor Relations INK Download a PDF of this issue with links here. In This Issue: • EFCA Update • SEIU Red Ink • IAM's Suicide Solution • PLUS May Scoreboard and more… PDF with links: https://lrionline.com/ink/images/052909/ink_052909.pdf EFCA Update In a nice op-ed piece, Bret Jacobsen highlights another coup of the EFCA proponents in controlling the language of the debate: using the word "compromise" to denote what will end up being the bill they will push through into law. We have taken to calling it the "EFCA or derivative," rather than suggest that any change to the current law is validly required via some type of compromise with Big Labor. As former NLRB member Peter Kirsanow has suggested, none of the "compromise" options being floated are really a compromise at all, including mail-in ballots. Another reason for the desperate drive for Big Labor to have an easier time organizing (and pushing for mandatory arbitration) was exposed: the need to strengthen drastically underfunded union pension plans (see also here and here). Meanwhile, Andy Stern calls Democracy an "ugly thing" and continues to push for a degradation of democracy in union elections via coercive card-check, and Senator Harkin threatens to back some Democrats against the wall (who have been wavering on EFCA) via a straight-out vote on the bill. On another front, 16 states are in various stages of using legislative action to instruct their Washington Congressional contingent to vote "No" on the legislation. In one such skirmish, the Attorney General of Arkansas struck down one such proposal. Keep in mind the "compromise" label – it may allow Democrats (and others) to follow the union lead by saying they were "against" the EFCA, but believed in labor's (false) need for equity, and thus voted for the derivative bill. ********** SEIU Red Ink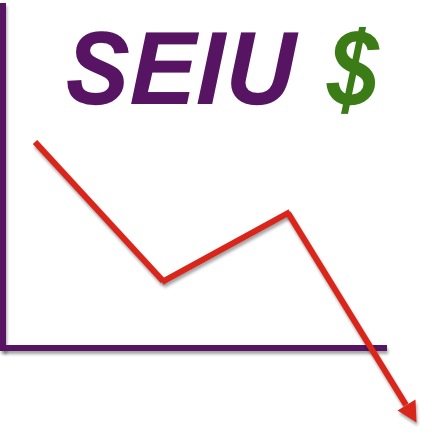 The aftermath of SEIU's big campaign spending is a mountain of debt. The SEIU basically financed its part of the "buying of the administration," but even though their balance sheet in physical terms is looking rather shoddy, you can't claim that the money was misspent when you review the political assets purchased (former SEIU operatives now in positions of power within the administration). They gambled big – and it looks like it paid off. ********** IAM's "Suicide Solution"

It is likely that the International Association of Machinists and Aerospace Workers may be poised to committed harakiri at a Harley Davidson plant near Baltimore. Following the UAW legacy of fighting for wages and benefits over job security, Harley may close the plant and move to another state where the climate is a lot more "non-union." ********** Only In A Union In another fancy scheme designed to defraud union members using ambiguous fines, the notoriously corrupt New York City carpenters union is trying to force members to sign a card authorizing such fines or forfeit their vacation pay. Members are wary of their corruption-ridden leadership, yet fear reprisals. "What sort of 'voluntary' organization is it where the members are afraid of the very organization that claims to be speaking for them?" ********** Deck-Stacking Continues In yet another move to cement a bureaucracy in Washington sympathetic to Big Labor concerns, Obama has appointed a former SEIU legal counsel to the Federal Election Commission. The appointee, John Sullivan, has questioned the need for disclosure rules on advertisements aimed at influencing voters. J. Gerald Hebert, executive director of the Campaign Legal Center in Washington, contends that Sullivan's stance was "so radical that not even the most visible, well-known opponents of campaign finance restrictions supported it." Sullivan is on record as questioning rules on coordinated communications between candidates and outside groups, such as unions. ********** SEIU Takes A Punch

When the largest SEIU local left the fold to form an independent union, Stern & company fought hard to prevent the loss. The National Union of Healthcare Workers (NUHW) won the latest round as workers at a hospital in San Pablo voted overwhelmingly to join the new union. Almost 100,000 SEIU members are currently waiting for an opportunity to leave SEIU and join NUHW instead. SEIU is spending millions on advertising and direct mail to prevent the loss, but if the vote at San Pablo (158 to 24) is any indication, and SEIU's financial woes continue, SEIU may see quite an exodus. ********** Insight Into SEIU/CNA Collaboration The truth is beginning to emerge about the "kiss and make up" effort between the Service Employees International Union and the California Nurses Association-NNOC. According to this assessment by a labor-movement side observer, a huge impetus for the truce is likely an SEIU maneuver against the rogue California SEIU local that spun off into a new union, the NUHW (see story above).

As the leadership of the NUHW was extracting itself from the local that had been placed under trusteeship by Andy Stern, CNA stepped to the plate to pay the health benefits costs of the new union's staff. However, as a part of the new pact between the CNA & the SEIU, CNA will cut off all funding help to its former natural ally, the NUHW. With the battles between the CNA & SEIU currently on hiatus, more cash will now be left in the strained coffers of the SEIU to continue to fight the fledgling NUHW. ********** SCORE BOARD Who are the winners (and losers) of the labor movement? Don't guess, just check the LRI Scoreboard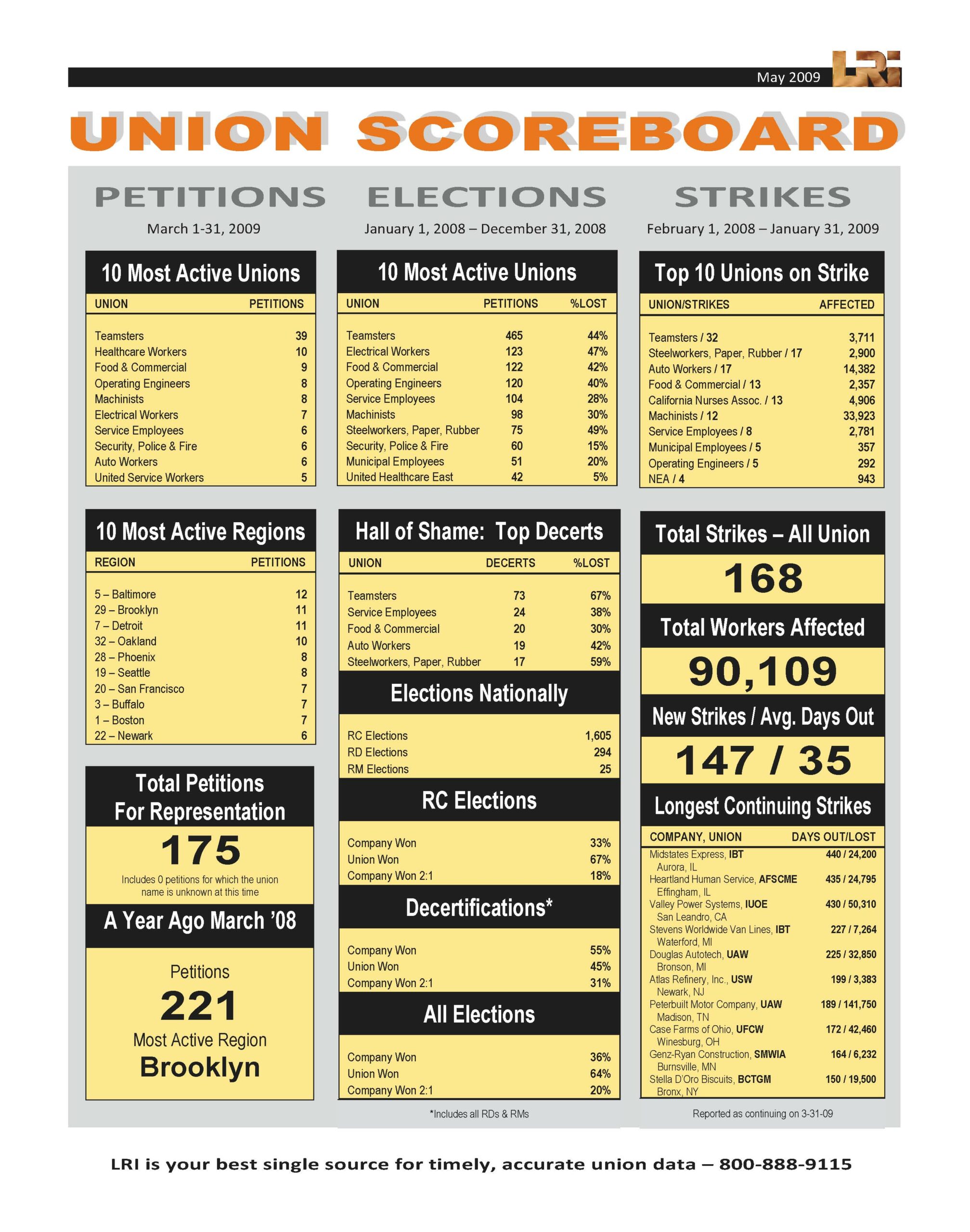 View this month's scoreboard (archives also located here).
Download a PDF of this month's scoreboard.
********** Employee Relations Tip Of The Month If you must downsize, it is important to help maintain the dignity of those being laid off, as it will effect the remaining employees. Follow these tips: • Notify each employee in private • Allow them to say goodbye to their friends and transfer their responsibilities in an orderly way • If possible, provide them with outplacement services • Do not escort them off the premises as if they are criminals (unless absolutely necessary) Hat tip to HRTools for the suggestions. ********** It's About the $$$ CNA has blocked every effort by nurses at Fremont-Rideout Health Group to oust the union using both Unfair Labor Practice charges and the courts. Now that the union has used the courts to force management back to the bargaining table (for now), the CEO is sure that the union "security clause" will not be up for debate. The CNA seems willing to gamble the loss of the entire facility rather then give up the ability to force nurses to pay dues, even if the nurses don't want to be a part of the union. Doing the math, CNA stands to glean $600,000 a year in dues (almost $2 million over a 3-year contract). It'll be interesting to see how their "all or nothing" strategy will pan out. ********** RAISE Act: Don't Hold Your Breath Congressman Tom McClintock (R – California) will introduce a bill that would allow employers in a unionized company to recognize employees who achieve outstanding performance or innovation, or in some other way make a stellar contribution to the success of the business. The piece of legislation is called the "Rewarding Achievement and Incentivizing Successful Employees" (RAISE) Act, which would amend the National Labor Relations Act and eliminate the de facto pay cap imposed on working Americans through stifling collective-bargaining agreements. One estimate indicates that this act would provide union workers the opportunity to earn an additional $2,600 to $4,300, which is three to five times higher than the middle-class tax cuts promised by the Obama administration. It would obviously increase the incentive for employees within unionized companies to actually be more productive. Big Labor will never stand for it. It will be too much of a threat to their status quo seniority system, which completely stifles worker productivity, as this personal testimony attests. ********** Sticky Fingers! Current charges or sentences of embezzling union officials: Brian McLaughlin – IBEW/NYCCLC: $2,200,000 Belinda K. Woods – CWA: $10,988 Dianne Drawdy – SPFPA: $18,000 Monica Smalls – AFGE: $500 Robert and Theresa Ann Carr – UA: $45,000 Kevin Welch – CWA: $1,000 ********** Labor Relations INK is published semi-weekly and is edited by Labor Relations Institute, Inc. Feel free to pass this newsletter on to anyone you think might enjoy it. New subscribers can sign up by visiting: https://lrionline.com/free-stuff/newsletter-signup If you use content from this newsletter please attribute it to Labor Relations Institute and include our website address: www.LRIonline.com Contributing editors for this issue: Phillip Wilson, Greg Kittinger NOTE: if you are using Internet Explorer v. 6, read the text version, as the html will not load properly in IE6. We recommend upgrading to IE7. Labor Relations Institute 7850 South Elm Place – Suite E Broken Arrow, OK 74011 US