Labor Relations INK Download a PDF of this issue with links here. In This Issue: • Insight from Phil Wilson • EFCA Update • Internicine Battle Rages On • Organizing Campaign Moves To Public Square • and more… Labor Relations Insight from Phil Wilson Baby Boomers the Secret Key to Engagement? A recent study by Boston College's Sloan Center on Aging & Work, researchers found that employee engagement among younger workers has dropped significantly during this recent economic downturn. That's not really surprising – as I discuss in my book The Next 52 Weeks, job security is one of the keys to job satisfaction. What is surprising is that the engagement of older workers has hardly budged during this economic downturn. Read the rest of the article here… ********** EFCA Update Big Labor ratcheted up their pressure tactics, finding a creative point of leverage to intimidate fund managers on Wall Street from speaking out against the Employee Free Choice Act. In a questionnaire, managers were asked such questions as, "Has your company made any public statements in support or opposition to EFCA?" The implied threat is that unions will move their pension monies out of these fund managers' hands, which is basically an illegal act of coercion. Read a letter sent by one Teamsters local to their fund managers. We've already written about the stacking of the National Labor Relations Board with pro-labor appointments. Meet Craig Becker in this 6 minute video to get a sense for the radical pro-union flavor these appointments will bring to the board. Some are wondering if the 3-way conflagration between the SEIU, UNITE-HERE, and the fledgling breakaway union Workers United will hamper the efforts of Big Labor to push the EFCA forward. Not likely, but it does make for high entertainment value (see story below)!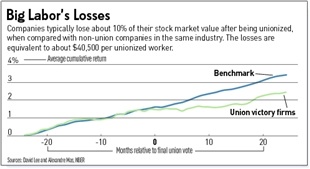 Investors Business Daily, meanwhile, points us to a fascinating National Bureau of Economic Research study that concludes that companies typically lose 10% of their stock value after being unionized. The study found the average loss per company was $40,500 in 1998 dollars for each worker eligible to vote. Another group of business leaders, this time an Hispanic organization in Colorado, has weighed in to lobby their senator to oppose the bill, and another Wall Street Journal editorial points to additional problems caused by binding arbitration provisions in the EFCA: union leaders will be harder to hold accountable, and it will be even harder than it is now to get rid of a union once it is in place ********** FREE! EFCA Strategy Review & Vulnernability Audit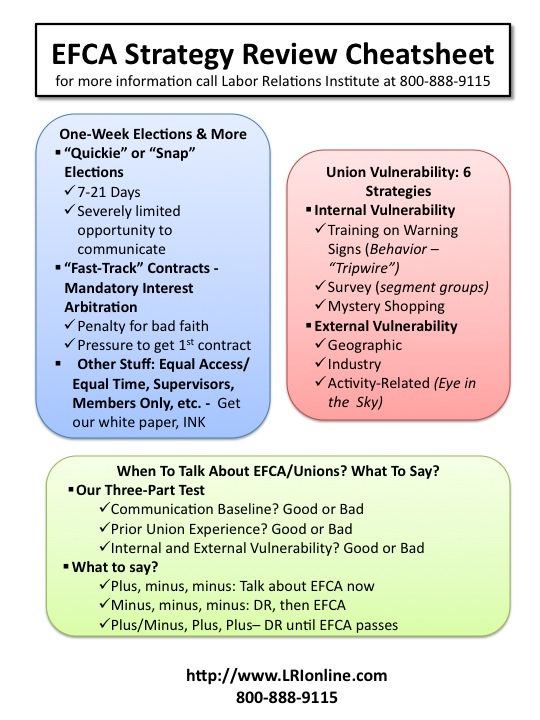 This has quickly become one of our most popular programs, in light of upcoming labor law changes. It is more important than ever to assess both the internal and external factors that contribute to your company's vulnerability to union penetration, and formulate action plans to shore up any uncovered weaknesses. • What are the most likely labor law changes, and how will they impact my vulnerabilities? • What are the six strategies I can implement to strengthen my defense against union encroachment? • When do I talk to my employees about unions? What do I say about unions? CLICK HERE to schedule your free 30-minute consultation with Phil Wilson, LRI's President and General Counsel. ********** Internecine Battle Rages On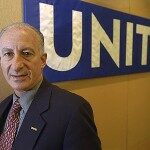 You will not find better soap opera on TV. As UNITE HERE begins to crumble with the recent leadership split, one former co-leader (Bruce Raynor) charges the other with tactics "more reminiscent of the Sopranos than anything I've ever seen in my trade union career," then resigns, while the other side charges Raynor with using internal resources to organize a breakaway faction intending to join the Service Employees International Union, and claims to have been planning to boot him anyway. Meanwhile, it appears John Wilhelm (the surviving head of UNITE-HERE) is attempting to use the affair to combat his arch enemy, Andy Stern and the SEIU, by planting stories in the media accusing Stern of directing the entire affair as a way to sabotage Wilhelm's union. As the drama unfolds, Raynor and his new Workers United union are pleading to SEIU for financial assistance, claiming they are running a deficit of $300,000 a month. Raynor is also besmirching the reputation of Amalgamated Bank, whose holding company is his former union, claiming that UNITE-HERE is in "total chaos." SEIU continues with its own troubles. As its largest local seceded to become a separate union (the NUHW), other SEIU officials have either been indicted for fraudulent activity (we've covered in detail over the past year), or have resigned in disgust at SEIU practices. ********** Follow The Money, Or Lack Thereof! We've  reported before some of the troubles that union pension plans are having, and why this is one of the driving factors in the desperate push for the EFCA by Big Labor. Some have done the math, and calculated that the enactment of some EFCA-type bill would put upwards of $637,500,000 per year into union coffers, equating to over $35 billion in the next 10 years for Big Labor to meddle in politics and the continued degradation of Americas businesses. Additionally, the poor state of union pension funds could be turned around as fresh dues payers/pensioners pay in for the benefits of already retired workers. Pension funds are a big issue. A recent report indicated almost half of the nation's 20 largest unions have pension funds that federal law classifies as "endangered" or in "critical" condition due to being underfunded. In a vile travesty of moral failure, union officer pension funds remain in top shape despite this erosion of employee funds. One researcher, Diana Furchtgott-Roth, lamented, "Unions attract members by telling them they will look after them and that these plans are fully funded but they are not. Yet they are fully funding their own officer pensions. What we have are new members joining up so they can guarantee that the officers will have a secure retirement. In some cases they are giving up existing 401k pensions that do better than these underfund Ponzi schemes. The membership dues are not being used to build up assets they are being used to fund the officer's retirements and to cover current retirees." ********** Only In A Union Shortly after members of IBEW Local 459 went on strike near Reading, Pennsylvania, specialized electrical equipment belonging to the Pennsylvania Electric Company was vandalized, creating a minor emergency and initiating the response of crisis repair crews. The company was forced to increase security measures, and contacted the Federal Bureau of Investigation and Homeland Security to apprise them of the situation. ********** Pro-Company Workers Take Action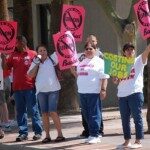 A chain of grocery stores in Arizona has been fighting a long-running battle with the United Food & Commercial Workers, including the filing of a defamation lawsuit, and defending Unfair Labor Practice charges before the National Labor Relations Board. In a recent development, fed-up Bashas employees joined the fray and began a series of protests outside the UFCW Local 99's Phoenix offices. The group hopes other employees will join in the grassroots effort to protect their company against deceitful UFCW organizing and corporate campaign tactics. ********** Internal Finger Pointing, Ad Naseum

Tom Buffenbarger, president of the International Association of Machinists and Aerospace Workers and a member of the AFL-CIO's finance committee, stated that the AFL-CIO has used "creative accounting" to mask its dismal financial position. The largest U.S. labor organization in the country has seen its assets decline to a negative $2.3 million as of June 30, 2008, from a $66 million surplus on July 1, 2000. "If we are not careful, insolvency may be right around the corner," Buffenbarger's report said. ********** Organizing Campaign Moves to the Public Square Typical scenario: • Union wants national company to allow the organization of its employees via card check rather than secret ballot. • Company says no. • Labor federation begins corporate campaign against company to bring public pressure to bear. Recently, Change To Win played this well-worn card in a 9-city "protest" against CVS Pharmacy, claiming that the company was selling products past their expiration dates. CVS is a constant target of both the SEIU and UFCW, both members of Change To Win. Change To Win denies the allegation, but an employment lawyer familiar with corporate campaigns said, "I'd be amazed if this is purely a coincidence." ********** SEIU vs. NUHW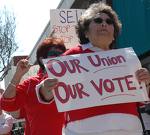 As SEIU continues to battle the newly formed National Union of Healthcare Workers, companies currently represented by SEIU are being dragged into the fray. In the latest episode, employees of a Kaiser Permanente facility in Stockton, CA, picketed on behalf of the NUHW. Kaiser claimed neutrality, but protesters disputed the claim. "We strongly disagree that Kaiser is neutral in this. We are forced to pay dues – $72.90 a month – to SEIU, a union that is not working in the best interest of the worker. We're here to make sure everybody knows about it," said one protester, Robert Nevarez. Protesters want the opportunity to oust SEIU in favor of NUHW, but is claiming Kaiser is working to prevent the action because SEIU won't push for raising wages.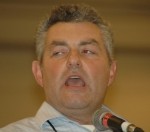 Across the state in Fresno, the SEIU is working to quash a move by Fresno home health care workers to elect out of SEIU and into NUHW. At a rally held on Sunday May 31, SEIU-UHW Trustee Dave Regan told SEIU staff to "administer an old-school ass-whipping" to NUHW supporters. "In other words, what we gotta do here, my old-school friends, is we have to administer an old-school ass-whipping over the next two weeks," he said. "I know everybody knows what that means. We gotta give a butt-whipping they will never forget," he added. "We gotta put them in the ground and bury them." Watch the video here. ********** Transform Your Workplace!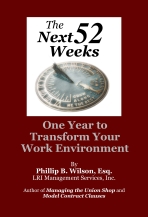 A step-by-step guide on how to dramatically improve employee engagement at your company. Includes checklists, action-planning guides and more. • How to determine your company's internal and external vulnerability – and why you have to deal with both kinds of vulnerability.
• Critical training for your first-line supervisors, and how you can turn them into a key to your employee engagement strategy.
CLICK HERE to find out more about The Next 52 Weeks: One Year To Transform Your Work Environment by Phillip B. Wilson
********** UAW Tanks General Motors If you're still wondering exactly how much GM's high labor costs played into its demise as a viable auto manufacturer, read this quick report. Robert Dewar, author of a recent book about the auto industry debacle, in a recent visit to China shared compelling data to back his claim. ********** Danger In The Shadows In another example of the many back-channel means that Big Labor supporters are looking to reward their union funding sources, New York state legislators recently tried to slide two new labor-friendly bills quietly past the public. One bill would force employers to pay up to 50% of a union's lost dues if "extreme provocation" led to a strike, and the second makes it easier for unions to block public employers from imposing new rules. The legislation would lead to illegal strikes by public employees. The Mayor of New York City got wind of the ruse. "Rather than rewarding illegal behavior, our Legislature should make sure that these potentially life-threatening events never happen again," a spokesman for the mayor's legislative office said. On the opposite side of the country, Oregon is attempting to become the first state to pass an employer gag law that would severely restrict what employers could say to their employees during union organizing campaigns. Washington state just defeated such an attempt, and despite the bills dubious legality, Oregon legislators seem bent on pressing the matter home. ********** Win for Right-To-Work A field-tech with Verizon, located in Tampa, FL, was part of a team assembled to work in California, but was sent home by the CWA because she was not a member of the IBEW in her home state, a right-to-work state. When she applied for a similar second work team headed to that state, she was again denied. The National Right to Work Foundation assisted the employee in a filing a suit against the company and both unions for discrimination based on union membership, in which she won compensation for lost time, and an agreement that the unions will post notices that such discrimination is illegal. ********** Labor Relations INK is published semi-weekly and is edited by Labor Relations Institute, Inc. Feel free to pass this newsletter on to anyone you think might enjoy it. New subscribers can sign up by visiting: https://lrionline.com/free-stuff/newsletter-signup If you use content from this newsletter please attribute it to Labor Relations Institute and include our website address: www.LRIonline.com Contributing editors for this issue: Phillip Wilson, Greg Kittinger You are receiving this email because you subscribed to receive our labor relations newsletters and updates. You can manage your email preferences by clicking the link at the bottom of any of our email communications. NOTE: if you are using Internet Explorer v. 6, read the text version, as the html will not load properly in IE6. We recommend upgrading to IE7. Labor Relations Institute 7850 South Elm Place – Suite E Broken Arrow, OK 74011 US