Labor Relations INK Download a PDF of this issue with links here. In This Issue: • Insight from Phil Wilson • A Disturbance In The Force • UAW vs. UAW • A Peek Behind ObamaCare • and more… Labor Relations Insight from Phil Wilson NLRB: Employee Free Choice Act Ace in the Hole? Is the Employee Free Choice Act still alive? Al Franken is now officially seated and the 60-vote caucus needed to overcome a filibuster on the Free Choice Act is in place. But just when unions should be rejoicing in the streets, it's getting fashionable to write Employee Free Choice Act obituaries, like the one this morning in the New York Times. I think companies should keep a very close eye on the NLRB, because the news of EFCA's death is greatly exaggerated – but I'm getting ahead of myself. Read the rest of the article here ********** EFCA Update Even with healthcare and cap & trade legislation consuming a great deal of attention, there is plenty of action in the EFCA arena. The democrat/Big Labor camp is happy to have Franken declared the winner in the Minnesota senate race, providing the 60th vote required to break cloture. On the pro-business side, several democratic senators still have not confirmed wholehearted support for the current version of the bill, while the SEIU seems to be fighting against themselves in a recent California episode by ignoring employees wishes on the basis of signatures alone! The pro-business lobby is continuing to keep the battle in the public eye, most recently with a television campaign targeting Senator Nelson in Nebraska. [flashvideo file=http://www.youtube.com/v/FlPeYML-nEQ&hl=en&fs=1& image=wp-content/uploads/ne_video.jpg /] Watch the video on YouTube at this link: http://www.youtube.com/v/FlPeYML-nEQ&hl=en&fs=1& There is new ammunition on the intellectual front against the EFCA. An attorney who has negotiated over 100 first contracts made a great argument that it wasn't possible to "fix" the mandatory arbitration provision of the bill to make it non-destructive to businesses. Recent data also demonstrate that non-right-to-work states are shedding jobs to right-to-work states. The Mackinac Center For Public Policy in Michigan put together this very graphic interactive dashboard of statistics comparisons of non-right-to-work states vs. right-to-work states and Michigan. In another very interesting twist, the healthcare debate has suddenly become a possible sop to Big Labor. As Congress grapples with how to pay for a public insurance program, one of the proposals involves taxing the health benefits of companies that provide such benefits via private insurance. A exemption is being considered for unionized companies. Here's the apparent trade-off: if unions can no longer use health benefits as a bargaining or organizing tool (due to government healthcare making it a non-issue), then the unions could still use the "tax-free benefits" loophole as the replacement bargaining chip. It could be an interesting summer! ********** FREE! EFCA Strategy Review & Vulnernability Audit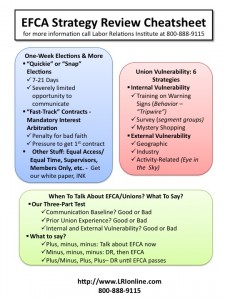 This has quickly become one of our most popular programs, in light of upcoming labor law changes. It is more important than ever to assess both the internal and external factors that contribute to your company's vulnerability to union penetration, and formulate action plans to shore up any uncovered weaknesses. • What are the most likely labor law changes, and how will they impact my vulnerabilities? • What are the six strategies I can implement to strengthen my defense against union encroachment? • When do I talk to my employees about unions? What do I say about unions? CLICK HERE to schedule your free 30-minutes consultation with Phil Wilson, LRI's President and General Counsel. ********** A Disturbance In The Force

Andy Stern, head of the Service Employees International Union, has now been likened to "the Darth Vader of the labor movement," as union presidents and representatives from across the country are taking UNITE-HERE's side in the raging fight between the SEIU and the besieged union. Going against legal counsel, the AFL-CIO officially came out against SEIU's "raiding of organized workers." Over 15 international unions, including AFSCME and the Laborers, have committed both moral and monetary support to UNITE-HERE. As one former pro-Stern supporter put it, "the American labor movement declared war on Andy Stern." Labor insiders believe that the schism, and the attempts by the SEIU to dominate the American labor movement, have placed the nail in the coffin of the Change To Win labor federation. It is expected that many of the unions that originally broke away from the AFL-CIO to form Change To Win may return to the fold, without the SEIU. Meanwhile, the battle between SEIU (including the newly-created Workers United) and UNITE-HERE continues at high tempo, with no sign of resolve. ********** UAW vs. UAW In an ironic twist, the UAW now finds itself in a position to negotiate against itself by virtue of the recent shuffling of ownership of Chrysler and GM. The UAW is both the employer and the employee of Chrysler and GM, and is both the competitor and the employee of Ford. The recent deal between Chrysler and GM and the UAW include the agreement not to strike until 2015. Ford is now asking the same concession of the UAW. The UAW finds itself in a conflicted situation, and Ford, who effectively evaded government intervention (bailout money) finds itself in a possible competitive disadvantage. ********** Only In A Union The State of Michigan agreed with the United Auto Workers (which represents state employees in MI) for several furlough days in an effort to balance the budget. The Detroit Local of the UAW (Local 6000) filed a complaint to block the move, saying that the international overstepped its jurisdiction. Apparently, when the state attempted to bargain with the Local, the Local was not willing to grant any concessions. The state then sent a letter to the UAW international VP, who agreed to an amount of furloughed days. The local countered, saying the UAW international move was a violation of its constitution. ********** AFL-CIO Extreme Make-Over

The International Association of Machinists and Aerospace Workers (IAM) organized a conference last month that included 23 labor leaders. The objective of the meeting was to consider changes to the AFL-CIO intended to revitalize the labor coalition. "We focused on systemic changes that would strengthen the labor federation's finances and increase its clout," said IAM president Tom Buffenbarger. With the current head of the AFL-CIO, John Sweeney, set to retire in September, a more aggressive leadership coupled with an overhaul of agenda and operational functions could bring the labor organization back to the public square in a powerful way. If the rival Change To Win federation disbands, and an EFCA-type bill passes soon, we could have a legitimate 800-pound gorilla on our hands. ********** Valiant Attempt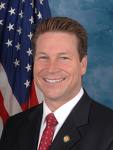 In a move to eradicate Depression Era-legislation enacted to bolster unions, Representative Connie Mack (R-FL) proposed a repeal of the Davis-Bacon Act, which would eliminate minimum compensation provisions for construction workers on public works projects. Proponents of the repeal believe that such a move would encourage more job growth for federal construction projects. "Instead of pandering to big labor," Mack said, "Congress should be fostering a competitive environment for businesses to be able to hire more people for more jobs." ********** A Peek Behind ObamaCare Peeling back the layers of the healthcare reform onion, you will find several key "partners" on the administration's healthcare reform team: ACORN, the SEIU, AFSCME, and the AFL-CIO. Having given the American auto industry over to unions (the UAW) and the government, are we sure that doing the same with the 14% of the GDP known as the American healthcare system is an intelligent choice? The healthcare industry had better pay close attention, as the "unintended" consequences of a government plan are being forshadowed in the auto, and to some extent the banking, industries. ********** Typical Non-Representation The AFSCME recently announced its endorsement of Albuquerque Mayor Martin Chavez for reelection. Not so fast, says the Albuquerque local! In typical fashion, the membership of the large union that represents city workers was never polled, or in any other fashion asked who they endorsed. The union made its decision based strictly on its own agenda, rather than the wishes of its constituency. ********** Transform Your Workplace!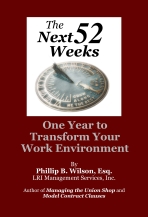 A step-by-step guide on how to dramatically improve employee engagement at your company. Includes checklists, action-planning guides and more. • How to determine your company's internal and external vulnerability – and why you have to deal with both kinds of vulnerability. • Critical training for your first-line supervisors, and how you can turn them into a key to your employee engagement strategy.
CLICK HERE to find out more about The Next 52 Weeks: One Year To Transform Your Work Environment by Phillip B. Wilson
********** Southern California In The Crosshairs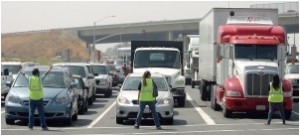 The Inland Empire consists of portions of Riverside and San Bernardino counties in southern California, home to almost 2,900 warehouses of at least 50,000 square feet each, which employ nearly 113,000 people. These warehouses, operated by some of the largest retailers in the world, handle much of the container cargo that moves through the ports of Los Angeles and Long Beach, the busiest trade gateway in the United States. And they are under siege. The Change To Win federation, along with Warehouse Workers United, is squaring off with American businesses in a concerted effort to organize this compact region of workers. "There needs to be a general union movement. We expect to have a long-term campaign there," said Tom Woodruff, organizing director of Change to Win. "If we are concerned, we are concerned about efforts in Washington that would change the rules for union organization," said Rob Green, vice president for government and political affairs at the National Retail Federation, speaking of the EFCA. Green suggests that if the organizing movement gains traction, many of the large retailers may move their warehouses to other parts of the country where costs would be lower. ********** Steelworkers Get The Boot A small sawmill in Larder Lake, Ontario, voted to decertify the United Steelworkers of America. The union had represented them since a 2006 vote, and the employees still had 3 months left on the one contract the union had negotiated, when 75% of them voted to decertify the union. ********** SEIU vs. BOA The campaign against Ken Lewis, CEO of Bank Of America, is one to keep an eye on. Will the embattled CEO cave to SEIU pressure to save his job? The quandary stems from a) BOA acceptance of TARP funds, b) Big Labor deftly using the "economic crisis" and a friendly administration in Washington as leverage to pressure businesses, and c) Ken Lewis' refusal to sit down with SEIU to pave the way for easier organizing of BOA employees. ********** Labor Relations INK is published semi-monthly and is edited by Labor Relations Institute, Inc. Feel free to pass this newsletter on to anyone you think might enjoy it. New subscribers can sign up by visiting: https://lrionline.com/free-stuff/newsletter-signup/ If you use content from this newsletter please attribute it to Labor Relations Institute and include our website address: www.LRIonline.com Contributing editors for this issue: Phillip Wilson, Greg Kittinger You are receiving this email because you subscribed to receive our labor relations newsletters and updates. You can manage your email preferences by clicking the link at the bottom of any of our email communications. NOTE: if you are using Internet Explorer v. 6, read the text version, as the html will not load properly in IE6. We recommend upgrading to IE7.