Labor Relations INK Download a PDF of this issue with links here. In This Issue: • EFCA Update • More Union Members = More Strikes • UFCW Brings Down a Victim • PLUS July Scoreboard, Only In A Union, and more… PDF with links: https://lrionline.com/ink/images/072309/ink_072309.pdf EFCA Update Last week the word was "leaked" that the card check provision may be dropped from an EFCA compromise bill. Several other components being considered are shortened elections, equal access for union organizers on company property, and prohibitions against employer captive audience meetings. Hopefully you've already read our newly released white paper, "How to Win a Five-Day Election." There is strong reaction from both sides. Anti-EFCA voices are rightly decrying the continued inclusion of forced arbitration (see here and here also), and are standing firm that no compromise will pass muster as a bill that business interests will accept. Meanwhile, Andy Stern sent an email to a 100,000-name list, attempting to rally the troops in defense of retaining the card check provisions. Not sure what impact this will have, since his credibility seems to be flagging in the labor movement of late.

Both sides have realized that their rhetoric has to change: Stern now calls the card check process "majority sign-up" to hide the fact that the secret ballot disappears, and the business community finally recognizes that by focusing on card check as the key egregious issue, if that provision is lost they may have to retrench to continue the battle. One of the latest monikers used to refocus the pro-business position is "gunpoint arbitration," which is a nice touch! It's not worth reporting what various key senators are saying at the moment, as they are all still posturing in the wake of the "leak," while trying to read the tea leaves. One of our inside sources close to a key Arkansas senator did refute the fact that the Democrats are close to a compromise.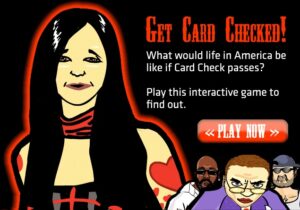 Even though the survival of the card check provision is debatable, Americans for Tax Reform and Alliance For Worker Freedom created a nifty online game/simulation that depicts the reality of life for small businesses under the EFCA. Another intelligent dissection of the arbitration provision has been released, along with the results of a new Rasmussen poll reinforcing the fact that most Americans are opposed to card check. At the state level, Colorado has tried to put a "Save Our Secret Ballot" initiative on the state Constitution against union opposition, while Gov. Lingle in Hawaii had her veto overridden when she tried to prevent that states legislature from pushing a state card check measure through. Lastly, Rep. Eric Cantor (R-VA) has made a case that the enactment of an EFCA-type bill will endanger Right-To-Work laws in all states that have them, and our earlier conclusion has been reinforced, that almost all of the provisions of the EFCA could be enacted by NLRB rule-making, even without further Congressional amendments to the laws currently on the books. ********** NEW White Paper: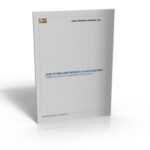 "How To Win (And Prevent) A 5-Day Election" • What the EFCA compromise will look like • The proper response strategy • How to train and not waste time • Compressing the Communication Escalation Ladder • How "Equal Access" rules change the game
CLICK HERE to download now!
**********
More Union Members = More Strikes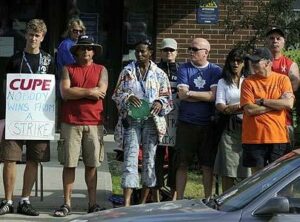 With an EFCA-derivative looming on the horizon, it is appropriate to focus some attention on the impact of strikes, particularly in our current economic climate. While one would expect that unions might be less likely to push their members to strike in such a volatile business climate, the number of work days lost to strikes in the first three months of 2009 was almost double that of a year earlier in Canada. In one high-profile on-going strike of a public employees union in Toronto, 520 of the striking workers reached their breaking point and crossed the picket line to return to work. At a local welfare office there, unionized workers who want to cross the picket line feel threatened by the strikers. "They intimidate us," said one. "They are taking our pictures, following us to our cars, taking down our license plates and even following us home." On this side of the border, Atlantic City casinos have developed contingency plans to use replacement workers against a threatened UAW strike. Harrah's accuses the union of using bullying tactics at a time when the area is suffering from a double whammy of recently arrived competition and a falling economy. In the Bronx, workers at a bakery returned to their jobs after an 11-month strike to find they'd helped put their employer out of business. Across the country, Boeing took the first step toward moving out of Washington state by buying a closed factory in South Carolina, threatening to move business out of state if the Machinists don't agree to a no-strike clause in their new contract. ********** Top 100 Labor Attorneys for 2009 Announced The Top 100 Labor Attorneys are determined each year based on the prior 5-year record of the number of National Labor Relations Board election cases in which the attorney represented clients (as determined by notices of appearance filed with the NLRB) and the successful outcome of those cases (as determined by either an election win by a company or union withdrawal as reported by the NLRB). Attorneys who made the 2009 list are listed alphabetically by State. ********** Only In A Union In a new twist on "hard bargaining," laid-off workers at an auto parts supplier in France have threatened to blow up the plant if carmaker Renault SA doesn't agree to their demands for a handout. The plant was closed recently when Renault and Peugeot-Citroen cancelled orders making up the bulk of the plants business. As workers negotiated with Renault, others began picketing outside their headquarters, while others stayed behind to guard 20 gas canisters linked by an electric cable on both sides of the factory. Disgruntled workers elsewhere in France are copying the negotiating technique. Will it catch on in the U.S.? ********** UFCW Brings Down a Victim

Economic issues notwithstanding, there is no doubt that the United Food & Commercials Workers' years-long corporate campaign contributed heavily to the Bashas' Supermarkets recently filing for Chapter 11 bankruptcy protection.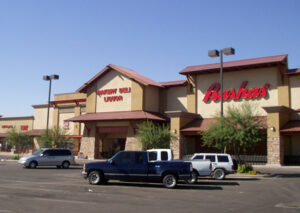 It is obvious that the UFCW's only agenda was to capture dues from potential members. Employees of Bashas' were already paid more than unionized workers at similar stores in the area. The union knew it would not likely win an election, so they resorted to "hardball" corporate campaign tactics to try to force the company to recognize the union. None of the allegations of the union public smear campaign have yet been proven. However, the fight has cost the company millions of dollars in legal fees, damage-control marketing expenses and lost business since the escalation of the conflict in 2006. ********** SEIU Update

The news is so replete with the shenanigans of the Service Employees International Union, headed by the controversial Andy Stern, that it seemed logical to lump them together in an update. ACORN's "Muscle for Money" campaign, funded in part through affiliations with SEIU locals, includes techniques for creating aggressive, organized efforts both to pressure businesses and officials to support the activists' agenda or to discredit and intimidate opponents of their agenda. Many of the targets for these campaigns of the fraud-ridden activist group are selected by their SEIU benefactor. Government documents put the SEIU money pipeline to ACORN at almost $10 million in recent years. Former ACORN member Anita Moncrief described the Muscle for Money tactics this way: "The idea is to go to private homes where wives and children are present and stand outside so the family members of a company official could be harassed and subjected to intimidation." Next target for threats and intimidation were broadcasters in Arkansas and Nebraska. Taking issue with televisions running paid anti-card check ads, the union threatened the broadcasters with loss of license. Banks and the financial sector continue to make the news as targets of SEIU organizing efforts. Stephen Lerner, who heads SEIU's "financial reform project," claims that "80 percent of people blame banks for the economic crisis and see them as symbols of unbridled greed and bad business practices," making the political and social climate right for banks to bear the union label. ********** Labor vs. Labor Cage Fight Continues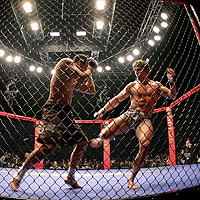 Bruce Raynor, recently ousted co-president from UNITE-HERE, and his new fellow compatriot-in-arms Andy Stern, have created a whirlwind of labor infighting that is not likely to die down anytime soon. Raynor, both during his tenure at UNITE and UNITE-HERE, and via his recent violent secession from the union, demonstrated his disdain for the interests of working union members. The ongoing court battle between Raynor and his former union continues to reveal what appears to be a direct attempt by Raynor and his SEIU staff to disrupt its organizing and function, promote secession of union affiliates, and remove hundreds of millions of dollars in union funds and assets. Andy Stern stands no less vilified by both the leaders of the labor movements, and the rank-and-file members. Quoting from this recent labor insider newsletter: "their [union presidents] anger at SEIU was motivated not by chummy deals with employers that have allowed SEIU to unionize workers with little say-so on the workers' part, nor by the fact Stern gets these deals settling cheap. Not by the widespread embezzlement that had highly placed Stern protégés in hot water last year. Not by the January trusteeship of a California local that resisted Stern's reorganization plans, United Healthcare Workers-West, nor by SEIU's creation of megalocals run by appointees, in which rank and filers barely have a chance to be heard. Not even by Stern's agreement to put a muzzle on nursing home union members, to keep them from reporting patient abuse. "No, these union leaders' outrage was prompted by Stern's flagrant violation of that other hallowed labor principle: jurisdiction. SEIU was not only attempting to take over hotel organizing drives begun by UNITE HERE but also claiming the right to organize hotel workers in the future. That's turf, and them's fighting words." Big Labor seems highly conflicted at a time when they should be rallying to push through the EFCA. One can only imagine what would occur should the EFCA pass, and the unions are turned loose to run amuck among America's businesses. It doesn't bode pretty for the workers of America, as the squabble for turf (i.e., dues) will only intensify. **********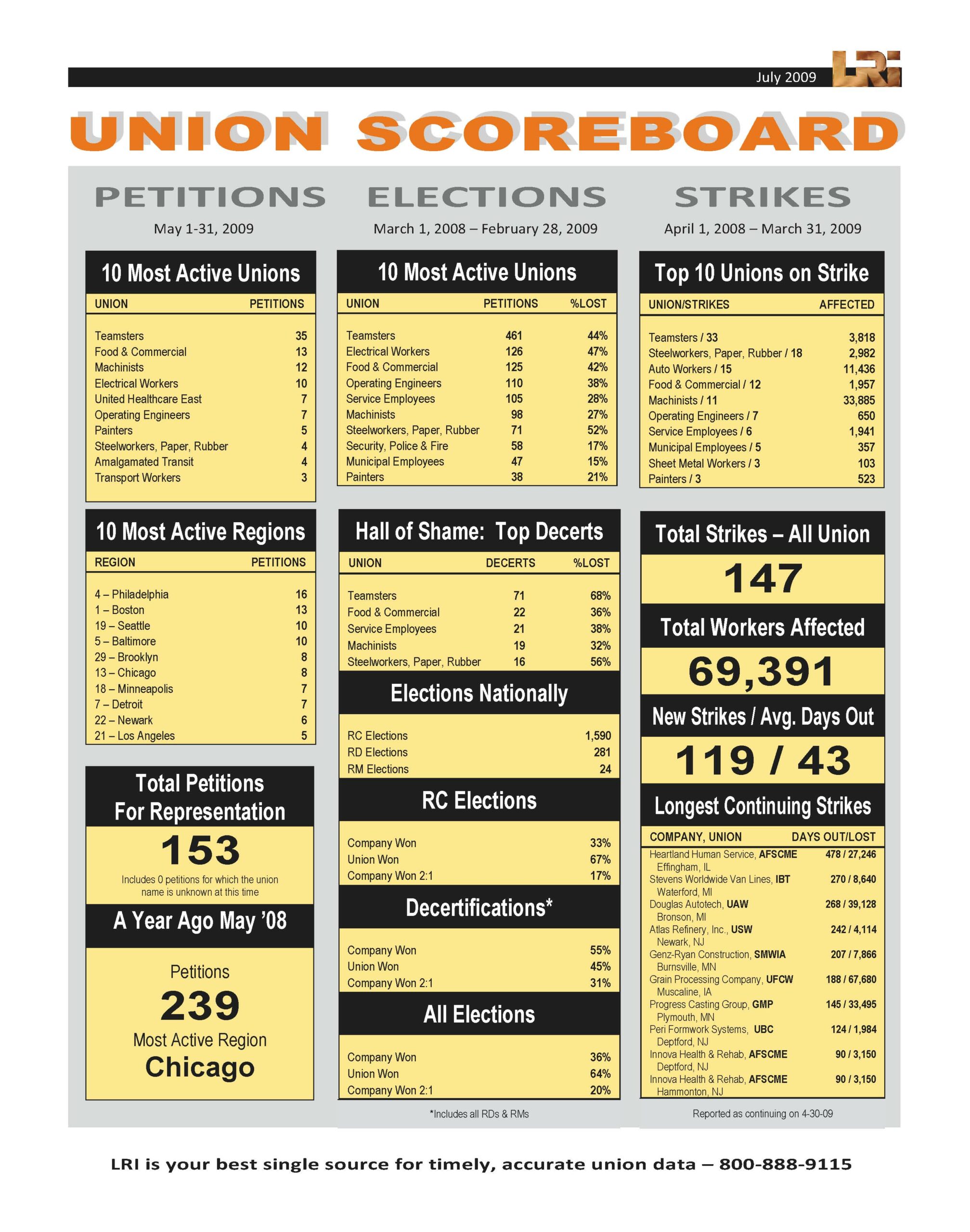 SCORE BOARD Who are the winners (and losers) of the labor movement? Don't guess, just check the LRI Scoreboard View this month's scoreboard (archives also located here).
Download a PDF of this month's scoreboard.
********** Employee Relations Tip Of The Month Have an on-site blood drive. Coordinate this with your local blood bank. Give employees who donate blood a half-day off with pay. ********** FREE! EFCA Strategy Review & Vulnernability Audit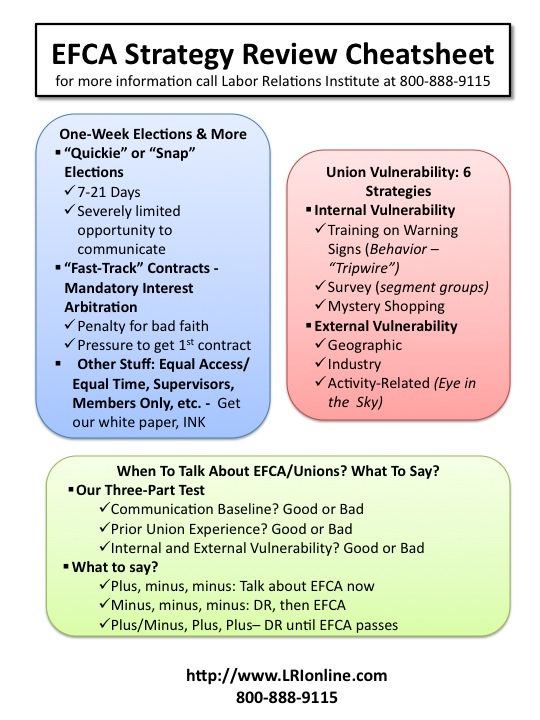 This has quickly become one of our most popular programs, in light of upcoming labor law changes. It is more important than ever to assess both the internal and external factors that contribute to your company's vulnerability to union penetration, and formulate action plans to shore up any uncovered weaknesses. • What are the most likely labor law changes, and how will they impact my vulnerabilities? • What are the six strategies I can implement to strengthen my defense against union encroachment? • When do I talk to my employees about unions? What do I say about unions? CLICK HERE to schedule your free 30-minutes consultation with Phil Wilson, LRI's President and General Counsel.
**********
LRI's EFCA Tool Kit is everything needed to inoculate a company against unionization in the "target rich" environment created by passage of the Employee Free Choice Act. If you are a business, trade association or labor law firm, you can benefit immediately. Review the details and preview the videos here. ********** Another Union Bone Auto czar Steven Rattner is being replace by labor insider Ron Bloom. Bloom was a former United Steelworkers official, used to negotiating for unions with troubled companies. The Choice of Bloom to replace Rattner only reinforces the reality that Big Labor now sits on both sides of the negotiating table at GM and Chrysler. ********** Prominent Labor Studies Program Scrambling UCLA Labor Center director Kent Wong found out his job was disappearing when a NY Times article appeared announcing his UCLA Labor Studies program had been cut. Pro-labor pundits have jumped to his defense, announcing a campaign to petition the UCLA Chancellor to rescind the budget-cutting decision. ********** "Union Wages" Kills Jobs Program Obama's Energy Efficiency Program attempted to force union-scale "prevailing wages" upon the scheme, which effectively torpedoed the program. On a recent NPR broadcast, Elizabeth Shogren concluded that the program "makes 'weatherization"'of houses so costly it can never be paid back in "energy cost savings". ********** UAW Death Knell to California Auto Plant When GM recently announced it was pulling out of California's only auto manufacturing facility, it's partner in the venture, Toyota, announced it was following suit. The NUMMI plant near San Francisco was Toyota's only UAW-organized facility, and the joint program with GM was a political contrivance. With that value lost, Toyota has no need for an unprofitable operation. NUMMI's own statements indicate, "Neither NUMMI's labor costs nor business conditions are competitive." ********** Labor Relations INK is published semi-monthly and is edited by Labor Relations Institute, Inc. Feel free to pass this newsletter on to anyone you think might enjoy it. New subscribers can sign up by visiting: https://lrionline.com/free-stuff/newsletter-signup/ If you use content from this newsletter please attribute it to Labor Relations Institute and include our website address: www.LRIonline.com Contributing editors for this issue: Phillip Wilson, Greg Kittinger