Labor Relations INK Download a PDF of this issue with links here.   Labor Relations Insight from Phil Wilson Reading The Tea Leaves on EFCA In the couple of weeks since Arlen Specter's blockbuster announcement that he would vote against cloture and (maybe) vote against EFCA, quite a few pundits have claimed the so-called "Free Choice" Act is dead for the near future. I've already argued that news of EFCA's death is greatly exaggerated, but I'd like to point out a couple of observable facts that I think are worth considering as we handicap the future of EFCA. It's been interesting to observe how unions have responded to Specter's announcement. Most interesting to me was that there wasn't much of a response to the initial story at all.
read the rest of the article here…
********** EFCA Update

The ground seems to be shifting almost daily beneath the feet of those on both sides of the EFCA battle. Specter – the "rogue" Republican that all thought would tip the hand in favor of EFCA supporters, has come out against the bill in current form, as have other Democrats. Some Republicans are beginning to feel they will have enough strength to filibuster the bill. Ripples went through the business community when Fed Ex announced that if Congress changed laws making it easier to unionize their business, they would cancel billions of dollars worth of aircraft orders. And as Representative Joe Wilson has pointed out, the health care industry could be negatively impacted where it matters most – at the level of patient care. All of this seems to bode well for opponents of the bill.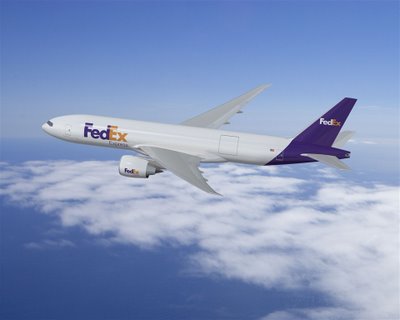 However, as we've been warning, there is more than one way to skin a cat. Even though Big Labor is still strutting about on the public front saying that they want the whole package as is, there have been many discussions of compromise, and alternative methods proposed of getting similar results through different means. This article is an example of 16 different steps that could be taken to mute the opposition voices to the current EFCA bill, while doing an end run to accomplish close to the same objectives. This battle is far from over, and is now entering the creative phase. It is imperative to stay abreast of developments. One great way to do so is to check back regularly to Workforce Fairness Institute's new EFCA news site. In addition to our regular updates, WFI's effort is laudable for attempting to stay as "real-time" as possible. ********** Do They Practice What They Preach?
We have seen this countless times, and often include similar circumstances in our ULP Charge of the Month: a labor union that supposedly fights for the rights

of it's members, doesn't apply the same guidelines to it's own staff and employees.
This recent incident involves members of the Air Line Pilots Association Professional and Administrative Employees (UALPAPAE), who are employees of the Air Line Pilots Association (ALPA). Remarked Jay Wells, president of United's unit of UALPAPAE, "when it comes to the well-being and welfare of its own staff, ALPA management seems to adopt a different set of labor union principles."   ********** UAW: The Good Life!

If you have any doubts about whether or not UAW officials (members) are feeling the strain in Motor City, check out their recently filed financial statement (known as the LM-2). LaborPains.org sifted through the details in a recent post to find that every UAW officer made in excess of $141,000 in total compensation in 2008, and that over half of the staff made more than $100,000 in total compensation.
Additionally, the union expensed $98,775 on golf courses, another $75,492 at casinos, and over $150,000 at resort conference centers.
Even as UAW members of the Detroit Big Three (and other parts suppliers) are fearing for their very jobs, the UAW staff doesn't seem to feel the strain.
Read over the LM-2 for yourself here.
********** SEIU Hardball

What happens if a businessman stands up in opposition to the Employee Free Choice Act? The SEIU demands his head on a silver platter. SEIU has found a new tool in it's tool box for extracting legislative action on it's behalf – government bail-out money.
If a company has received any government help at all, SEIU seems to believe that the leadership of such companies must be compelled to fall in line with the Big Labor viewpoint. One of the commentators on this Lou Dobbs news segment calls it "organizing legislatures."
********** Slush Fund Kick-Backs According to the Associated Builders and Contractors, George Mason University's John M. Olin Institute for Employment Practice and Policy recently completed a new study showing that from 2000 to 2007, construction labor unions spent more than $1 billion in union wages to underbid nonunion contractors in a practice called "job targeting." The practice negatively impacts the economy in many ways, including artificially inflating the cost of public construction projects, and diminishing the tax revenues collectible my municipalities.
It is also vastly unfair to non-union competitors. Current law allows a union to pay money to a company for the purpose of putting another company out of business. If a nonunion construction company engaged in the same conduct as a labor union, it would be prosecuted for violating antitrust laws.
********** Hatfield vs. McCoy Truce? In a move that shocked the world of labor relations, two unions that have long held a high degree of animosity toward each other seemed willing to bury the hatchet. According to the official SEIU blog, "In a dramatic agreement likely to accelerate the drive to pass the Employee Free Choice Act and rapidly promote unionization in the healthcare sector, the Service Employees International Union and the California Nurses Association/National Nurses Organizing Committee today announced the signing of a transformative cooperation agreement."
Under the pact SEIU and CNA/NNOC, the largest unions in the nation representing healthcare workers and registered nurses, respectively, will work together to bring union representation to all non-union RNs and other healthcare employees and step up efforts to enact Employee Free Choice.
The 1.8 million strong SEIU currently represents about 80,000 nurses, and the CNA/NNOC will be at 150,000 after it's recently announced merger with two other nurses' unions. The unions have said they will target the nations largest hospital systems in a concerted effort to unionize the nations nurses.
********** APRIL SCOREBOARD Who are the winners (and losers) of the labor movement? Don't guess, just check the LRI Scoreboard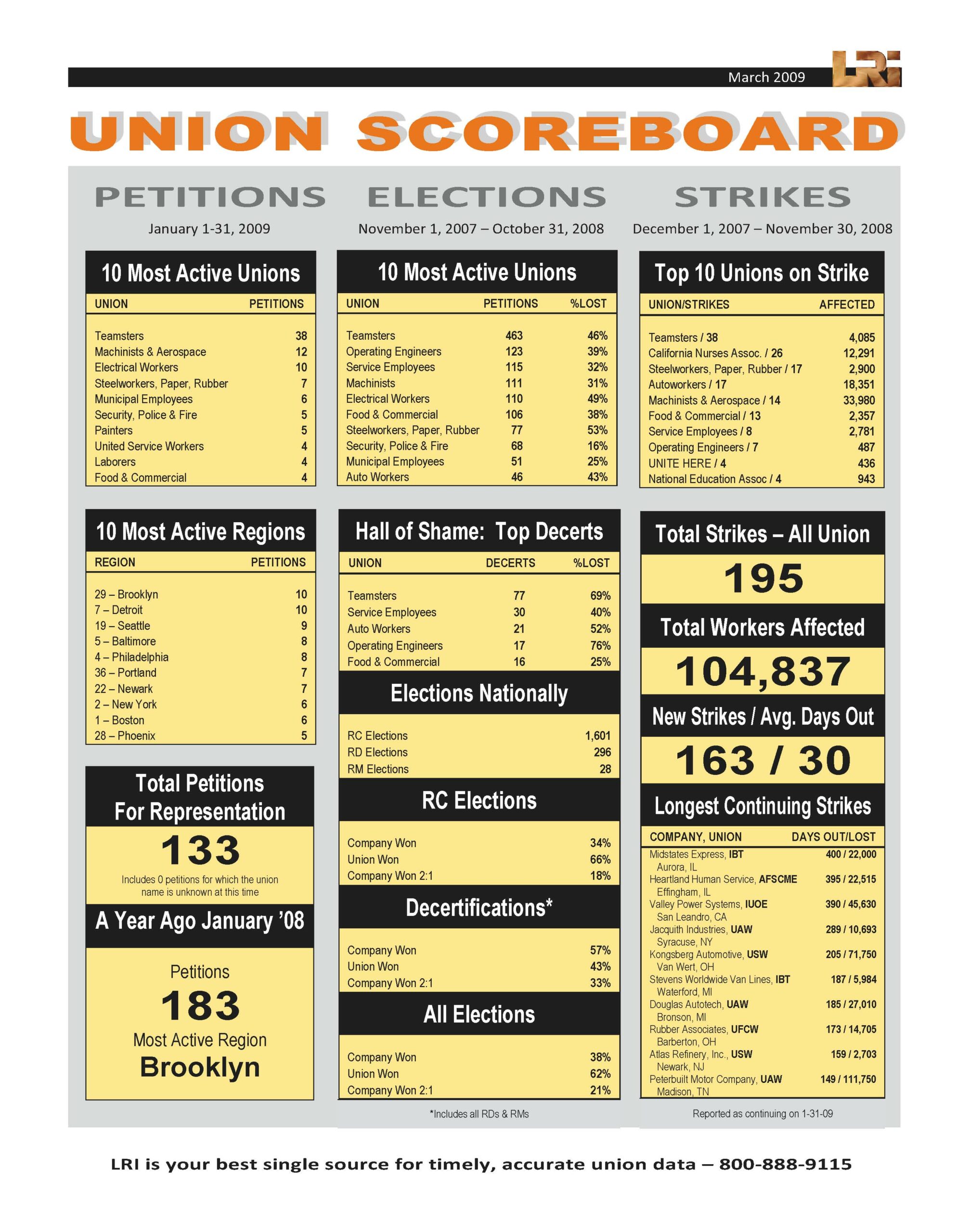 View this month's scoreboard (archives also located here).
Download a PDF of this month's scoreboard.
        ********** Employee Relations tip-of-the-month Hiring good people is a key to a positive work environment. Resist the urgency to fill a position "quickly. " Rather, hire deliberately, scrutinize attitude, and dig into why this person is looking for work. It often takes several interviews to get beyond the prepared answers to the real issues. ********** Tough Dose of Reality for Strikers At a small plywood plant in North Carolina, a protracted strike ended in a new contract, but only 25 of the 110 strikers getting their jobs back. After 8 months on the picket line living on $150 per week of strike pay, most of those former employees are only now eligible for unemployment benefits. Some will hang on, hoping that the company will regain the market share it lost while the workers were on strike, and be able to afford them. Others will take a severance package and begin looking for employment elsewhere. Meanwhile, the company, already down by almost half of it's workforce since the inception of the strike, will attempt to claw it's way back into competition. ********** Sticky Fingers! Current charges or sentences of embezzling union officials: Paul S. Peters II & Brian Armentrout – WGA: $300,000 Jeffrey C. Harris – GMP: $5,048 Deborah Chichick – CWA: $1,440 Keith H. Cook – UTU: $47,079 Harry Keil – IAM: $55,000 ********** Labor Relations INK is published semi-weekly and is edited by Labor Relations Institute, Inc. Feel free to pass this newsletter on to anyone you think might enjoy it. New subscribers can sign up by visiting: https://lrionline.com/free-stuff/newsletter-signup If you use content from this newsletter please attribute it to Labor Relations Institute and include our website address: www.LRIonline.com Contributing editors for this issue: Phillip Wilson, Greg Kittinger Labor Relations Institute 7850 South Elm Place – Suite E Broken Arrow, OK 74011 US