Labor Relations INK Download a PDF of this issue with links here.   Labor Relations Insight from Phil Wilson Online Organizing A really interesting article in The Nation about the promise – and perils – of online organizing. Among the most interesting things it discusses is how the web 2.0 world is actually a threat to unions in the traditional sense of the word. The "distributed" nature of the web can destroy hierarchical structures (just as it has in the business world). Where a group of workers can self-organize around a problem, why do they need to fund and deal with the politics of a super-structure with its own agenda? They don't.
read the rest of the article here…
********** SEIU Meltdown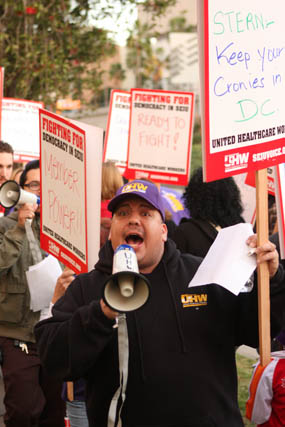 The SEIU International Executive Board approved plans to split apart one of it's largest locals, United Healthcare Workers-West. The rift between UHW and SEIU international goes back to April of 2007, when the local's leader, Sal Rosselli, questioned SEIU practices that were aligning the union against groups advocating for better patient care. In response to the IEB vote, UHW's executive board notified SEIU President Andy Stern that rank-and-file members are calling for a disaffiliation referendum for the entire local. SEIU has repeatedly used strong-arm tactics to replace leaders of dissident locals with those loyal to Stern. Three such Stern allies, Annele Grajeda, Tyrone Freeman, and Rickman Jackson, have all been implicated in corruption scandals involving millions of dollars of union funds. Since the vote, tensions have increasing. In Oakland, and off-duty policeman apparently hired by SEIU as a private investigator aggressively photographed members of the local union and assaulted a UHW staff member.   ********** UFCW Pension Woes Stacking Up

Ron MacDougall, a former employee of a pork plant on Prince Edward Island in Canada, received a letter informing him that the pension benefits were being cut in half. The UFCW-run plan had been seriously underfunded, and serious problems came to light several years ago about the way union heads mishandled investments.
Another pension run by the UFCW for the Dunsmore, PA, Department of Public Works, was announced to be insolvent. The pensions of other public service workers of the borough remain intact, as they were not handled by UFCW. The DPW's involvement in the UFCW pension "was a decision by whomever was running DPW at that time, and I mean on the union side. It's their call," said Jerry Hart, borough council vice president. ********** Big Labor Consolidating Power David Bonior, a former Michigan congressman and a member of President Barack Obama's economic-transition team, facilitated a meeting of members of the AFL-CIO and breakaway rival Change To Win. The presidents of twelve unions representing most of the unionized workers in the country met to discuss how to reunite the labor movement.
According to a released statement, "The goal of this meeting is to create a unified labor movement that can speak and act nationally on the critical issues facing working Americans." The real target is to capitalize on the opportunity presented by the new alignment of the Congress and White House with pro-union issues. "Political action on the national level may be enhanced," said Gary Chaison, a labor expert at Clark University in Worcester, Mass.
********** Only In A Union
A teamster organizer broke into a youth camp run by the rival Fraternal Order of Police and installed surveillance equipment, purchased with Teamsters funds. He was attempting to catch Metro police officers working at the camp who he believed were drinking after hours.
At the time, the Teamsters Union was locked in a struggle with the FOP for the right to represent Metro police officers in negotiations with the city.
********** UAW "Roach Motel"

A machine operator at an automotive parts plant gathered signatures of more than half of the 150 workers seeking to drop their representation by UAW Local 19. However, the UAW fought back, stating that the multi-plant local would have to be decertified not just at this plant, but at all 12 plants now operated by the owner of this particular plant.
"The issue is that they make it very easy to get into the union but they make it very difficult to get out. It's sort of like the roach motel," said Glenn Taubman, the attorney representing the employee's petition.
Unions want to have their cake and eat it too. Although it is possible to organize distinct units within one facility, as long as it can be shown that they have some commonality that qualifies them as a "bargaining unit," the unions will throw up any smokescreen to impede such a unit being decertified.
********** Teamsters: Strike vs. Talk Rather than do their research prior to entering negotiations, the Teamsters allowed 2 votes & 10 weeks of a strike before submitting an information request to the employer. In a statement released to a local paper, Metalworks President and CEO Tom Paine asserted, "the union is just now asking the company for negotiating information, a process that should have been done months ago…The union leadership has caused a severe economic hardship to all members because of a strike that they initiated and continue to promote. Instead of working through the economic and competitive challenges, the Teamsters union instructed their membership to walk off their secure jobs. ********** JANUARY SCOREBOARD Who are the winners (and losers) of the labor movement? Don't guess, just check the LRI Scoreboard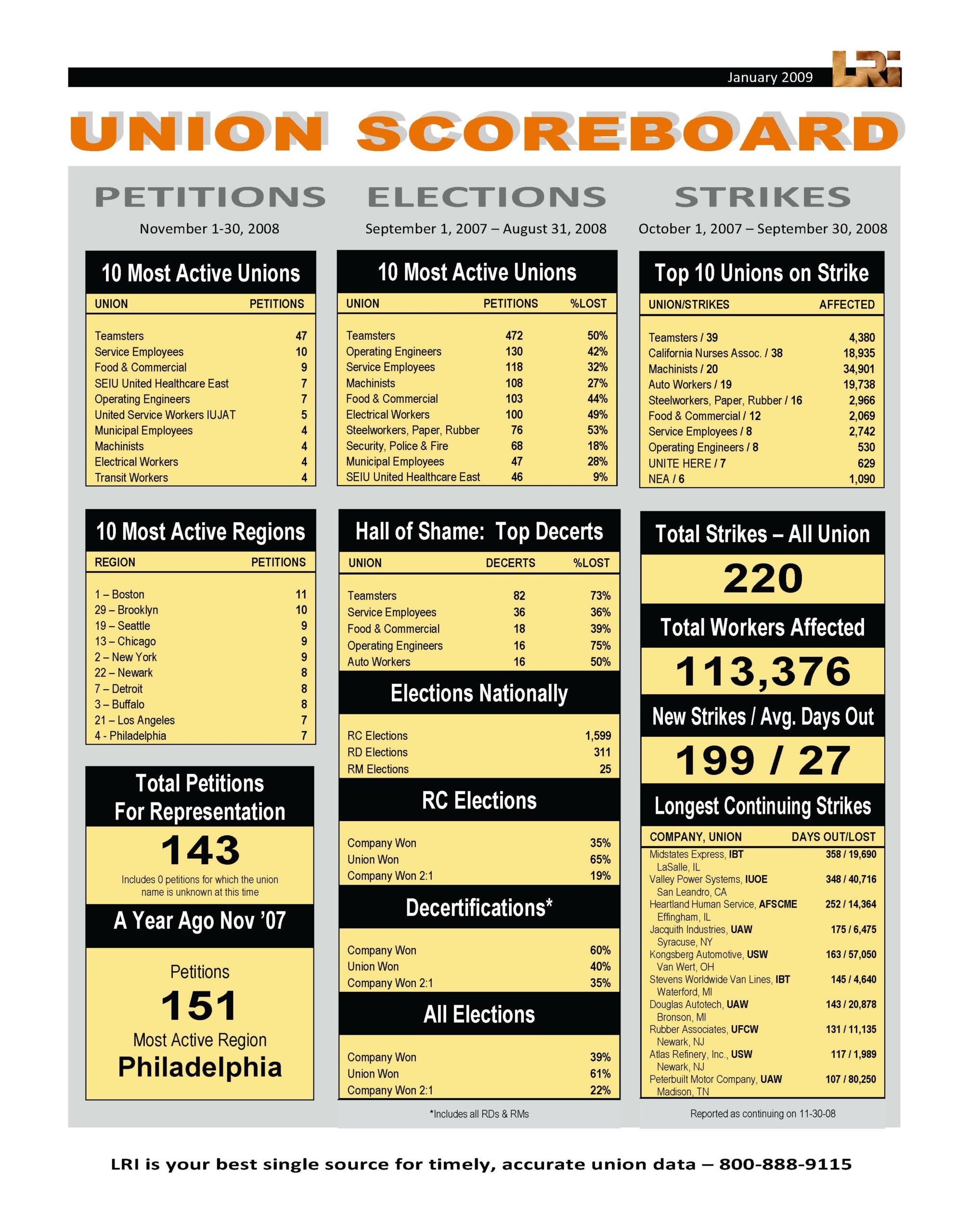 View this month's scoreboard (archives also located here).
Download a PDF of this month's scoreboard.
        ********** Employee Relations tip-of-the-month Know your HR law! The more competent HR personnel are at their job, and the more the better job they do at answering employee questions in understandable language (sans jargon), the more confidence your employees will have in their opportunity to flourish. ********** Top Ten for 2008 National Legal Policy center's top union corruption stories of last year. 10) Senate appointment scandal has union connections. 9) ACORN is knee-deep in voter-registration and internal fraud. 8) Los Angeles SEIU chieftain is exposed, dismissed. 7) Law enforcement agents arrest Operating Engineers local thugs. 6) Union investments fuel progressive activism. 5) Mexican unions are bastions of government favoritism and corruption. 4) Labor Department puts more teeth into financial reporting rules. 3) Federal prosecutors expose New Jersey construction locals. 2) Five dozen Gambino family mobsters plead guilty. 1) Barack Obama is elected president. ********** Labor Relations INK is published semi-weekly and is edited by Labor Relations Institute, Inc. Feel free to pass this newsletter on to anyone you think might enjoy it. New subscribers can sign up by visiting: https://lrionline.com/free-stuff/newsletter-signup If you use content from this newsletter please attribute it to Labor Relations Institute and include our website address: www.LRIonline.com Contributing editors for this issue: Phillip Wilson, Greg Kittinger Labor Relations Institute 7850 South Elm Place – Suite E Broken Arrow, OK 74011 US