Labor Relations INK Download a PDF of this issue with links here. In This Issue: • EFCA Update • Union Intimidation Up Close & Personal • RAISE, Not RESPECT • PLUS June Scoreboard, Only In A Union, and more… EFCA Update A bit of detective work uncovered another fraud perpetrated by Big Labor in attempting to persuade members of Congress that a new coalition of businesses supported the Employee Free Choice Act. Even though their website gives no list of names, the group attempted to claim 1000 members. We checked our LRI Database and discovered that the chairman is CEO of a life insurance company whose members are represented by OPEIU Local 277. Of course he would want all his competition unionized! Rick Berman, of the Center for Union Facts, dug behind the scenes to uncover the hoax. "Business Leaders for a Fair Economy is a front group for a few financial companies who stand to profit from forced unionization," said Rick Berman. "Although they claim to be a 'coalition of 1,000 businesses,' it publicly turns out to actually be a hodge-podge of fewer than 200 non-profits, union consultants, and businesses that don't even exist." As it becomes clear that Big Labor is desperate to keep the forced arbitration provision in the bill to protect unions' failing pensions, they are once again attempting to frame the debate by ignoring the fact that the system is not broken, and focusing the discussion on a "working arbitration system." Read our refutation to such a system on our blog. Another prominent Democrat, Florida State Senator Rick Dantzler, has come out against the EFCA, another state business group (225 small businesses in Colorado) have come out supporting the bill, and Senator Mark Pryor of Arkansas is dancing around attempting to find a way to support a "proposal both business and labor could support." ********** FREE! EFCA Strategy Review & Vulnernability Audit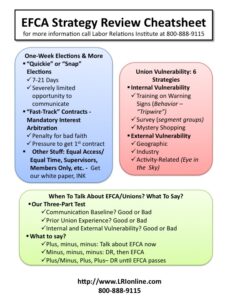 This has quickly become one of our most popular programs, in light of upcoming labor law changes. It is more important than ever to assess both the internal and external factors that contribute to your company's vulnerability to union penetration, and formulate action plans to shore up any uncovered weaknesses. • What are the most likely labor law changes, and how will they impact my vulnerabilities? • What are the six strategies I can implement to strengthen my defense against union encroachment? • When do I talk to my employees about unions? What do I say about unions? CLICK HERE to schedule your free 30-minutes consultation with Phil Wilson, LRI's President and General Counsel. ********** Has SEIU Overreached?

Both sides are claiming victory in the recent Fresno battle between the SEIU and the breakaway National Union of Healthcare Workers. In the election for home healthcare workers asked to select a union to represent them, SEIU ultimately took the vote tally by a slim margin while the NUHW is challenging the election, claiming that SEIU engaged in tactics both unethical and illegal. The cost to SEIU was 1000 field workers tied up on the ground, and an estimated $10 Million or more spent on the campaign, only to emerge with a shallow victory and a tarnished reputation. For a look at the detailed parallel with the U.S. quagmire in Vietnam, read this article. SEIU is in for a long, hard season of bitter conflict, as it continues to tangle with NUHW and UNITE-HERE, while attempting to lobby for the Employee Free Choice Act. ********** Only In A Union Shawn Clark, who was business manager of Somerville, NJ-based Local 455 of the International Brotherhood of Carpenters and Joiners, claims that all $85,000 that he spent on entertainment, $65,000 of it in go-go bars, was legitimate business expense. Clark was expelled from the New Jersey Regional Council of Carpenters and fined $50,000, but still intends to plead not guilty to embezzlement charges. ********** Union Intimidation Up Close & Personal One of the Big Labor arguments attempting to frame the debate for the Employee Free Choice Act is an accusation that employers intimidate their employees during union organizing campaigns. Unfortunately for the unions, most evidence of intimidation points to unions and their members as the perpetrators of acts of violence and intimidation. This short collection of videos provides a glimpse into the reality of union intimidation, from the perspective of former union organizers who engaged in the practice, FBI bribery footage, and the experiences of employees selected as targets. ********** Healthcare Tug-of-War The nurses at Shasta Regional Medical Center in Redding, CA, recently came to the conclusion that they didn't need a union, and decertified the United Public Employees of California, which had represented them for twelve years. "We said, 'You know what? Why bother?' " said Sue Washburn, the SRMC nurse who led the decertification effort. Across the country in Boston, the states largest hospital group signed an agreement with the SEIU that restricted management's ability to communicate about unions to their employees, leading to a recent win for SEIU at Caritas Carney Hospital in Dorchester. Although some hospitals or hospital management groups are pressured into signing such agreements, other will choose to fight back, and may find themselves targets of SEIU corporate campaigns. According to union officials, there are organizing campaigns targeting every hospital in Boston. One labor consultant , Jeff Toner of Kennebunk, ME, describes such campaigns: "Corporate campaigns can target executive compensation, they can picket the homes of board members," Toner said. "They make it as uncomfortable as possible for executives, and they cast aspersion on a hospital's standard of care to the patient community." ********** Political Activism The New SEIU Export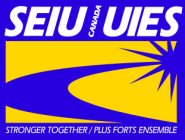 The Service Employees International Union has announced it is establishing a huge member activist campaign across Canada. According to the union, members will use the political action program to mount campaigns and speak with politicians, to insure that SEIU-identified issues will remain on the agendas of politicians "at election time and every day in between." **********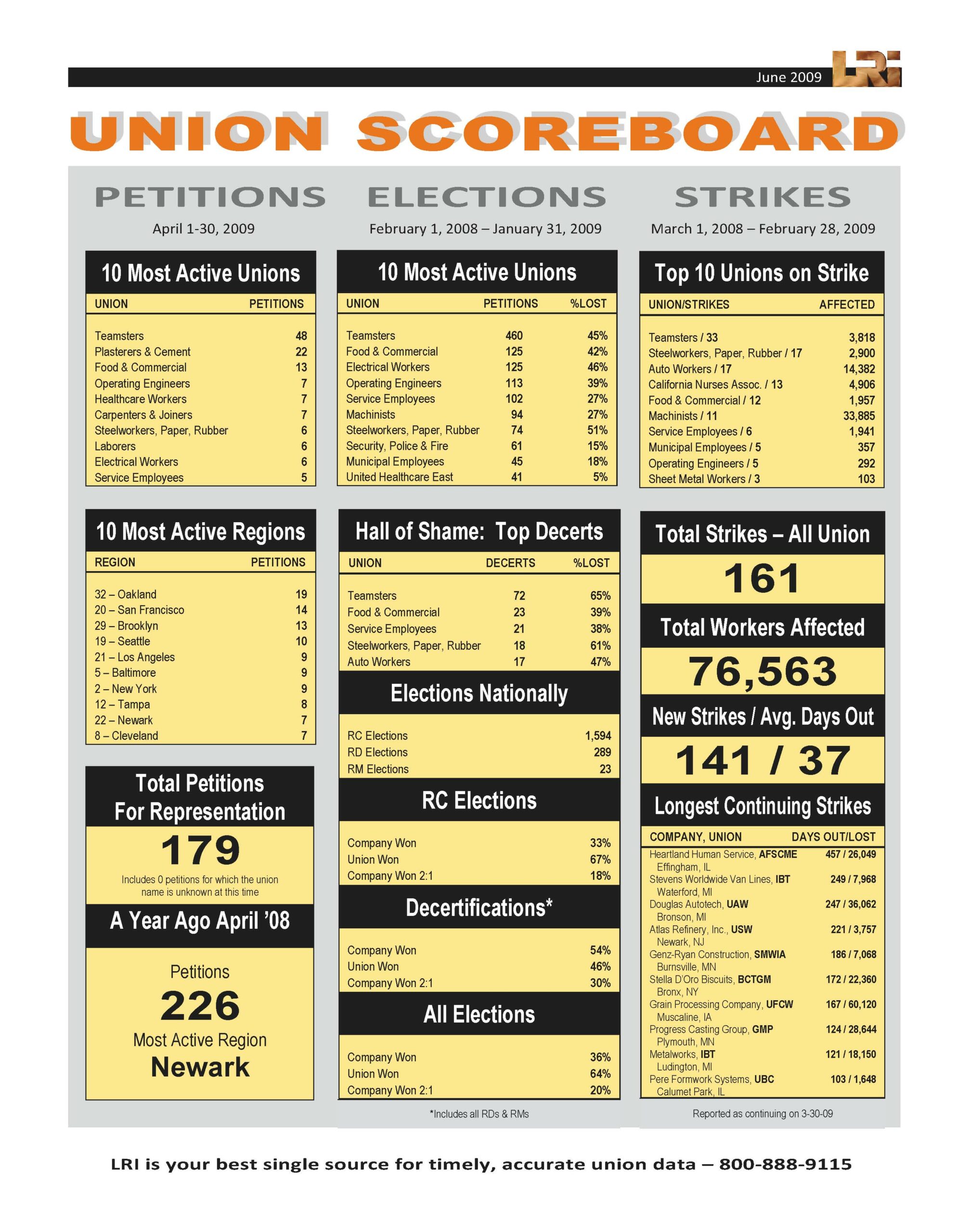 SCORE BOARD
Who are the winners (and losers) of the labor movement? Don't guess, just check the LRI Scoreboard View this month's scoreboard (archives also located here).
Download a PDF of this month's scoreboard.
********** Employee Relations Tip Of The Month Recognize those who volunteer in their community with a community service award. ********** RAISE, Not RESPECT Two laws intended to amend the National Labor Relations Act are headed to Congress. The Rewarding Achievement and Incentivizing Successful Employees Act (RAISE) would permit employers to pay unionized employers incentive wages outside the normal limits imposed by collective bargaining, giving management a way of rewarding those workers who show themselves to be more productive. This is good. The Re-Empowerment of Skilled and Professional Employees and Construction Tradeworkers Act (RESPECT) would reclassify management supervisors to make it impossible for them to legally engage in the kind of shop-floor activities that are a normal and essential aspect of their jobs, forcing companies to have to hire more workers to compensate, and depriving those companies of the expertise of their seasoned veterans. This is bad. Lobby while you can! ********** Raynor Accused of "Creative" Financing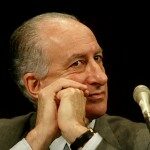 According to UNITE-HERE sources, Bruce Raynor, the ousted co-president of the union, illegally transferred over $12 million dollars out of the union's coffers and into the tills of union locals loyal to him, and to a consulting group with SEIU ties. Allegedly, those funds were then used to finance the succession of most of those locals from UNITE-HERE into a new union, which then affiliated itself with the SEIU. John Wilhelm, the UNITE-HERE leader, has accused Raynor and Stern of orchestrating the split in order for SEIU to be able to encroach upon UNITE-HERE's prime organizing turf, gaming and hotel industries. ********** Bargaining Chip? Senator Jim DeMint (R-SC) and Representative Steve King (R-IA) have introduced the Truth in Employment Act of 2009 in both houses of Congress. The bill seeks to protect employers from union "salts," people who secure jobs for the express purpose of fomenting unrest in the company leading to union organizing efforts. Salting is an age-old union tactic, and similar legislation has been presented several times during the recent decade, to no avail. One might wonder if it will be used as a bargaining chip in the EFCA-derivative debate. ********** Your Union Dollars At Work

In Atlantic City, you can get a good glimpse of union dues hard at work. While the UAW is negotiating contracts for employees at Bally's and Caesars, they are engaged in a "multi-million" advertising campaign trying to pressure the casinos. Tired of taking it on the chin in the public arena, Harrah's Entertainment has struck back with a radio spot of their own. "We have had more than 50 bargaining sessions with the UAW. … We'd like to agree on a contract that is reasonable, economically feasible and one that allows us to remain competitive in these difficult times." Harrah's says more ads are coming, although their spending won't quite reach the level of the UAW media campaign. With the union pouring millions into media, and the casinos having to fight back to protect their reputation, it's a good time to be in the advertising business in Atlantic City. Casino employees, however, are seeing their pay raises frittered away. Good thing they voted in a union. ********** Bank Of America's Turn In Crosshairs

I'm sure Bank of America must be reeling. First, they loan $80 million to the SEIU for the construction of a new headquarters building. In return, Stern and company viciously attack the bank, staging protests outside Bank of America offices, called for the resignation of bank CEO Ken Lewis, and demanding improvements in wages, bargaining rights, and health care benefits for Bank of America workers through public campaigns and in testimony before Congress. Then, another union that is in the middle of a ferocious battle with the SEIU, files charges with the National Labor Relations Board against the SEIU and the bank, charging that the loans are illegal. SEIU officials claim the charges are baseless, while Bank of American claims they are "being inserted into the middle of a dispute between two unions." ********** Branson Highlights Tough Reality

Said Richard Branson, head of Virgin Atlantic, about his company's relationship with Boeing, "If people in Seattle build our planes and deliver them on time and, to be frank, don't go on strike, then we'll continue to work with Boeing. If we have our airline completely messed up, with tremendous damage done to our own work force, then we'll go to Embraer or Airbus."

The machinists union better pay attention. Their recent strike began the rumblings of the possible gutting of the aerospace industry in the northwest, and by year's end we may see the fallout. Boeing has already indicated that without proper concessions from the machinists, they will establish a new 787 assembly line elsewhere. Other industries would do well to take notice. The government does not have the wherewithal to add Boeing to the "General Motors"-style bailout program. ********** UAW Attempts to Shaft Wisconsin Children While business executives are being excoriated in the media for using private jets, the UAW is attempting to keep afloat a posh UAW-owned golf resort that has lost $25 million over the last 5 years. The union is trying to secure $3 million in tax relief from township officials, seeking to rob the school districts of much-needed funding to keep alive the elegant union leadership getaway. ********** Labor Relations INK is published semi-monthly and is edited by Labor Relations Institute, Inc. Feel free to pass this newsletter on to anyone you think might enjoy it. New subscribers can sign up by visiting: https://lrionline.com/free-stuff/newsletter-signup/ If you use content from this newsletter please attribute it to Labor Relations Institute and include our website address: www.LRIonline.com Contributing editors for this issue: Phillip Wilson, Greg Kittinger You are receiving this email because you subscribed to receive our labor relations newsletters and updates. You can manage your email preferences by clicking the link at the bottom of any of our email communications. NOTE: if you are using Internet Explorer v. 6, read the text version, as the html will not load properly in IE6. We recommend upgrading to IE7.