Labor Relations INK Download a PDF of this issue with links here.   Labor Relations Insight from Phil Wilson Solis vs. Corruption Hilda Solis was confirmed as Secretary of Labor this week. After a bumpy confirmation process in which her nomination was held up by questions about her role as a lobbyist for the Free Choice Act while also serving in Congress, she was approved overwhelmingly by the Senate. Unions are happy with Solis, who served on the Board of American Rights at Work, a non-profit, union-funded lobbying organization whose purpose is to garner for the Free Choice Act. Businesses are wary for the same reason. I'm sure she is anxious to get to work. She has big shoes to fill.
read the rest of the article here…
********** SEIU Attempts "Hostile Takeover"

The SEIU again displayed its true colors by launching a sophisticated and well-coordinated attack on another union, the California Nurses Association (CNA). The SEIU is apparently attempting to take over the CNA-NNOC by soliciting SEIU-allied individuals to run for the CNA-NNOC national board of directors, as well as attempting to harass and intimidate the CNA-NNOC leadership. The strategy included the impersonation of nurses through the creation of a false "RN" group with a fake website, e-mail address, and phone number. Multiple smear mail pieces and e-mail alerts were distributed, along with phone calls soliciting recruits to run for the CNA-NNOC board on SEIU's behalf. SEIU brought in staff from around the country for the campaign, that in true Big Labor fashion included uninvited home visits to CNA-NNOC members. SEIU spokesperson Michelle Ringuette first denied the attack, but when faced with overwhelming evidence, admitted to the campaign, defiantly saying SEIU would do everything in its power to protect its interests.   ********** CNA on Steroids?

On Feb 18th, three nurses unions announce their intent to merge into one larger organization, calling it the United American Nurses-National Nurses Organizing Committee. The three unions involved are the California Nurses Association-National Nurses Organizing Committee, the United American Nurses, and the Massachusetts Nurses Association. Their combined membership would total 150,000.
Of their five stated goals, the one to which they have committed the majority of their operating budget is the organizing of all nonunion direct care RNs in the U.S. With the recent attack by SEIU upon the CNA, it can also be presumed that they desire to become a harder target against such attacks in the future. Thus, a majority of their efforts would seem to be spent in organizing, union in-fighting, and of course, political activism. Hardly seems there will be much time (or money) left over to work for the betterment of their members. ********** CWA Attempts Stiff-Arm Tactics

Members of the Communication Workers of America (CWA) were falsely informed that they have no right to resign from formal union membership and would face hefty fines if they choose to continue to work if CWA ordered a threatening strike.
With the help of National Right to Work Foundation attorneys, two New Jersey AT&T employees filed unfair labor practice charges against the CWA Local 1101 union for such misconduct. Union officials have no legal power to punish nonmember employees for honoring their commitments to their employer, and they have attempted to confuse the issue by telling CWA union members in Washington, Michigan, Ohio and New Jersey that any attempt to resign from union membership is prohibited.
"It's particularly despicable to threaten workers with fines if they refuse to abandon their jobs in the midst of an economic crisis," said Stefan Gleason, vice president of the National Right to Work Foundation. "All workers should be free to support their families, free from ugly threats by union bosses."
********** EFCA Counter-Measure
The fight against the Employee Free Choice Act took a new turn on Feb 25th. Senator Jim DeMint (R-S. Carolina) introduced a bill, the Secret Ballot Protection Act (SBPA), that will guarantee the right of American workers to have a secret ballot election on whether to unionize. SBPA has also been introduced in the House with over 100 co-sponsors.
This is a commendable effort, but regardless of the outcome, keep in mind we have warned that Big Labor may well compromise their effort on EFCA by giving up the elimination of the secret ballot process in order to retain the mandatory arbitration provision.
********** Case Against EFCA A detailed study recently released thoroughly debunks the claims made by proponents of the EFCA. Written by noted legal scholar Richard Epstein, it addresses the EFCA's three provisions, and soundly criticizes the justification supporters cite for the bill. It is a lengthy but readable document (download PDF).
Says Epstein, "The bottom line therefore is that the passage of EFCA will create huge dislocations in established ways of doing business that will in turn lead to large losses in productivity."
********** EFCA Awareness Problem A new poll conducted by the Employment Law Alliance indicates that 75% of American workers are still completely in the dark about the Employee Free Choice Act. Here is a summary of the findings:
• Only one-quarter reported that they were aware of the EFCA
• Slightly over one-quarter (26%) say they support the EFCA, and nearly as many (24%) oppose it
• Fewer than one-third (30%) of those surveyed support replacing a secret-ballot election with a "card check" system to determine union representation; 35% were opposed
• Asked about the use of government-supervised, binding arbitration to settle a contract in the event of a deadlock, 37% favor this while 22% were opposed
Pro-business interests have a long way to go to get the public informed and on their side!
********** FEBRUARY SCOREBOARD Who are the winners (and losers) of the labor movement? Don't guess, just check the LRI Scoreboard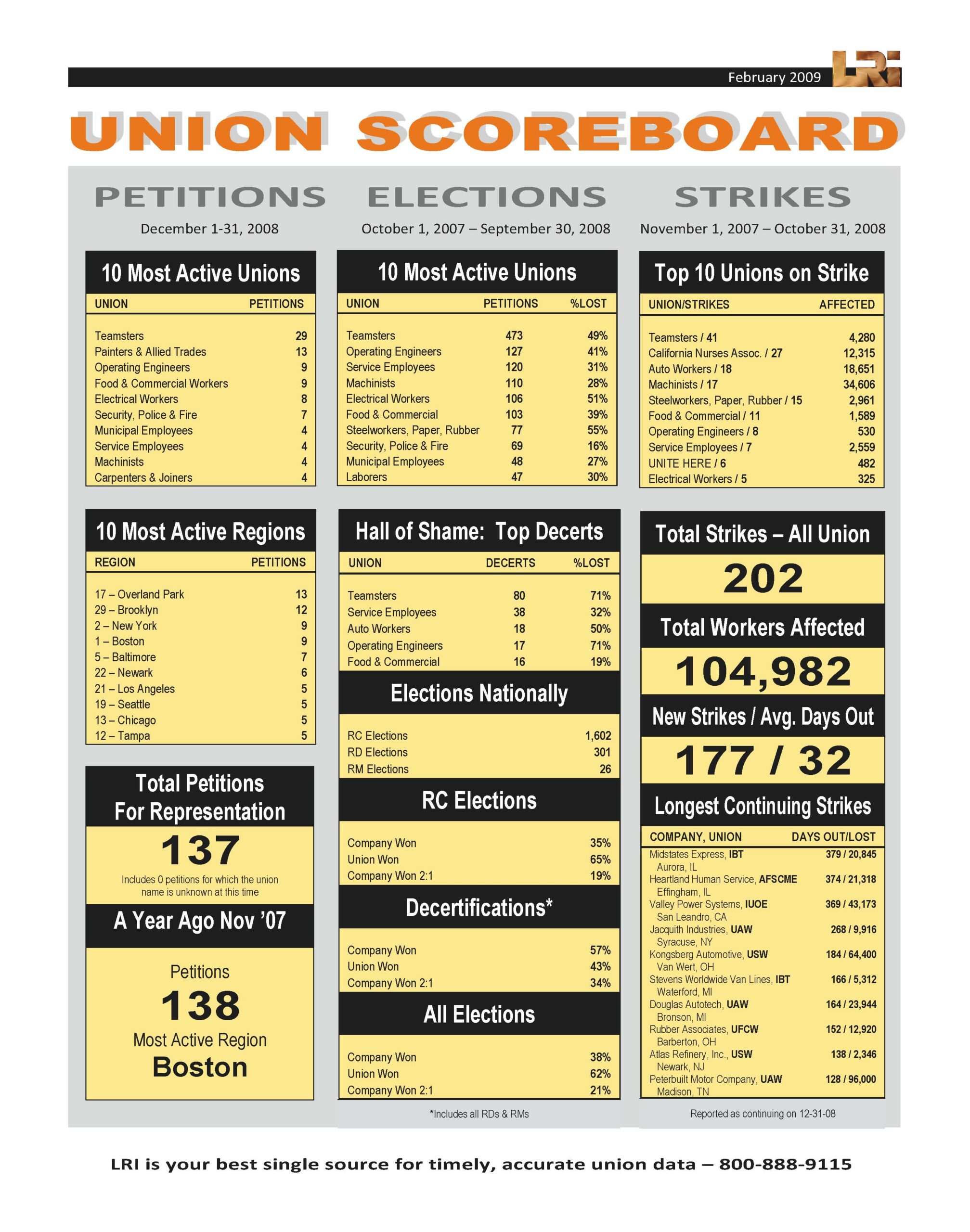 View this month's scoreboard (archives also located here).
Download a PDF of this month's scoreboard.
        ********** Employee Relations tip-of-the-month Have employees interview each other about their "highlight moments" at work – make sure that they describe in detail. Write down or record the interviews (audio or video) and start collecting them. When you have a bunch of them, bind them in a book or put them together as a movie and give them out to employees. This can have a long-lasting positive impact. ********** UFCW vs. Grocers

The United Food and Commercial Workers is mixing it up with three California grocers. Last year, pharmacists voted to join what is called UFCW's Professional Division. The union asked to sit down with representatives of Albertsons, Vons and Ralphs and negotiate a separate contract. The three grocers' UFCW contracts don't expire until 2011, and they don't believe they're obligated to negotiate until then. In 2003 and 2004, the UFCW and the three grocers engaged in a rough-and-tumble labor battle that included a five-month strike and lockout. ********** Union Pockets Here's a quick glimpse of some 4th Quarter union expenditures: * Teamsters spent $373K lobbying government in 4Q * American Airlines pilot union spent $120K lobbying in 4Q * Southwest Airlines pilot union spent $40K lobbying in 4Q * Air Line Pilots Association spent $230K lobbying in 4Q ********** Labor Relations INK is published semi-weekly and is edited by Labor Relations Institute, Inc. Feel free to pass this newsletter on to anyone you think might enjoy it. New subscribers can sign up by visiting: https://lrionline.com/free-stuff/newsletter-signup If you use content from this newsletter please attribute it to Labor Relations Institute and include our website address: www.LRIonline.com Contributing editors for this issue: Phillip Wilson, Greg Kittinger Labor Relations Institute 7850 South Elm Place – Suite E Broken Arrow, OK 74011 US