Labor Relations INK Download a PDF of this issue with links here.   Pig In The Parlor

As debate over the merits of the Employee Free Choice Act continues, the UAW's contribution to the problems of the Big Three automakers is coming more clearly into focus. As Congress is pounding the Detroit companies to produce a viable plan for recovery, the UAW is drawing lines in the sand, endangering the jobs of millions. This week the union has finally succumbed to an emergency meeting to discuss further concessions.
The UAW has continued to blame the economy rather than admit its role in the debacle. A comparison of the wages and benefits of non-Detroit automakers to the Big Three easily highlights the differences. Take home wages in Detroit average $28.42 an hour, compared to Toyota ($26), Honda ($24) and Hyundai ($21) in their plants in the southeast. Add benefits, and the non-Detroit companies are on par with most other manufacturing jobs at $44.20, compared to Detroit's $73.21.
Randall Johnson of the US Chamber of Commerce says that any bailout must be accompanied further concessions from the UAW. "There's no secret about the entitlement cost overhead the auto makers are sustaining," said Johnson. "It's got to be looked at it if they're going to survived."
********** New Targets In Union Crosshairs


A recent interview with a restaurant lobbyist suggests that management in many industries who would not have considered themselves a prime union organizing target may need to rethink their position. Speaking of the restaurant industry, Rick Berman said, "My hope is that the industry will act in a more pre-emptive fashion so that we are not engaged in as many fire drills as I fear we may be." He further warned, "Companies with heavy franchised operations are not immune." Another target is the Hispanic community. Latinos are found in large numbers in industries such as healthcare and hospitality, were SEIU efforts have grown recently. Begging the question of the ease of organizing Hispanics is the role the language barrier plays in properly representing (or misrepresenting) authorization cards to this growing component of the American workforce. ********** Union Loses
In a recent union defeat, workers at a Blue Diamond Growers plant in Sacramento overwhelmingly voted to reject representation by the International Longshore and Warehouse Union.
Blue Diamond chief executive officer Doug Youngdahl told members of the cooperative in a letter sent Thursday, "this vote … overwhelmingly supports and endorses that working together as a team and talking directly with each other is preferred rather than working through a third party."
********** More SEIU Turmoil

The top SEIU official in California was forced to step down amid charges of financial impropriety. Annelle Grajeda is the third major SEIU leader to step aside following reports about shady financial practices. Grajeda served as president of the L.A. local and the union's state council, and as an executive vice president of the national organization. Under scrutiny is her role in payments of tens of thousands of dollars to a boyfriend, Alejandro Stephens. A complaint filed by two members of Grajeda's local stated, "We have grave concerns that this type of betrayal of public trust and malfeasance may be happening in our local union." One of the first two SEIU officials to resign under similar circumstances has been permanently banned by the union, and ordered to repay more than $1 million back to the organization. Tyrone Freeman (earlier INK story here) is now the target of a federal criminal investigation. ********** Labor Excels At Com 2.0
Unions are constantly sharpening their skills and tactics in the sphere of communication technologies and strategies. With a labor-friendly administration taking over in Washington soon, management needs to expand its use of the modern tools of communication.
**********
ULP Charge of the Month
An SEIU Employee who has been threatned with termination for organizing activity!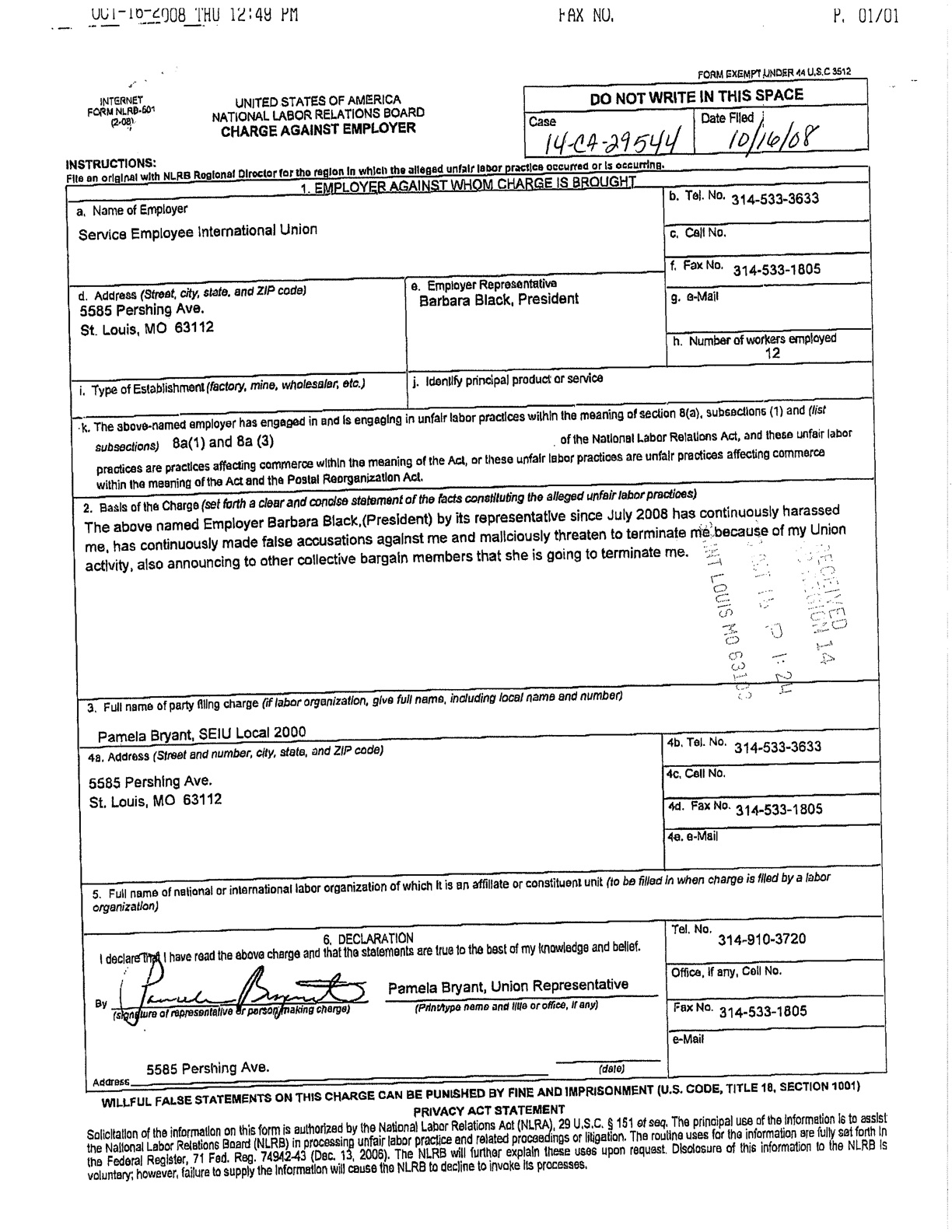 Download a PDF here. ********** Ultimate Oxymoron

The Employee Free Choice Act as part of a Stimulus Bill? Believe it or not, some are beginning to perceive this idea as a way to ram the card check bill down America's throat with a spoonful of "stimulus" sugar. Keep an eye out for this one! ********** Sticky Fingers! Current charges or sentences of embezzling union officials: John DaBronzo – AWIU: $830,000 Edna Latimore – AFGE: $77,857 Lawrence Marable & Deborah Powell – AFGE: $184,129 Willie Harris – AFGE: $5,000 Michelle Trinh – WGA: $17,228 Todd Novak – BLE: $47,780 Tina Curtis – APWU: $18,283 Kenneth Wallace – UWUA: $8,300 Bradley Steinruck – USW: $1,987 ********** Labor Relations INK is published semi-weekly and is edited by Labor Relations Institute, Inc. Feel free to pass this newsletter on to anyone you think might enjoy it. New subscribers can sign up by visiting: https://lrionline.com/free-stuff/newsletter-signup If you use content from this newsletter please attribute it to Labor Relations Institute and include our website address: www.LRIonline.com Contributing editors for this issue: Phillip Wilson, Greg Kittinger Labor Relations Institute 7850 South Elm Place – Suite E Broken Arrow, OK 74011 US