Labor Relations INK Download a PDF of this issue with links here.   EFCA Update Do not fall asleep behind the wheel, lulled either by a false sense of security, or by numbness stemming from the confusing messages related to the prognosis for the Employee Free Choice Act. It does seem that the cards are stacking up against the bill passing "as is." Senator Jim Webb (D-VA) has indicated he may pull his support, another business group has added to the fray on the side of EFCA opponents, and a Teamster-endorsed recent senatorial candidate got away with dodging confession of support for the bill. However, bubbles of compromise discussion have continued to surface, and even those who have said "no" to the bill, have typically qualified their "no" by specifying they are opposed to the current version of the bill. Big Labor mogul Andy Stern attempted to bolster his union comrades. "We are on the hunt for a solution," he said, and indicated that it would be a mistake for Big Labor to wait for the next election cycle, hoping to pick up more votes for the current form of the bill. The AFL-CIO posted a list of grassroots efforts working on behalf of "reform," and in a move straight out of the standard union playbook, the SEIU appears to have "stolen" signatures used in a non-EFCA related petition and applied them to a petition in support of the law! While both sides are claiming tactical victories for their camp, it doesn't appear that the EFCA proponents are close yet to pulling a passable bill out of the hat. That's good news for American businesses, IF they take advantage of the lull before the storm. Big Labor will not rest – there will be labor law change, whether it comes via one "big" bill like EFCA, a compromise bill, or a group of smaller actions. It will become more difficult for businesses to overcome organizing attempts in the near future, and more businesses will be susceptible to organizing than ever before. They must prepare now, or they will pay the price for their procrastination in the very near future. ********** "An' You Don't Mess Around With … Andy?"

Andy Stern, volatile head of the Service Employees International Union (SEIU), is a scrapper par excellence. Having buried the hatchet and come to an agreement with the CNA-NNOC to split the proceeds of hospital organizing (nurses to CNA, service staff to SEIU), he is now taking advantage of the rift in UNITE-HERE by wooing away the UNITE side of the war-torn organization to join the SEIU. The move was a bold encroachment into the gaming turf Stern has set his sights on. John Wilhelm, co-president of UNITE HERE, calls Stern's efforts "a naked power grab," accusing him of attempting a "hostile takeover of another union's jurisdiction in a way that is unprecedented in the modern labor movement." Labor experts disagree with Stern's "growth at any cost" strategy, which makes concessions on benefits and working conditions in exchange for making it easier to organize in specific locations. ********** Jaws Revisited
SEIU is calling for Kenneth Lewis' head on a platter. Why would a union be after the CEO and Chairman of Bank of America? Simply put, they are trying to capitalize on the controversy and consumer angst that the $45 billion in government funding has created, to push their agenda for labor law change, specifically the Employee Free Choice Act.
"They're after blood. They're chumming the waters for sharks," UNC Charlotte finance professor Tony Plath says of the union's campaign. "I'm not a cheerleader for BofA. But let's be objective about this: These attacks are all about card check." Plath reasons that by accusing a major company of abusing consumers and workers, Big Labor stands to gain support in Congress for changes they are trying to push through. There are no unionized banks, but with the proposed changes in labor law, that could all change rapidly. ********** Only In A Union While Big Labor is attempting to force American workers to give up the protection of a secret ballot in exchange for the easily manipulated "card check" process, the Teamsters are showing the disrespect they hold for any democratic process. Three Teamster members are on trial for rigging an election in 2004, apparently in collusion with the attorney of their local.
Now that's democracy, Big Labor style!
********** LRI Website Update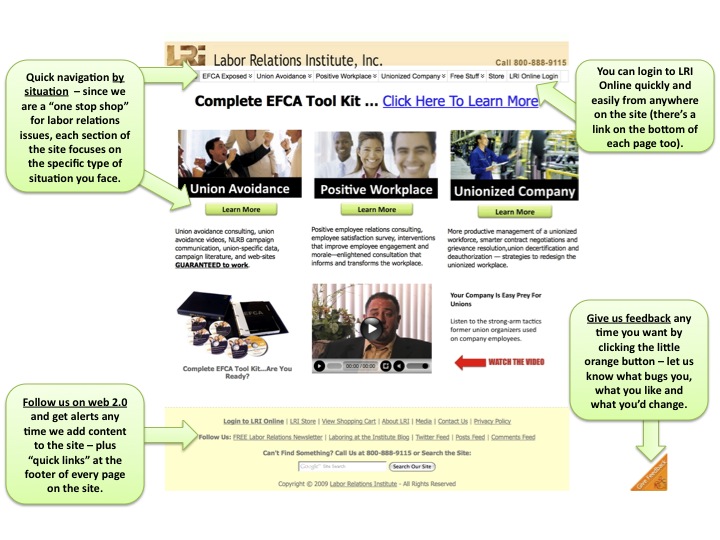 We've made it easier for you to find what you need on our web site. Hard-hitting videos, on-target publications, a growing inventory of free resources, and our exclusive library of databases, everything you need to move your company ahead of the competition. Here is a quick diagram highlighting some of the changes. Check it out – spend a few minutes on the site, and we'd love to hear your feedback!
********** UFCW vs. Wal-Mart The UFCW is wielding a new Union Authorization Card sporting a picture and quote from President Obama. In the last month or so, about 60 organizers have been sent to over 100 Wal-Mart stores across 15 states, using the new card to secure signatures.
As the nations largest private-sector employer with 1.4 million employees in 3600 stores, the unions see Wal-Mart as the key to the nations retailers, whose jobs cannot be shipped overseas. If the Wal-Mart domino falls, Big Labor knows the chain reaction will be enormous.
********** Kidnapped!? If the new trend to import all things French (socialism…) continues, we might soon see union locals kidnapping company officials. Disgruntled employees of French auto parts manufacturer Faurecia recently "sequestered" executives for over 5 hours to protest a restructuring and plant shutdowns. Sony, 3M and Caterpiller have also had to deal with this unusual method of "negotiation." Almost half of the French population believes it is a valid means of bargaining. ********** APRIL SCORE BOARD Who are the winners (and losers) of the labor movement? Don't guess, just check the LRI Scoreboard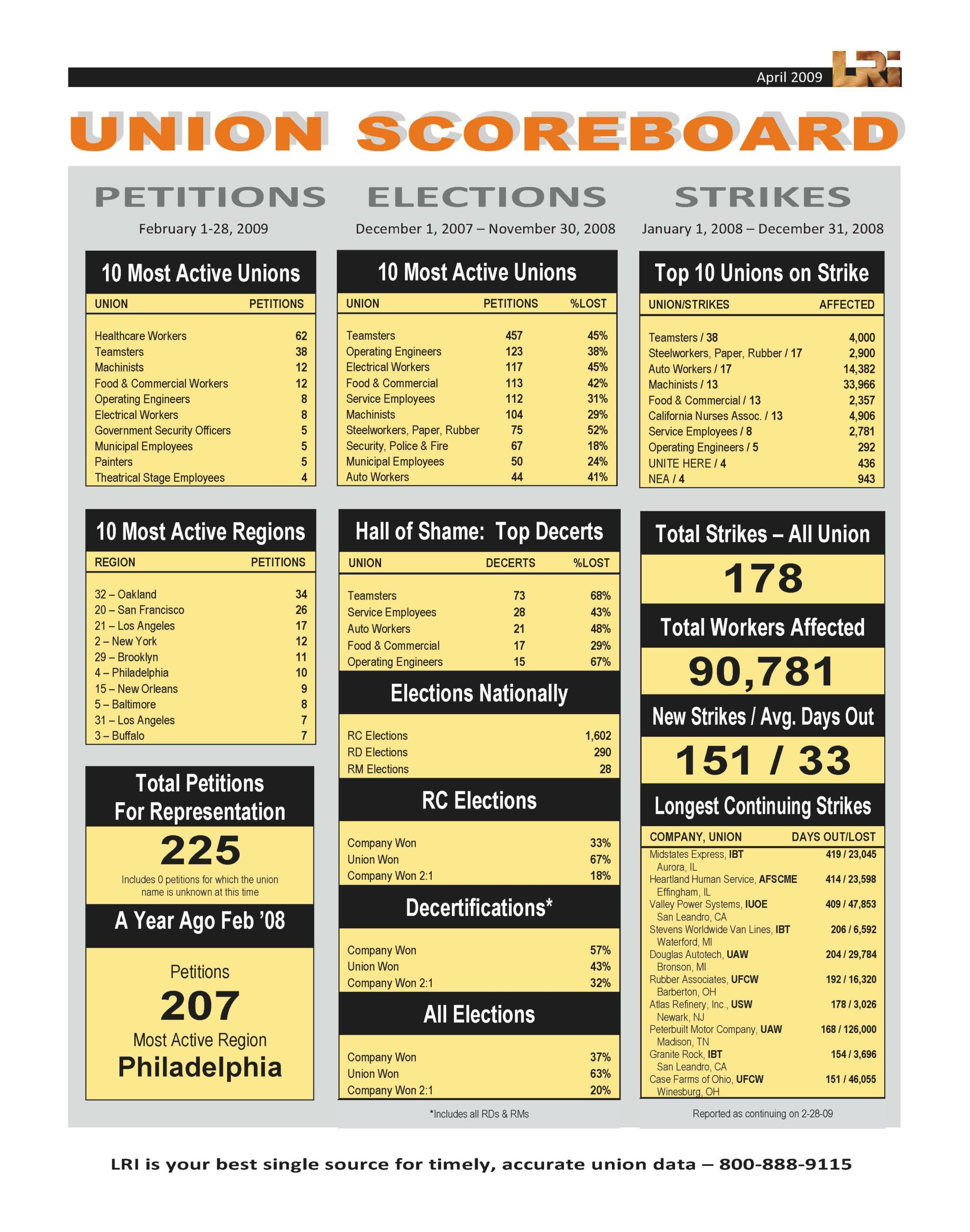 View this month's scoreboard (archives also located here).
Download a PDF of this month's scoreboard.
        ********** Higher Ed & Big Three Auto The UAW represents academic student employees at California State University. The latest round of contract talks have been stymied over the issue of fee waivers. Full fee waivers would cost the school between $8 to $11 million annually, and CSU is not prepared to budge on the issue. "A strike might be something that we'll have to do," a UAW spokesperson said. ********** Sticky Fingers! Current charges or sentences of embezzling union officials: In a side note to our union fraud section, Obama recently rescinded new financial disclosure rules put in place in the last days of the Bush administration aimed at making it easier to spot union corruption. Sen. Orrin Hatch, a former chairman of the Senate Labor Committee, complained, "In a time when the president himself said we need more accountability and transparency in government, canceling rules to help root out corruption is not the way to go." Lyndon Denney – USW: $24,000 Larry Ramsey – ROU: $163,222 Frankie Sanders – APWU: $13,000 Norman Stefanik – USW: $25,808 Rosa Della Porta – ILWU: $108,000 William Sargent, Jr.- AFGE: $31,000 ********** Labor Relations INK is published semi-weekly and is edited by Labor Relations Institute, Inc. Feel free to pass this newsletter on to anyone you think might enjoy it. New subscribers can sign up by visiting: https://lrionline.com/free-stuff/newsletter-signup If you use content from this newsletter please attribute it to Labor Relations Institute and include our website address: www.LRIonline.com Contributing editors for this issue: Phillip Wilson, Greg Kittinger Labor Relations Institute 7850 South Elm Place – Suite E Broken Arrow, OK 74011 US