In this issue:
It's All Academic
AFL-CIO Headquarters Staff Dwindles
Longshoremen Union Out of Step with Membership
Insight, Fight for $15, SEIU Watch and more…
The bottom of each story contains a link to the individual post on our site. Labor Relations Insight by Phil Wilson  The Clash, The Beatles and Lafe Solomon
The Supreme Court at last issued its decision in 
National Labor Relations Board v. SW General, Inc.
The Court found that Lafe Solomon's stint as Acting General Counsel to the NLRB violated the Federal Vacancies Reform Act ("FVRA"). While Chief Justice Roberts took pains to make clear its decision is not "the son of Noel Canning" it at least qualifies as a first cousin. Unless you have a case on appeal squarely raising the FVRA issue, the most entertaining part of this opinion is Chief Justice Roberts' somewhat painful (even for a lawyer) construction of the FVRA language related to "Acting" appointments.:
Suppose a radio station announces: "We play your favorite hits from the '60s, '70s, and '80s. Notwithstanding the fact that we play hits from the '60s, we do not play music by British bands." You would not tune in expecting to hear the 1970s British band "The Clash" any more than the 1960s "Beatles." The station, after all, has announced that "we do not play music by British bands." The "notwithstanding" clause just establishes that this applies even to music from the '60s, when British bands were prominently featured on the charts. No one, however, would think the station singled out the '60s to convey implicitly that its categorical statement "we do not play music by British bands" actually did not apply to the '70s and '80s.
I'm holding out hope that this hypothetical radio station would at least make an exception for the Rolling Stones. Instead of going through the background of the case (great analysis here) I want to focus on the practical impact of the decision. As we sit today – and there will be considerably more litigation on this point – there are several categories of people who should consider options after the decision.
People who raised FVRA objections to cases that arose when Lafe Solomon served as Acting General Counsel (roughly June 2010 to October 2013). These folks are most directly impacted by the SW General By raising the FVRA issue directly these cases will now have to account for the Supreme Court's decision. Justice Roberts went out of his way to state that the ruling in this case was limited – it does not overturn every decision made by Solomon. In the DC Circuit opinion that was under review in this case the Court stated its opinion that Solomon's decisions were voidable and not void. This means the impact will be decided in each case and the court can – but isn't required – to void the Acting General Counsel's decision.
People impacted by decisions made by Solomon during the time he improperly served as Acting General Counsel. Most of these cases will already be resolved, but some could still be on appeal. These companies should consider whether bringing up the SW General decision gives them "another bite at the apple" or might create additional pressure on the General Counsel to settle a case on appeal. You could even raise the issue by, for example, refusing to bargain now with a union certified under a Lafe Solomon decision. With the current General Counsel it is highly unlikely this strategy will be effective. But the current General Counsel won't be around much longer (more on that in a minute), so it is worth considering this option.
You lost a case based on precedent that happened while Lafe Solomon improperly served as Acting General Counsel. This is the longest shot, but depending on your situation it may be one to consider. Here you argue that a precedent relied on in your case was improperly decided. Again, a long shot.
None of these have been tested and you should talk to your labor counsel if any of these apply to you. One other key consideration is timing. Current General Counsel Griffin's term expires in November of this year. One strategy will be to slow play any case (especially a case currently on appeal) until a new General Counsel is put in place. After Noel Canning the Board ended up adopting much of the actions taken by the illegitimate Board. However, in this case once the new General Counsel is in place the chances are he or she – who should be polar opposite of Richard Griffin – will reverse many decisions that come before them. That could be a game-changer depending on your situation. We will keep you posted once the cases start getting resolved. In the meantime (unlike Justice Roberts' hypothetical radio station) don't touch that dial! Link & Comments ********** Union Bailout Update Many are hopeful over the course of the nation's labor laws over the next four years. That hope was invigorated even further when Trump named Phillip Miscimarra as acting chair of the NLRB. On March 1, the Board released a report detailing the top 10 policies they are going to focus on restoring balance to. See the list and find the report here. Congress is making some headway as well. One of their most notable actions this month is revoking the Labor Department's fiduciary exemption for government-managed retirement funds, named Erisa (Employee Retirement Income Security Act). Early this month, the House overturned OSHA's attempt to rewrite the Occupational Safety and Health Act. Under OSH Act, all employers are required to keep records or workplace injuries and illnesses for five years. OSHA inspectors, however, are only allowed to cite violations for record keeping that occurred within the previous six months. OSHA attempted to rewrite the law (even though government agencies have no authority to write laws) so that citations could be made for violations that occurred up to five years previous. The House of Representatives also passed the Congressional Review Act invalidating the "Fair Pay and Safe Workplaces" executive order, also known as the "Blacklisting Rule." Not only does this act enjoin the rule, it also officially "removes it from the Federal Acquisition Regulation and prevents its future enforcement." The NLRB ruled again last month that employers are required to give unions the names, addresses and telephone numbers of all employees. This includes the information of employees who are not dues paying members of the union. The 5th Circuit upheld an NLRB ruling made last November that found Traco and Alcoa (both single employers, though Alcoa bought Traco in 2010) violated the NLRA when Traco barred Alcoa union members from distributing handbills at their facility. On Friday, February 24th, the Board published new amendments to their rules and regulations. On May 7th, those new rules and regulations went into effect. You'll find the most significant changes laid out here. In good news, the NLRB found in a recent case that "not every meeting with employees constitutes an investigative interview under Weingarten." Specifically, in this case, the difference was found between a police interrogation and an investigative interview. Read about the case here. The NLRB has named five new Division of Judges administrative law judges. Click here to see the list and find out more. Link & Comments ********** SEIU Watch Two top officials from SEIU Healthcare Michigan have been removed from their positions as an investigation into large amounts of money missing from the organization's treasury plays out. The local has also been placed under an emergency trusteeship.
While a hearing is expected soon to uncover all the details regarding the misuse of funds, one source did some research of its own into recent financial transactions by SEIU Healthcare Michigan. One of the most interesting bits of information he found comes from the union's LM-2s. What these documents show is that the local has been making payments of $53,400 per year to Paul Policicchio, the local's former president. The most recent verification of this payment comes from the 2015 report (the most recent one available). What is most interesting about these payouts is that Policicchio died in 2013. For this reason, among others, there is speculation that there may have been some
secret "buyout" deal
between Policicchio and SEIU International President Andy Stern. We'll keep you posted as more details come out. In other SEIU fraud and embezzlement news, two Minnesota homecare providers alleged that their
signatures were forged
by SEIU Michigan so the union "could automatically deduct membership dues" from their subsidy checks.
Link & Comments
**********
It's All Academic

The fight to organize graduate students at Harvard has come to a standstill. Although the results of the November election were in favor of unionization, an NLRB hearing is on the books to review objections filed by both parties and to determine whether the challenged ballots should be counted. It is possible that a re-vote will be cast. Duke University would have been in the same bucket as Harvard had organizers not decided to withdraw their petition to organize. Meanwhile, six Yale departments have voted to form unions. Yale took a different approach than Harvard and Duke and opted to organize in micro-units, rather than as one large union. Arguments for both approaches can be read
here
. At Loyola University, faculty members in the Theology Department must now be excluded from a proposed bargaining unit. This comes from a split NLRB decision naming it
inappropriate to include Theology Department
members in a unit since Loyola is a religious institution. On the charter school front, the Chicago Alliance of Charter Teachers and Staff (Chicago ACTS) Local 4343 is looking to organize what would be
"the largest unionized charter school network in the country."
So far, Chicago ACTS has helped organize teachers and staff from 32 Chicago area charter schools. This new attempt involves workers from Noble Network's 17 charter high schools. If successful, approximately 800 educators and staff with Noble would have union representation.
Link & Comments
**********
SCORE BOARD
Who are the winners (and losers) of the labor movement? Don't guess, just check the LRI Scoreboard
The NLRB is late posting current strike data.  We'll send a new email when the date is updated and we have a new scoreboard.
**********
Union Pension Turmoil
Well it finally happened. As of late last month, one of the
strongest and most successful pension funds officially ran out of money
. The Teamsters Local 707 fund began their efforts to avoid this insolvency in early 2016 when they lowered payouts for already retired members. Now, the 4,000 already retired Local 707 members are left with nothing. While this news is disastrous for members of Local 707, it also speaks to the problem of underfunded pensions as a whole. Namely, it begs the question: "if one of the strongest funds couldn't survive, why should any other plans?" There are currently 68 pensions plans that have been listed as having "critical and declining status." This means these 68 will soon have to apply to cut benefits. Meanwhile, there are 10 private-sector funds that have already applied to the U.S. Treasury Department for approval to slash benefits. As it stands, "nearly 1 million working and retired Americans are currently covered by pension plans in
imminent danger of insolvency
."
Link & Comments
**********
Teamster Beat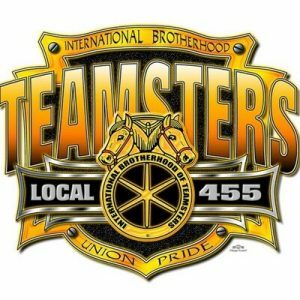 The NLRB has issued a complaint against Teamsters Local 455 for
"violating workers' fundamental rights."
It all started late last year when Francisco Manjarrez began speaking to his coworkers about a decertification vote. As a refresher, if 30 percent of a unionized workforce signs a petition stating they no longer want union representation, a decertification vote must be held. Manjarrez had been working to gather the signatures when Local 455 officials threatened Manjarrez and the other workers who signed the petition with "the loss of their benefits, discharge and a lawsuit." The charges against the local came just weeks after the NLRB issued two other decisions against the union for failure to represent and for lying to workers about the connection between their dues and promotions. The hearing against Local 455 over the new charges is scheduled for May 1. It's for reasons like this one that membership numbers of the once mighty Teamsters organization have dwindled from about 2.1 million at their peak to 1.4 million today. In fact, a large portion of that decrease can be pinpointed to the freight industry, a sector the organization is looking to push into again today; more specifically, global supply chain.
Read more about it here.
Link & Comments
**********
AFL-CIO Headquarters Staff Dwindles
In the wake of increasingly lower union member numbers, the mother ship itself is being forced into some changes. Late last month, AFL-CIO headquarters confirmed that it would
dismiss "several dozens" of its roughly 400 person staff
. Of the workers that remain, a small portion can expect to be furloughed for an undetermined amount of time.
Link & Comments
**********
Fight for $15
Attempts to raise the minimum wage in Connecticut to $15 an hour
stalled in the State Senate
late last month. The tie vote came with very little surprise as the Senate is split evenly between Democrats and Republicans. In Michigan, the minimum wage was bumped to $8.90 this year and is set for a steady increase to $9.25 next year, with continued increases through 2018. This is all outlined in the Workforce Opportunity Wage Act of 2014. For one senator though, this bill does not do enough. Senator Coleman Young II introduced a
bill to increase the minimum wage
to $15 an hour starting January 1 of next year. This would be a jump of more than 68%. In Arizona, a
push to overturn the law
, which will raise Arizona's minimum wage to $12 an hour by 2020 was rejected in the State Supreme Court. The scheduled increases will stand.
Link & Comments
**********
Right-to-Work
Right-to-Work has gained quite a bit of momentum in recent years, up from 22 states and 41% of the nation's population living in right-to-work jurisdictions in 2011 to 28 states and 52% of the population today. Additionally, House Republicans introduced the
National Right-to-Work Act
in early February. This act would "repeal federal labor law provisions that permit firing workers who refuse to pay union dues." While similar bills have been introduced in the past, this is the first time it's been done while the GOP hold control of the White House and both houses of Congress. Similarly, we've been seeing success on the local level. For example, before right-to-work became state law in Kentucky, twelve counties had already passed some form of right-to-work provisions. Those provisions were upheld by the Sixth Circuit Court of Appeals late last year.
Link & Comments
**********
Whistlin' Dixie
Data released in January by the Bureau of Labor Statistics shows that there was a
slight dip in union membership in the South
in 2016. Overall, membership dropped in 9 of 13 Southern States.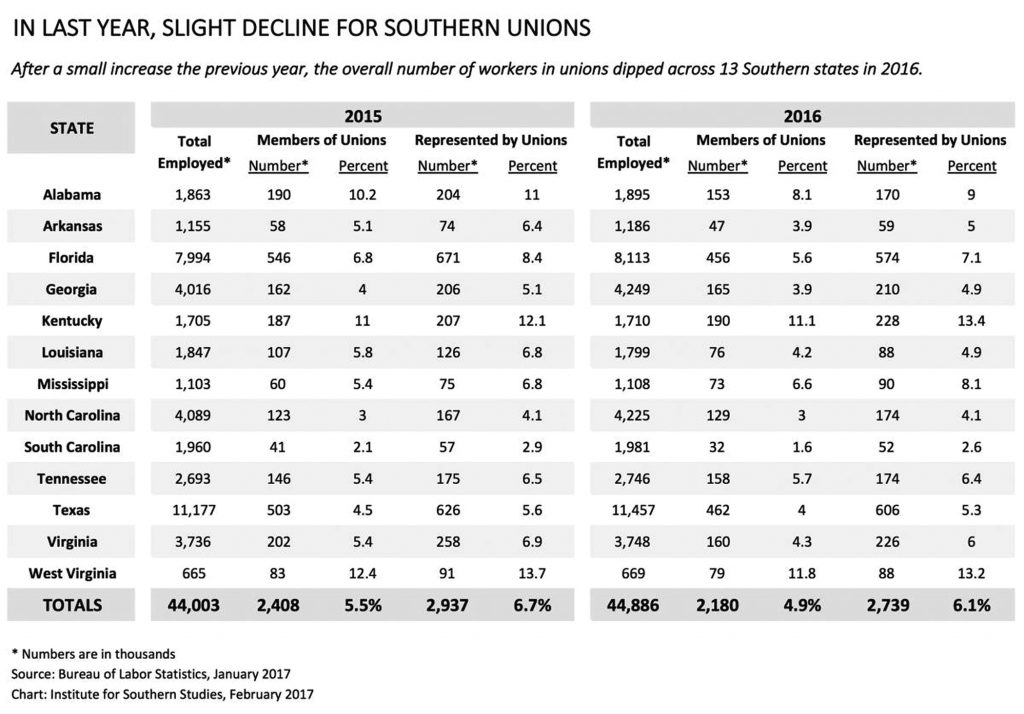 South Carolina and North Carolina hold the seats of states with the
lowest unionization percentages
at 1.6% and 3.0% of private sector workers unionized, respectively.
Link & Comments
**********
Longshoremen Union Out of Step with Membership
International Longshoremen Association leaders were forced to talk their membership off the
brink of a strike
earlier this month that would have closed East Coast and Gulf Coast ports. It's not often that you see a union and its membership so out of step with each other. Usually, at the very least, they try to present a united front. ILA leaders are going to have to find a way to convince their members that they are working for them so the U.S. economy isn't faced with an actual port shut down. The last port closure occurred in 2014. West Coast ports were closed for 10 days during negotiations between employers and ILWU. The estimated cost to the U.S. economy of those closings is approximately
$1.9 billion per day
.
Link & Comments
**********

Auto Workers
After nine months,
the Honeywell lockout has finally come to an end
. 300 workers at Honeywell International Aerospace in South Bend, Indiana voted on Saturday, February 25 to ratify a five-year contract. The big story here was the concessions pushed through by UAW. Although the workers rejected a couple of early concession-laden agreements, at the end of the day they had no choice – the UAW could do nothing further for them.
Link & Comments
**********
Labor Around the World
The
CETA trade deal
between Canada and the European Union made some headway last week when the European Parliament voted to approve it. The Comprehensive Economic and Trade Agreement (CETA) would
eliminate 98% of the tariffs between Canada and the EU
. This has been a controversial agreement. You can read more about the arguments against it
here
.

The
effects of Brexit
still loom on the auto industry. Ford is the latest carmaker looking for ways to mitigate the slowing growth in Europe, not to mention the anxiety over tariffs as their current business structure involves moving components freely between mainland Europe and the U.K. The company initiated labor talks with one of their plant earlier this month. We're seeing a steady growth in Chinese manufacturers
setting up factories in the U.S.
 Part of this has to do with economic conditions in China and also because many Chinese companies "have saturated their home market and are looking for elsewhere for growth." If Trump imposes a hefty tax on imports, we're likely to see the boom continue here in the U.S. To take a deeper look on China's economic influence,
check out this article
on its trade relationship with Africa. Internal relations in Israel's Labor Party grow increasingly contentious as the election approaches in June.
Get more details here.
Speaking of elections, Liberal and Labor parliamentarians in Australia continue to struggling reaching an agreement on
banning foreign donations
to political parties.
Link & Comments
**********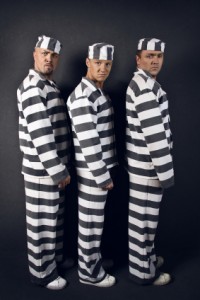 Sticky Fingers
Current charges or sentences of embezzling union officials:
Stephen Royer – IAM: $130,870
Edward Padilla – LIUNA: $168,780
Takisha Brown Dorsey – FOP: $180,000
Lon Sullivan – AFGE: $96,809
Daniel Guthrie – USW: $8,189
Teresa Adkins – HFIAW: $35,000
Michael Mathis – BLET: $5,784
http://nlpc.org/index.php?q=union-corruption-update ********** Labor Relations INK is published semi-weekly and is edited by Labor Relations Institute, Inc. Feel free to pass this newsletter on to anyone you think might enjoy it. New subscribers can sign up by visiting: https://lrionline.com/free-stuff/newsletter-signup/ If you use content from this newsletter please attribute it to Labor Relations Institute and include our website address: http://www.LRIonline.com Contributing editors for this issue: Phillip Wilson, Greg Kittinger, and Meghan Jones You are receiving this email because you subscribed to receive our labor relations newsletters and updates. You can manage your email preferences by clicking the link at the bottom of any of our email communications. NOTE: if you are using older versions of Internet Explorer, read the text version, as the html may not load properly. We recommend upgrading to the latest version.